Foxeer's XAT600M classic FPV camera gets new skin and some extras. The upgraded Foxeer HS1177 V2 comes with a metal case and wider input voltage. To be trendy, the camera is available in 3 colors (orange, blue, and black).
The First edition of the HS1177 camera, due to its low weight and good image quality has quickly become popular among professional FPV pilots and they called it "RunCam Killer".
Everyone knows Foxeer as an FPV camera manufacturer, but they also have other products like VTX, 5.8G antennas, and even flight controllers. Recently I reviewed their Legend 3 UHD camera and I was pleasantly surprised by its nice build quality.
Foxeer HS1177 V2 camera review
Disclosure: I received this HS1177 V2 FPV camera from Banggood as part of a Free Trial program. They periodically offer free trial products for "VIP" customers. You just need to subscribe to one of the listed products and wait a few days for confirmation. BTW, I was selected from 99 applicants :).
For those who are new in the field, the HS1177 camera does not feature video recording nor 5.8G real-time image transmission. It is a basic TVL camera video with 0 latency video out.
My first impression peeking inside the box was that Foxeer includes everything you need to use this camera on your quad-copter. Besides the black camera and its lens cap I found inside the box the following: mounting bracket, a bag of screws, OSD cable, servo cable, user manual.
As I previously mentioned, biggest improvement of the "V2" edition compared to its predecessor is the metal case over the more fragile plastic case. The case also serves as heat-sink for the main processor.
Mine comes with a 2.5 mm, 1/2.7″ 3MP lens but you can also opt for 2.8 mm lens. Lens is threaded, but it seems to be glued – so no manual focus adjustment.
On the backside of the camera, there is a single 6-pin connector. Pin order left to right is: VCC, GND, VIDEO, NC, OSD, and second GND.
Removing the back cover was confirmed that the HS1177 V2 uses the same popular Nextchip 2040 DSP as the RunCam Owl Plus camera.
Foxeer HS1177 V2 features and specs
1/3" Sony SUPER HAD II CCD image sensor + Nextchip 2040 DSP;
Wide input voltage rage, DC 5V to 40V (suitable for 2s ~ 9s LI-POs);
Optional 2.2 or 2.8 mm lens;
PAL and NTSC video standards;
Resolution: 600TVL (color) and 650TVL (B&W);
Min. Illumination: 0.01 Lux;
Wide Dynamic Range (WDR);
Digital Noise Reduction (2DNR);
OSD menu;
12.4 g net weight.
Foxeer HS1177 V2 review – Test
In order to test this HS1177 V2 camera, firstly I opted to connect it to my Eachine LCD5802 FPV display directly via AV-in.
With default settings, colors are natural and contrast is very nice. The 2.5 mm lens captured a wide perspective without causing too much distortion.
Unfortunately, there is no built-in battery voltage and elapsed time OSD like in the case of the Foxeer Arrow. Nor integrated microphone.
Through the OSD menu can be made many settings which allow to fine-tune the image quality (Exposure, Shutter, White balance, Day&Light mode, BLC, and HLC). Don't be afraid, there is also a "Reset to factory" option if you mess up something.
For proximity park flying you can opt for a 25 mW VTX like the Eachine ATX03, but if you need a longer range you should look for something with 200~600 mW broadcast power.
Price/value ratio

Design and build quality

Image quality
Foxeer HS1177 V2 review - Summary
Everyone who loved the 1st edition of the Foxeer HS1177 will surely appreciate that the nice image quality was enhanced with a more crash-proof case and wider range of input voltage. Latency is about 0, but there is a short time of noticeable transition on light level changes.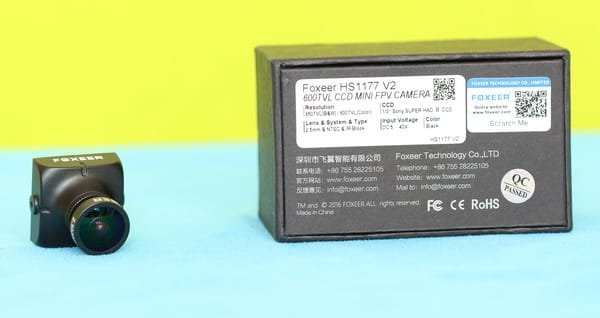 Pro's
Small and lightweight;
Included mounting accessories;
OSD configuration menu.
Con's
No status LED;
Bulky OSD controller.