While many drone camera manufacturers moved to cubic shape, Foxeer Legend 3 sees the return of the candybar form factor that Mobius debuted a few years ago. Don't be afraid, the old design is paired with UHD 4K video recording which is a must-have in 2017.
When it comes to racing quad-copters is very hard to find a proper camera (shape, weight, features) that allows recording the journey of your flights. Of course, if you have no budget limit, you can go for the GoPro 5 Session but with a limited budget, you need to prospect the market (reading reviews and watching sample videos) till you find what you need.
Among the Legend 3, Foxeer also announced a cubic camera with similar specs called "Box 4K", so the pilots can opt for their optimal form factor.
Foxeer Legend 3 highlights
Low profile, aerodynamic shape (23 mm height);
Ambarella A12 SoC (imaging processor);
Sony 12MP CMOS image sensor;
Generous OLED status screen;
EIS (Electronic Image Stabilization);
Micro HDMI video out and AV-out via micro USB for FPV;
Removable 1000mAh battery;
Built-in microphone;
Up to 4K@30ps, 2.5K@60fps, 1080P@120fps, and 720P@240fps video recording;
Loop recording (2, 3 min or 5 min clips);
Up to 16 photo resolution (4608 x 3456 pixels, 4:3 image format);
Multiple photo modes: Normal, Timer, Auto, and Continuous;
SuperVision (similar to GoPro's SuperView).
Foxeer Legend 3 camera review
Disclosure: I received this Legend 3 camera as part of a product review collaboration with Foxeer. Although the product was a gift, all thoughts in this review remain my own and I was in no way influenced by the sponsor.
At a glance (Design and Accessories)
In the box, besides the camera, I found a micro USB data/charging cable, FPV out cable, Velcro band, and user manual. No GoPro compatible mounting accessories included nor the silicon protective case that is shown on some advertising spots.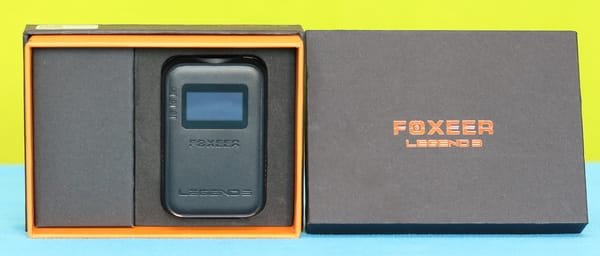 Holding it in my hand feels robust and well built. The camera measures 42.5 x 65 x 23 mm and weighs about 69 g. It is visibly shorter than its predecessors, which is nice because it can be attached to smaller drones too.
On top of the camera are located the OLED status screen and 3 status LEDs: Charging indicator – RED, Working mode (Video – Blue, Photo – Green), and WiFi status – Yellow.
In front, you can find the 7G Aspheric lens with a 155-degree FOV and the microphone. Both sides have venting holes.
The 1000 mAh battery is loaded from the back. Behind the battery door is also located the micro SD slot – no accidental "catapulting" of the memory card during crashes.
Unfortunately, unlike the Foxeer Box 4K, the Legend 3 is not waterproof and doesn't even have a compatible waterproofing case.
Connectivity and mobile APP
Micro HDMI out and Micro USB (FPV AV-out / Data / Charging) connectors are located on the rear of the camera, right above the battery compartment's flap.
Thanks to the HDMI out, you can use an HD 5.8G VTX, which offers much better quality than the conventional VGA FPV.
In order to find tune the Foxeer Legend 3 settings, you will need to install on your smartphone the FOXEER APP (available for both popular mobile OS). The APP allows to set:
Photo resolution (16Mp, 14MP, 12MP, 8MP or 3MP);
Video resolution (4K@30fps, 2.5K@60fps, 1080P@120fps, 720P@240fps, 4K@25fps SuperVision, 2.7K@30fps SuperVision, 1080P@60fps SuperVision or 720P120fps);
Quality (sFine, Fine or Normal);
Stamp (Off, Date, Time, Date+Time);
Microphone volume;
Toggle EIS (Electronic Image Stabilization);
Metering, Sharpens, White Balance, EV Comp;
Video ISO limit (Auto, 100, 200, 400, 800 or 1600) ;
Scene mode (Normal, Flash, Night, Sports, Landscape, Portrait or Sunset);
Effects (Normal, Art, Sepia, Negative, BW, Vivid or 70film) ;
Enable/Disable TV out for FPV;
Toggle Buzzer and OSD;
And many more…
Another feature of the APP is that allows you to display the camera's live video feed on your mobile device. The WiFi range is limited, so this feature is not suitable for FPV flights.
Through the APP you can change the WiFI SSID and password.
Foxeer Legend 3 review – First Usage / Test
The FL3 camera has only two control buttons, both illuminated. While the Power button is located on the left side, the Shutter / Select button is on the right side.
By long pressing the "Power" button (for 3 sec) you can power ON the camera. The same button allows toggling between Video, Photo, and Settings mode. By long pressing the "Shutter" button you can enable the WiFi connection.
The 12 x 23 mm OLED display is very handy. Always show the actual working model, resolution, and battery level.
Because meteorologists have announced a windy week, my plan to test the Foxeer Legend 3 with my Eachine Racer 250 Pro was ruined :(. Finally, I opted to test the camera handheld and installed it on my bike.
Outside was cloudy, and the Legend 3 performed beautifully. 4K@30fps is amazing, colors are sharp and vivid. Even in direct sunlight, the camera performed decently, which is very important when is being used on racing quadcopters. Six minutes of video occupies about 2.7 GB.
Although the Foxeer L3 was not built for photos, the image quality is pretty good (check the image below).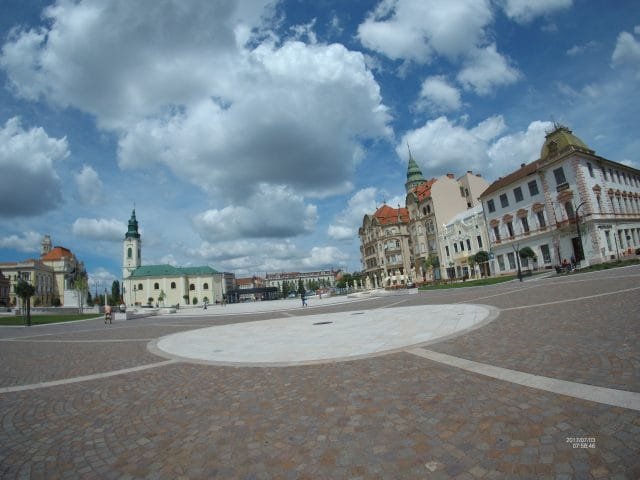 The Legend 3 has an electronic image stabilization system (EIS) which probably can't beat an optical image stabilization. It can be enabled on every resolution but starts working only on 1080@60fps and 1080@30fps.
Price/value ratio

Design and build quality

Photo quality

Video quality
FL3 review - Summary
The Foxeer Legend 3 will probably replace my RC2 and become my go-to flight camera from now on. It's light enough for most of my brushless racing quads. TV-out allows to connect a 5.8G VTX for FPV.
Image quality is very good, I specialty liked that you can have 60 fps at 2.5k (2560 x 1440). The high frame rate is a must have for those who want to make some cool slow motion videos.
If you are seriously into racing quadcopters, you can order this camera right from the manufacturer. You can also download the latest firmware for the Legend 4K.
Till I manage to show something recorded from the sky with the Foxeer Legend 3, here is outstanding aerial footage captured by Andberge.
Pros
Excellent build image quality;
2560×1440@60 fps video recording;
Changeable battery;
Auto-save on low battery;
AV-out via micro USB.
Cons
NO WDR;
NOT waterproof;
APP sometimes freezes.
Foxeer Legend 3 vs GoPro Hero 5 Session
| | | |
| --- | --- | --- |
| | Foxeer Legend 3 | GoPro 5 Session |
| Weight | 69 g | 74 g |
| Dimensions | 65 x 42.5 x 25 mm | 38 x 38 x 36 mm |
| Waterproof | No | Yes |
| HDMI Out | Yes | Yes, via USB-C |
| Max video resolution | 4k@30fps, 16:9, 60Mbps | 4k@30fps, 16:9, 60Mbps |
| Max frame rate | 120fps@1080p, 53Mbps | 90fps@1080p, 60Mbps |
| Max resolution at 60fps | 2560×1440@60fps, 16:9 | 1440@60fps, 4:3 |
| Electronic Image stabilization | Yes | Yes |
| Immersive wide angle | SuperVision | SuperView |
| Price | $150 | $300 |