Brushless quadcopters aren't cheap, but the Eachine Racer 250 PRO comes at a surprisingly reasonable price of $129.99, considering its nice design and impressive features. Of course, like many budget FPV drones, there are Pros and Cons to the Racer 250 Pro which I'm planning to reveal during my review.
The Eachine Racer 250 PRO drone was announced in two variants, PNP and RTF. While the PNP package contains only the aircraft (fully equipped with FC, ESC, motors, camera, and VTX), the RTF (Ready to Fly) package also includes RX module, transmitter, flight battery, and charger.
Over the time, Eachine developed into one of the most active players in the drone market. They announce new models almost every week. They mostly became popular for the excellent price tag and spare parts availability. Eachine is constantly striving to improve their products. The "Pro" edition of the Racer 250 is upgraded in every term compared to its predecessor.
Eachine Racer 250 PRO highlights
Versatile F3 6DOF flight controller;
Blheli_S 20A ESCs (supports Dshot 300 and Dshot 600);
Powerful 2205 2300KV brushless motors;
Compatible with up to 5-inch propellers (comes with 3-blade ones);
5.8G 600mw 32ch VTX with built-in OSD (battery voltage and flight time).
1000TVL CCD camera, NTSC / PAL switchable, suitable for night flights.
Powerful head-lights (two pieces of 3W LEDs);
Multi-color tail light.
Eachine Racer 250 Pro in-depth review
Before I get into details I should thank Banggood for the continuous support of my website with new and interesting products.
Damn DHL, they did it again. The package traveled from China to my country in 3 days and the last 100 KMs took another 6 days.
Because I recently o received two FrSky receivers and the Taranis Q X7 transmitter, I opted for PNP (Plug-N-Play) package. If you already own a transmitter is not just "green" to order PNP package but also cheaper (less shipping cost and custom fees) than RTF package.
Eachine Racer 250 PRO review – Design and build quality
Compared to its predecessor, the non "Pro" aka Floureon Racer 250, it has a better build quality. Unfortunately, the designer kept the bottom plate as a power distribution board which could be a pain in the ass if needs to be replaced.
As you can see in the image below there are few visible differences between the two versions of the Eachine Racer 250. In the case of the Racer 250 Pro, the tail light is shorter (it has only 3 RGB LEDs), the FPV antenna is moved from center to rear and it uses 3-blade propellers instead of 2-blade ones.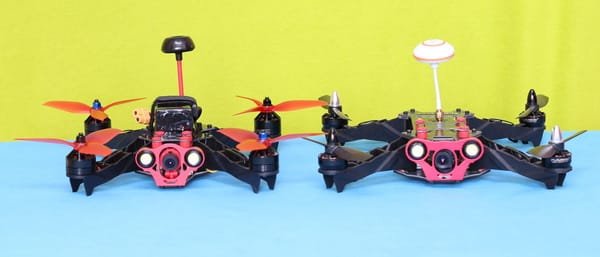 Both motors and ESCs are upgraded compared to the previous model. While first edition (non-Pro) was designed for 3S batteries, the "PRO" edition is optimized for 4S Li-Po. Theoretically higher voltage means more punch.
On the left side, there are two micro switches. While the frontal one allows to turn ON/OFF the headlights (2 x 3W), the real one allows to turn ON/OFF the taillights. 3 additional DIP switches allow setting the color of the tail light (Green, Red, Blue, Orange Green Purple, or White).
In front, there is a camera mount with vibration reduction damping balls which allows installing an additional DVR camera (like GoPro Session or RunCam 3) in order to record the journey of your flight.
The flight battery can be attached to the top plate using the included Velcro band.
By default, the F3 6Dot flight controller comes with CleanFlight firmware but you can flash it with BetaFlight as well.
Eachine Racer 250 PRO review – Camera, VTX, and OSD
As I previously mentioned, the 1000TVL camera is attached to the frame using a nylon camera mount which allows slight adjustment of the camera's angle (~25 degrees).
The camera has good low light capabilities so that pilots can enjoy their uninterrupted flights day and night.
The real-time image transmission is achieved using a 5.8G, 32CH, 600mW VTX module with built-in OSD. Frankly, the high broadcast power is not necessarily a good choice because it is illegal to transmit over 250mW in most countries.
The OSD is very handy, allows you to permanently monitor the battery voltage and the elapsed flight time. The "OSD bar" is located on top of the screen without disturbing your field of view.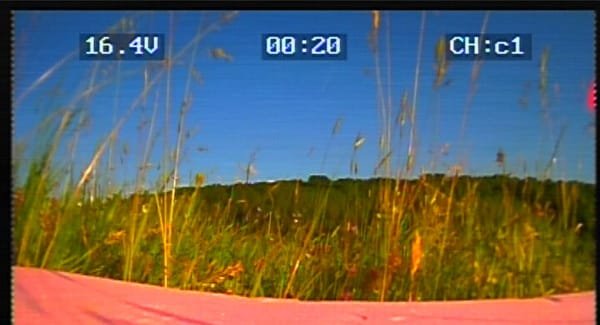 Eachine Racer 250 PRO review – Initial setup
In the case of the RTF package, you need just to attach the propellers and you are ready for the first flight. In the case of the PNP package, you need to solder the RX module to the FC, to configure & bind the transmitter, and to set the AUX channels (Motor ARM/Disarm and Flight mode switch).
No direction marks on the propellers. While 5048R props are installed on motors with blue nuts, the 5048L props are installed on motors with black nuts.
VTX is set to CH1 (5867MHz) by default. If you need a different channel you can change it by pressing the red push button on the VTX.
Note: Prior to power ON, you need to attach the FPV antenna to the VTX module, otherwise it can burn out and no more FPV.
Eachine Racer 250 PRO review – Test flight / Flight performance
First of all, no motor Lock/Unlock sequence as described in the user manual. When you push up a bit the throttle stick the props start to spin. Warning: the propellers are very sharp and they can cause serious injuries.
After a few minutes of flight I noticed that the Racer 250Pro is not a toy for kids, it is a powerful flying machine. Frankly, in order to explore its full potential, you need serious flying skills. It is damn fast and agile.
The built-in buzzer will warn you when the battery is nearly empty and it's time to land. This feature is very helpful in the case of LoS (Line of Sight) flights. Frontal LEDs are also very helpful because they allow you to determine the orientation of the drone even in strong daylight.
Using a 4S 1300mAh Li-Po battery I got an average of 6 minutes flight time.
Price–performance ratio

Build quality

Camera & FPV & OSD

Flight performance

Flight time
Eachine Racer 250 PRO review - Verdict
Compared to micro brushed quads, the Eachine Racer 250 PRO has insane amount of power. It feels like it came out from the Fast and Furious movie :D. You would think that due to its low price is designed for fist-time pilots but, in my opinion, even Pro pilots would be satisfied with the abilities of this FPV drone.
Currently, you can find this nice FPV quad at $ 129.99 in PNP package here. If you don't own a suitable radio system (RX & TX) and a flight battery I recommend you to look for the RTF package.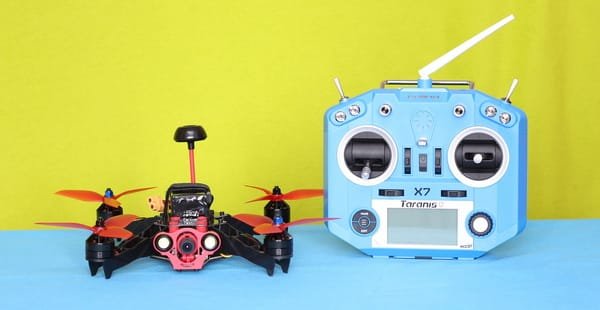 What I liked most
Excellent price tag;
Very robust construction. Takes well crashes;
Bright LED lights;
Built-in buzzer, real help if you need to find the aircraft after crash;
FPV with sound (VTX with built-in microphone);
Impressive flight performance;
Good image quality with OSD.
What I didn't like
Not adjustable VTX. 600mW broadcast power (probably illegal in most of the countries);
Can be found in combo only with FlySky radio;
The bottom plate is used as a power distribution board.