Floureon Racer 250 RTF FPV racing quadcopter
Last Monday, returning from a short holiday where I took with me only the DJI Phantom 3, I realized that racing quadcopters have much fun. Next time I will definitely squeeze this Floureon Racer 250 too in my luggage. My flights from this three days holiday ended with about 10GB of aerial videos. Most of them are boring useless scenes.
Racing quads are about living the moment and enjoying the adrenaline. Of course, firstly you need several flight hours with a more "gentle" drone till you achieve pilot skills and unleash the devil from a speedy quad like the Floureon Racer 250.
In order to allow a more realistic sensation most of the actual racing drones like this Floureon Racer 250 are equipped with real-time image transmission. This means that you can see what the drone sees. For this purpose you can use FPV screens (with different sizes 4″-10″) or FPV goggles. Till now I had only few flights using FPV glasses and I can say that it is very cool but in the same time pretty hard to control this way a drone.
At the begging, racing quadcopters where very simple in terms of design. The focus point was on the weight, aerodynamic shape and robustness of the airframe. Lately, the manufactures are trying to add something "cool" to make their racer more interesting over competitors' products. I've just read a quadcopter news about a drone which is capable to achieve speeds up to 250 km/h. This insane flight speed was possible by using 6s Li-Po batteries (22.8V).
Floureon Racer 250 quadcopter review
Damn DHL, I had to pay $ 87 taxes in order to receive the package after a ridiculously long delivery time. Unfortunately, because some weight limitation and Li-Po regulations, GearBest always opt for their "express" services. Before I get into details, I should thank them for the continuous support of my website with new and interesting products.
Two CNC cut foams ensures that every component remains on its place preventing scratches or other damages during overseas shipping. One "layer" contains the Floureon Racer 250 quadcopter, 2 sets of propellers, one 1500 mAh flight battery, a B3 AC balance charger (2s and 3s), battery strap and the 5.8G mushroom antenna. The second layer contains the FlySky FS-i6 transmitter, the 7″ FPV display, the 5.8G rubber ducky antenna, LCD mounting accessories, neck-strap and JST-DC charging cable.
Excepting the instructions of how to arm/disarm the motors, the Floureon Racer 250 user manual does not include too many information. Newbies will need to dig a bit in order to find out how to install correctly the propellers and also how to switch between flight modes.
Holding the drone in my hand, firstly I noticed that it's not made integrally from 3K carbon fiber. The arms are made from nylon. Anyway, carbon fiber ones can break too like it happened on the nasty crash during my first drone flyaway.
In the front part there are located two 3w LED lights, one on each side of the 1000 TVL camera. On the rear there is located a generous LEDs bar whose color is adjustable, according to the specs (frankly, I doubt it because it has only two pins + and -).
Both headlights and taillights can be switched ON/OFF through a micro switch located on the left side of the drone.
The SMA connector of the 600 mW TX module is positioned on the upper carbon fiber plat, almost in the center of the drone. I recommend to install the 5.8G mushroom antenna before you power ON the quad, at least if you don't want to burn out the FPV TX board.
Thanks to the anti-vibration plate you can install a secondary camera on top of the Floureon quad-copter (like one of these quadcopter cameras) which allows to record the journey of your flights.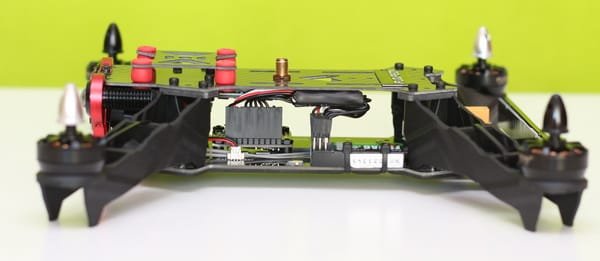 Although there is enough space to install the battery between the two plates, some badly placed capacitors will make it harder to load the 1500 mAh Li-Po. I sow some videos where the pilots opted to install the battery under the upper plate instead of the dedicated battery bay.
While, both design and build qualities are good I had the feeling of a "half DIY" product. It doesn't have the same well engineered construction of my Walkera F210.
Floureon Racer 250 manufacturer's specs and features
NAZE32 6DOF flight controller;
Built-in OSD (battery voltage, flight time and FPV channel);
3W frontal LED lights;
Powerful brushless motors (2204 2300KV);
20A BLHeli ESCs;
1000 TVL camera with angle adjustment;
32CH 600 mW 5.8G wireless image transmission module;
7″ FPV display (800 x 480 pixels);
Up to 10 minutes flight-time;
About 500-800 meters control range in open field.
Floureon Racer 250 review – Remote controller / Transmitter
As many other quadcopter manufactures, Floureon opted to include in the package the FS-i6 entry level remote controller from FlySky, which according to my knowledge is a copy of the Turnigy TGY-i6 transmitter. My F450 DIY quadcopter uses the same RC, so I'm familiar with the controls.
Based on my good experience with this transmitter I can say that it has excellent control range even if it looks a bit cheap .
Besides the usual control sticks and trimming buttons, the transmitter has 4 switches and 2 dial knobs. Although all the 6 channels of the FS-i6A receiver are wired to the NAZE32 flight controller, only one switch (SWC) seems to be designed for action.
Through the transmitter's configuration menu you can freely assign to the two auxiliary channels any of the switches or dial knobs.
The package includes a tiny jumper cable which you will need in case you want to pair the Floureon Racer 250 quad with another FS-i6 transmitter.
Floureon Racer 250 review – Camera and FPV system
Compared to other cheap racer drones in which you supplementary need to invest for a FPV display, this Floureon Racer 250 comes with a complete FPV system including a 7″ FPV screen.
The great transmission range is guaranteed by the extreme 600 mW TX module. According to the specs, the frontal 1000 TVL camera's angle is adjustable, but unfortunately this can not be done easily. The image quality is decent but the camera has slow response on light changes.
The 7″ FPV screen comes with integrated buttery and rubber ducky antenna, but not with sunshade.
Only a JST-DC cable is provided for charging the screen's battery. I know, it is not an elegant approach.
If you want to record the live-video feed you can use a small DVR connected to the screen's AV-out jack.
Installing the FPV display on the transmitter can be done using the included mounting accessories. Maybe newbies will find this process a bit complicated without any assembling instructions.
Floureon Racer 250 review – Maiden flight
Arming the motors can be done by pushing the throttle stick (mode 2) to the lowest right position. Disarming the motors can be made by pushing the same stick to the lowest left position. I recommend for first time pilots to practice the arm/disarm sequence few time before they put the props on.
Testing the drone indoor, is not a great idea, especially for beginners. At least if you don't want to re-decorate your living room :D because the Floureon Racer 250 is a very powerful machine and needs space to be safely flown.
For my outdoor test I fully charged the original battery and a similar spare one. I got an average 7 minutes of flight time. I loved the speed and the fast response of the quad.
Both ranges (control and FPV) are excellent, even longer than I have confidence to fly.
The FPV (real-time image transmission) worked vey well with the included FPV monitor but also with my Walkera Goggles 4 as well. Thanks to the OSD (battery voltage and elapsed time) you can estimate the remaining time of flight.
If the drone looses the communication with the RC, it will lower the throttle in order to prevent the flyaway. Unfortunately, it doesn't have a buzzer, so if you crash you will be guided only by the bright LED lights in order to find it.
Unboxing and maiden flight video
Price–performance ratio

Design and build quality

Flight autonomy

Camera and FPV system

Remote controller
Floureon Racer 250 review - Verdict
Lately I reviewed many quadcopters, cheap ones and expensive ones, and I can say that every model had its own charm. This Floureon Racer 250 has an excellent price / value ration taken into consideration that for $250 you get a powerful racing quadcopter with complete FPV system. The generous 7″ FPV display will allow enjoyable first person view flights. During my test flights I found out that both, control and FPV ranges, are excellent. The only negative stuff that I can say about this quad for now is the poor reaction of the camera on light changes.
Currently you can find this quad with 30% off and free shipping at $ 253 here, which is not bad for a RTF FPV racing package. Probably like in my case, others also can own the same transmitter, the compatible battery and a better FPV monitor so it would be nice to be able to purchase a more affordable PNP package of this Floureon Racer 250 drone.
What I liked
Complete FPV system;
Bright LED lights;
Allows to install RunCam / Mobius alike cameras;
Excellent FPV and control range;
What I didn't liked
Not fully carbon fiber airframe;
Limited camera angle adjustment;
No built-in buzzer;
Lack of spare parts.
Although this product review is sponsored, all impressions about the quadcopter are my own.
Floureon Racer 250 review – Photo gallery
Floureon Racer 250 – better racing quad or just a clone of the popular Eachine Racer 250?
In term of design, this two racing quadcopters are very similar without noticeable differences.
Both are delivered with the same FlySky i6S transmitter and a very similar FPV screen. Basically the package content is almost identical.
In my opinion, the most relevant difference between the Floureon Racer 250 and Eachine Racer 250 is the flight controller. While the Floureon Racer 250 adopts the F3 Naze32 FC, the Eachine Racer 250 features a CC3D flight controller. These two flight controllers are very similar to each other: both are 3.6 x 3.6 cm in size and use the powerful 32bit STM processor. The Naze32 FC uses a MPU6050 sensor chip (gyro + accelerometer) and CC3D FC uses the MPU6000. Anyway, the performance of the flight controller is determined not just by the hardware but also by the firmware.