Walkera F210 – Mini racing quadcopter
I know that I'm a bit delayed with the review of Walkera F210 because this model was announced at the end of 2015. Lately Walkera announced a new upgraded version called F210 3D with inverted flight mode.
After their popular Runner 250 Advanced, last year Walkera announced a bigger model (Furious 320), which looks just like a flying tank :), and a smaller one – this F210. Even if Walkera F210 was the smallest racing quad at that time, it had approximately the same price as the other two bigger models.
In order to expand their product line with a more compact racing quad, Walkera announced last week the Rodeo F150. It is tough to decide which racing quadcopter is better between this variety of sizes (150, 210, 250 or 320 mm) but if you got the "virus" you will definitely want to own all of them :)
Based on my experience with other racing quadcopters I can tell that are some fun toys. The sensation of playing with them is totally different and more spectacular compared to flying cruising drones.
There are several package combinations of this Walkera F210 racing quad on the market. According to your budget and needs, you can choose from the following:
ARF package without battery, transmitter and OSD module;
BNF with battery but without transmitter;
Full package with Devo 7 transmitter.
As usual, before I start to sketch my reviews, I try to find out as much as possible about the product. This time, besides the positive things, I found out that the F210 has a fail-safe bug, which means that flyaway can occur if the aircraft lost the connection with the transmitter. Immediately after I found about this bug I contacted the manufacturer. Fortunately this issue can be remediated easily and I will describe at the end of my Walkera F210 review how it can be done.
Walkera F210 review with pros and cons
When I saw the first promo video of this Walkera model, the one where the F210 goes through a thick sheet of glass, I was pretty impressed, almost like I fell in love :D. That time I knew that I need one to test it so I was glad when Elliot from GearBest contacted me suggesting to review the Walkera F210. Due to our previous good cooperation I accepted immediately his offer.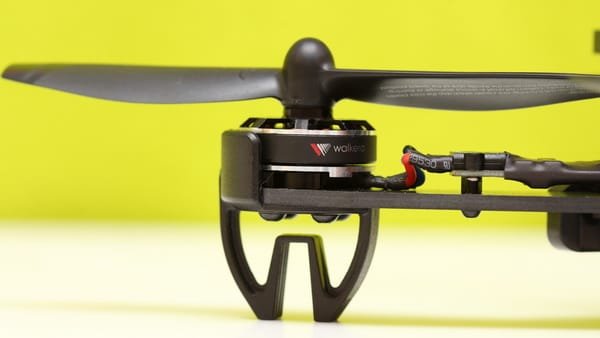 As I already own a Devo 7 transmitter I requested BNF (Bind and Fly) package of the Walkera F210, this way reducing the shipping costs and custom taxes. Because of some stupid regulations regarding the 4s Li-Po batteries they didn't include the flight battery and I had to order it separately so another 3 weeks passed before I could finally test this flying beauty. What a waste of time :(
Later, Elliot sent me an extra camera holder (F210 – Z – 36) which allows to install on the top of the FPV camera an additional GoPro or Mobius alike camera. I'm planning to use the F210 together with my RunCam 2 to record the journey of my flights.
Walkera F210 Highlights
Robust, crash proof air-frame;
Modular design;
Reliable and powerful brushless motors (WK-WS-28-014A, KV2500);
High voltage 4s battery;
Multiple flight modes (Stabilize, Intermediate and Advanced);
700 TVL camera with angle adjustment;
5.8G real-time image transmission module (CE 25 mW or FCC 200 mW);
OSD (allows to display telemetry information like: flight time, main battery voltage and heading angle);
Turn lights;
About 7-9 minutes of flight autonomy.
Walkera F210 review – First Impressions
The quad arrived in the standard box (with handle) that can store also the transmitter, which is great because it can be used to carry the quad to the flying zone, especially as I know there is no dedicated backpack available for this model.
Peeking inside the box, my first impression was "WOW!". The design of the F210 quad is pretty cool and robust. Almost every part is made from 3K carbon fiber or aluminium. In order to allow good impact resistance, the arms are 3 mm thick.
As I received a BNF edition, my package included only few accessories, but the full package is very generous and includes the followings:
Walkera F210 aircraft;
Devo 7 transmitter with trainer cable;
4S 1300mAh, 40C Li-Po flight battery (XT60);
Balance battery charger;
1 set of spare propellers (2 CW and 2 CCW);
Installation tools (propeller wrench and two hex keys);
Anti-sliding rubber band for the battery;
Micro USB data cable;
F210 quick start guide.
On the front part of the aircraft is located the 700TVL camera right above the two frontal LED lights. As usual, the 5.8G mushroom antenna and the status LEDs bar are located in the back of the aircraft. The horizontal status bar has 4 zones with 8 LEDs in total (two are red and 6 yellow). 3 LEDs indicate when the aircraft turns to left, respectively another 3 when the aircraft turns to right. The other two LEDs indicate the status of the F210.
The Walkera F210 is powered by a high voltage battery (14.8V ) in order to allow aggressive flying with high throttle punches.
Unlike the Runner 250 Advanced, this F210 doesn't have a GPS positioning system, so no fancy features like one key return to home or fail-safe return to home.
Walkera F210 review – Transmitter
The F210 racing quad comes with the Devo 7, which is a nice entry level 7CH remote controller from Walkera. It feels good in hand but is heavier compared to the newer 7E, especially because is powered by 8 pieces of AA Ni-Cd batteries. Finding more convenient to feed the transmitter with a single battery, I already replaced the expensive Ni-Cd batteries with a cheaper 11.1V 2200mAh 15C Li-Po.
Being an "universal" transmitter suitable for all kind of remote controlled air-crafts (airplanes, quadcopters and helis), some settings have to be done before binding it with the quad. In the F210's user manual there are exactly described all the configuration steps for the Devo 7 transmitter.
The motors can be easily armed by moving the throttle stick (mode 2 – left stick) to the lowest left corner and holding it for 2 seconds. Disarming can be done in the same way by moving the throttle stick to the lowest right position.
Switching between flight modes can be made by using the 3 position "Mix" switch, located on the right side above the"Elevator" stick.
BTW, if your model has been manufactured before March 8th 2016, you will need to replace the receiver board in order do be fully compatible with the new firmware which eliminates the FS bug.
Walkera F210 review – Camera and FPV system
The frontal 700TVL camera performs good in light changes and is pretty usable even in very dark conditions. In the future I'm planing to test it against the RunCam Swift which is one of the best FPV camera. BTW, the angle of the camera is easily adjustable in order to obtain the best field of view.
According to your local regulation you can opt between between two types of 5.8G Tx modules:
TX5824 (CE) with 25mW power and around 150 meter range;
TX5825 (FCC) with 200mW power and around 300 meter transmission range.
Curiously, mine arrived without F210-Z-30 OSD module, so I got only clean images without telemetry information on my 7″ Eachine LCD5802 FPV display. I've just checked the F210's user manual and besides the battery voltage and flight time there are not to much usable info offered by the OSD. Anyway, it can be purchased separately for $29 and later installed.
Walkera F210 review – Maiden flight
Being really excited to test this quad and see how fast and durable it is I went out right away the flight battery arrived. Second WOW, this little thing has so much power. It responds extremely fast to my controls. Compared to my other models, when I push the throttle to the lowest position the motors are almost instantly stopped. Both control and FPV range are very good.
When the battery voltage drops below 14 V, the F210's buzzer will warn with noisy beeps that is time to land.
On my next flight I'm planning to test the "Intermediate" flight mode where the F210 is capable to make cool 3D flips and rolls.
I tested the fail-safe bug (of course without props) by turning off the transmitter, the F120 started to beep and only after about 20 seconds stopped the motors. In my opinion, with full throttle, can cross about 600 meters during this time and it has good chances to get lost.
Walkera F210 test flight video with crash
Price–performance ratio

Design and build quality

Flight performance

FPV System

Flight time
Walkera F210 review - Summary
Excepting the fail-safe bug I was pleasantly surprised by this Walkera racer quadcopter. It looks good in every way. It can be easily controlled, it is very stable and fast.
I crash it few times intentionally and I really like the durability of this quad. The control range is very good and I don't have any complain regarding the FPV system either.
While the RTF package includes everything you need for you to fly this quad, I consider it a bit expensive taking into consideration that it costs almost $400 and you need to spend another hundreds bucks for a FPV goggles in order enjoy FPV racing.
As previously mentioned, this product was been offered by GearBest in order to make a honest review. Thanks again for their professional attitude. For those who are interested in buying it, the BNF edition can be found on they website for $299 here and the full RTF package for $399. As the newer upgraded F210 3D with inverted flight mode costs only $50 more, you should check this model too.
Pros
Very stable racing quadcotper;
Robust carbon fiber air-frame;
SP Racing F3 flight controller with BetaFlight firmware;
Spare parts availability.
Cons
Fail-safe bug on the earlier versions;
Expensive.
Walkera F210 failsafe
By default, the fail-safe function cuts the motors only after 20 seconds when the quad is out of range of the transmitter, which can produce high distance flyaway in full throttle. In order to reduce this time to 6 seconds I highly recommend to upgrade the F210's firmware (and if necessary, the RX module).
First check the manufacturing date of your Walkera F210, if it is before March 8th 2016 you need to replace the receiver board with a newer one and only after that proceed with the following steps:
Download and unpack the latest firmware (12th March 2016);
Install under your Google Chrome the "CleanFlight configurator" Apps;
Connect the F210 through your the included micro USB cable to your computer;
Connect the flight battery;
Run the Clean Flight APP and select "Firmware Flasher";
Select manual bound rate (256000);
Load and flash the "F210_0329.hex" firmware;
Reset the settings and restore from the "config_v1.3.txt" file;
Calibrate accelerometer.
Walkera F210 review – Photo gallery