Are you just starting with video making and drones? Do you want to understand what VND filters are and in particular why we need them on a quadcopter? I hope to clarify these concepts in this article by reviewing the pack of two VND filters by Freewell for the DJI Mavic Air 2. Let's jump into it!
VND stands for Variable Neutral Density.
Usually, ND filters are a circular piece of dark glass that we put in front of the lens with the purpose of reducing the amount of light going through the sensor. I usually say they are sunglasses for your camera. These filters are named with different numbers, such as ND4, ND8, ND16, up to ND1000. Each of these filters can reduce the amount of light of individual F-Stops, for example, an ND2 filter reduces the amount of light of 1 F-stop. ND4 of 2 F-stops…and so on.
VND filters, on the other side, are made of two pieces of glass, one of which can spin, and by spinning, it changes the direction of the light which also means that it reduces the amount of light hitting the sensor of the camera gradually. Basically by having one VND filter is like carrying 4-5 standard filters in one!
Why and when we use Variable ND filters?
As you might know, the three key components of photography and videography's exposure are aperture, shutter speed, and ISO. Usually, in photography, we use ND filters to create some particular effects, like long-exposure photography, where we use a very slow shutter speed and we compensate for the extra amount of light by using those filters.
In videography, we use the filters to keep a natural motion blur and in videography, it's very common to use a shutter speed which is double your frame rate; for example, if you're filming with a frame rate at 25 frames per second, your shutter speed should match more or less 1/50th. In certain conditions of light, in particular daylight, you need a filter to keep these settings correct.
Mavic Air 2 Freewell VND filter kit review
The DJI Mavic Air 2 comes already with a set of filters which are ND16, 64, and 256 and you can buy a second set which is made of ND4, 8, and 32. Yet, sometimes you might miss the right filter to match the conditions of the light perfectly. That's when VND comes in handy and in this video, we're gonna compare the DJI filters with the ones by Freewell.
The Freewell set is made of two filters: the first one covers F-stops from 2 to 5 and it corresponds from ND2 to ND32. The second filter covers from F-stop 6 to 9 and it corresponds from ND64 to 512. For the 10 days, I tested the filters though, I only used filter number one, which covers from F-stops 2 to 5, and used the filter at F-stop 5, so more or less ND32.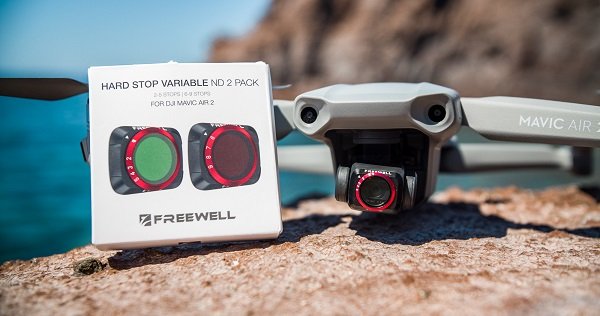 In terms of built quality, some filters are made of plastic but the Freewell's ones are made of glass and some type of metal, so they do not feel plasticky but very solid and professional. To place the filters on the lens of the drone is very simple and you can do so by spinning the original lens' frame counterclockwise; you can then remove the frame and replace it with the filters.
Bear in mind that some filters might change the look and temperature of your image and, through my tests, I noticed that the Freewell filters do that too and make the look of the videos a bit more green-ish than the natural image. This is something, of course, that you can fix during the color correction process.
Bottom line
To conclude, as we mentioned, ND filters give you a more natural motion blur and make your videos more cinematic and, in my opinion, they are a "must" if you want to take your films to the next level and match with professional standards, and I found the Freewell a very good option to start doing so.
Get this Mavic Air 2 Freewell VND pack from Amazon for only £49.99.
Thanks for reading!
Fly safe! Ciao.
Submitted by Mamo Air