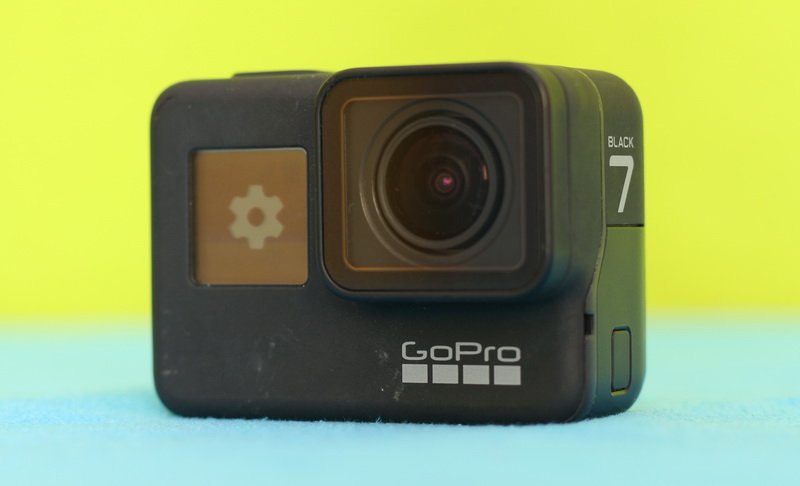 While everyone expects to read about the GoPro 8 which is near to be released in October 2019, I thought that it is the best time to make an in-depth GoPro Hero 7 Black review. Why now? Because the new model will definitively drop the series 7's price, making it more attractive than ever.
With 4K@60fps video recording, HDR, and HyperSmooth inbuilt image stabilization, the GP7 Black is still a top player on the action camera market. Furthermore, it has a rugged water-proof body – it can be impressed underwater without a dedicated case for up to 10 meters.
GoPro Hero 7 Black highlights
2 inch color live-view touch screen;
Frontal monochrome status LCD;
Built-in GPS receiver for GEO tagging;
Wi-Fi + Bluetooth connectivity;
Voice control;
Up to 4K@60fps video recording with up to 78 Mb/s;
Gimbal like HyperSmooth image stabilization;
HDR photo & video;
Vertical shooting;
Live streaming (Facebook Live & YouTube);
Removable battery;
Lots of compatible accessories.
GoPro 7 Black review: Buy it or wait for the GoPro 8?
As I borrowed a used camera from a friend, I cannot be sure about the exact content of the box. GoPro says that the Here 7 Black is packed with the following accessories: battery,  mounting frame, adhesive mounts, mounting buckle, USB-C cable, and thumb screw. From time to time they have promotions with a bonus microSD card included.
At a glance
As you can see in the image below, in terms of design (form factor), there is no much change from series 5 and 6 – which is not necessarily a bad thing! It allows long term accessory usage. You don't need to change accessories every time you upgrade your camera. Also, all Hero Black versions (5, 6, and 7) use the same type of 1220mAh lithium-ion rechargeable battery.
The camera measures 23 x 44.9 x 33 mm and weighs about 115 grams. In addition to the battery bay door, there is a second flap which maintains the waterproof rating and keeps the dirt out of the USB type-C and micro HDMI ports. GoPro 7 Black has two microphones (one on top and one left side) and three status LEDs (front, rear, and bottom).
Controls: All menus at the touch of your finger
The control scheme on the GoPro 7 Black is very intuitive and makes it easy to use without much of a learning curve. Just like in the case of smartphones with simple directional swipes, you can access different modes, captured footage/images, and more. In addition to the 2″ touchscreen display, you have only 2 buttons (shutter on top and mode on the side). In order to turn on the camera you need to press the "Mode" button, to power it off using the same button, but holding it for 3 seconds at least.
In front, there is a second monochrome LCD which shows the actual working mode and other shooting info. To be honest, compared to the Osmo Action's frontal display this one looks a bit outdated or even useless.
Voice control
Since GoPro 5, all Heros feature multilingual voice commands. This feature comes in hand when you are using mounts such as a head mount or for some reason are out of reach of the action camera.
Shooting modes, resolutions, and frame rates
The GoPro Hero 7 Black has 3 main working modes, selectable by the "mode" button.
1. Video mode (Includes Video and Looping video)
For 16:9 aspect ratio you have the following resolution and frame rate options:
4K@60, 30 and 24fps (Wide FOV) or 4K@30 and 24 (SuperView FOV);
2.7K@120, 60, 30 and 24fps (Wide FOV), 2.7K@60, 30 and 24fps (SuperView) or 2.7K@60, 30 and 24fps (Linear FOV);
1080p@240, 120, 60, 30 and 24fps (Wide FOV), 1080p@120, 60, 30 and 24fps (SuperView) or 1080p@120, 30 and 24fps (Linear FOV);
720P@240 and 60fps (Wide FOV) or 720P@60fps (Linear FOV).
Unfortunately, HyperSmooth video stabilization can be activated only for certain resolution&frame rate combinations. GoPro states that this feature crops videos by 5% on each side (10% total) during capture. The inbuilt video stabilization was able to make my footage extremely smooth despite how much I was moving. HyperSmooth is perfect for shooting biking, skating, skiing, handheld shots, and more.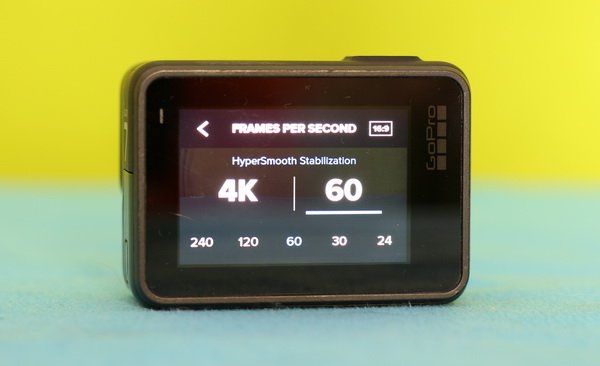 2. Photo mode (Includes Single Photo, Burst, and Night)
Till SuperPhoto mode GoPro pictures were great, but they've always needed some post-processing in Photoshop Lightroom or other photo enhancer software in order to get them popping and looking awesome on Instagram. In a nutshell, this feature automatically analyzes the scene, and intelligently applies the best image processing for the shot. If you like to enhance your skills by yourself, photos can be saved in RAW format as well.
High Dynamic Range (HDR) takes and combines multiple photos into a single shot that brings out the details in scenes that mix bright light and shadows – this feature is very handy when you take photos in a forest. For best results, a tripod is a must-have!
3. Time Lapse
The GoPro 7 Black has 4 Time Lapse capture modes: TimeWarp Video, Time
Lapse Video, Time Lapse Photo, and Night Lapse Photo. Each mode has
its own settings.
The coolest time-lapse mode is probably the "TimeWarp". As this feature requires lots of processing power, it is available only on Black edition (not on the cheaper GoPro 7 Silver and White). Time-Warp combines regular frame-by-frame time-lapse shooting with the power of HyperSmooth stabilization allowing you to create of truly magical videos. You con opt between 2, 5, 10, 15, and 30X modes. While at 2x, 5 minutes of recording time will result in a 150 seconds video clip, at 30X only 10 seconds.
With close to one million of views, Abe Kislevitz's epic video is probably a good example to show you what this feature is capable of in hands of a professional filmmaker.
Editor's ratings
Price/performance ratio

Design and build quality

Image quality

Video Stabilization

Battery life

App Features
Verdict
After one year on the market, the GoPro Hero 7 Black is still one of the best action cameras that you can find right now. The rugged body is filled-up with top-notch features. While HyperSmooth provides gimbal like video stabilization, TimeWarp allows you to take outstanding super-smooth timelapse videos while you are moving.
When you buy a GoPRO 7 Black for travels, I do highly recommend getting some spare batteries. Its battery life is good, but the 2 hour working time is just not enough for an all day long city break.
Finally, even with SuperPhoto mode enabled, the photos are still not perfect, especially handheld in low-light condition. If you're getting it just for the stills, you should probably look for a travel friendly mirror-less camera.
Pros
Waterproof without needing a case;
Great 4K video and image quality;
HyperSmooth does a really good job;
TimeWarp and other cool creative modes;
Huge range of accessories.
Cons
Expensive (many cheaper options);
Can get very hot when recording 4K;
No frontal live-view screen;
Sometimes UI becomes unresponsive.
Best GoPro Hero 7 Black alternatives
Surely, the DJI Osmo Action is not just the best but also the only real alternative for the GP7Black. In some aspects, it even surpasses it. Selfie enthusiasts will love the second live-view display in front. Personally, I also liked more OA's design and built quality.
Both action cameras can be immersed underwater (GP7 10 meters vs OA 11 meters). With dedicated diving, you can go down up to 60 meters.
Optical filters (like ND and Close-UP) are also supported by both cameras. Here I liked that the OA allows replacing the screw-on lens protector with any filter you like. Instead, the GoPro 7 uses clip-on filters, which changes the size of the camera – thus you will need two sets of filters (one for normal usage and the second one with a diving case).
When it comes to APP features, the OA fails against the GP7. The DJI Mimo App is much simpler than GoPro's mobile APP.
Bottom line
Naturally, the new GoPro 8 will "kill" the older GoPro 7. It will have more cool features, probably better image quality, and longer battery life as well. But during its "retirement" period, the GoPro Hero 7 Black will have some great promotions and if you're on a tighter budget it is the best time to grab one.