OSMO Action is DJI's first attempt to enter into the word of action cameras – dominated by GoPro for a long time. As DJI has been creating solid cameras for its drones and handheld gimbals for years it was just a matter of time for the above to happen. They aimed high from the beginning, the OSMO Action (OA) promises about the same features as its contender's flagship camera, the Hero 7 Black, for a more friendly price.
There are many action cameras on the market which promises 4K recording, but only few of them are capable to do this with 60 frames per second while electronic image stabilization is activated. From the first Osmo Action reviews, it was obvious that DJI's proprietary RockSteady in-camera stabilization does a really great job. Of course, probably not as good as a mechanical gimbal.
DJI OSMO Action review, ratings & samples
Disclosure: I received this 4K action camera as part of a product review collaboration with DJI. Product specs and quality may vary according to the manufacturer's reliability, so I cannot guarantee that you will get a product that performs exactly the same as seen in my article.
For July, DJI selected 9 lucky gadget lovers to get the Osmo Action for one month of testing. Unfortunately, like in case of the Osmo Pocket, after finishing my review I have to send it back.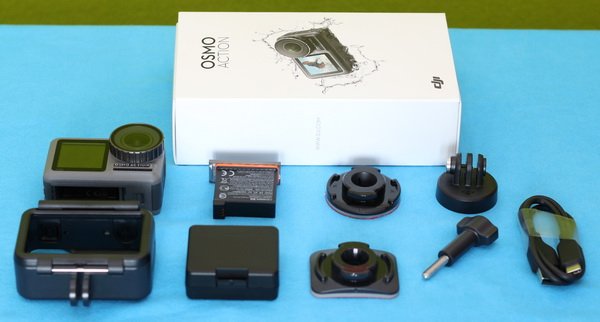 Inside the small box, besides the camera, I found the following accessories: 1300mAh Li-Ion battery, mounting frame, battery case, USB Type-C cable, quick release base, curved adhesive mount, flat adhesive mount and connector screw.
At a glance
As you would expect, the camera is rugged and durable (dust and shockproof) including waterproofing up to 11 meters without a dedicated case. In my opinion, for pool fun is just perfect out of the box, but as sea water is very corrosive, also when it dries, the salt crystals can scratch the lens and screens. I would suggest for snorkeling and diving a waterproof housing.
In addition to the rear 2.25″ touchscreen on the back, you have a second 1.4″ live-view color display on front for perfect selfies. Only one display can work at a time. You have also two status LEDs, one on top and one on front.
The 65 x 42 x 35 mm size camera body has nice grey finish with a subtle texture. On top you have two buttons (Power & Shutter), Status LED and microphone. A third button on the side, labelled 'QS' (QuickSet), lets you switch between different working modes. The threaded lens shield can be conveniently removed, which allows easy replacement in case you break it or just want to use a neutral density (ND) filter instead of it.
Right under the QS button, behind a tiny flap, are located the USB port and micro SD slot. The USB-C port allows charging the camera battery, transfer files from OSMO to your computer, as well as to attach certain accessories – such as external microphone. According to DJI's specs, the microSD card slot accepts cards sizes up to 256GB.
If you owned before an action camera, you probably already found out how easily can be broken the battery compartment's door. DJI, ingenuously moved the flap with rubber sealing from camera to the battery. You just need to insert the battery and you are done. In case that orange line is visible around the battery lockers, you need to push it harder in order to be completely sealed.
Like I mentioned above, couple of mounting accessories are included. l felt all solid and well built. Unlike other action camera mounting accessories, DJI's quick release base adopts screw-in connection instead of slide-in one. At first look, the mounting screw is made by stainless steel, remains to be seen if it will rust or not.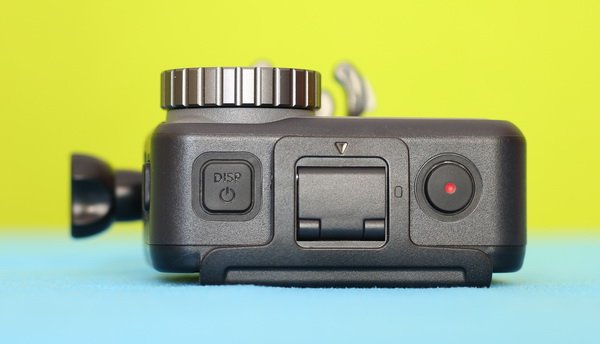 Osmo Action camera highlights
Waterproof rugged design;
Removable lens protector glass which can be replaced with ND or other optical filters;
Two live-view screens (rear 2.25″ touchscreen and frontal 1.4″);
Up to 4K@60fps video recording at 100 Mbps (with EIS enabled!);
12MP photos in still, burst, timed and time-lapse (JPEG or JPEG+RAW);
'RockSteady' electronic image stabilization;
High dynamic range recording (HDR works up to 4K@30fps without EIS);
8 times slow-motion (1080p@240fps or 720P/240fps);
Pro settings for fine-tune white balance, ISO, exposure for all video and photo modes;
WiFi&Bluetooth connection for DJI Mimo APP control.
RockSteady (RS) stabilization
Like GoPro's HyperSmooth, DJI's RockSteady (RS) allows to obtain super stable videos even if the camera shacks during recording. This feature is very handy if you don't like to use a mechanical gimbal or you just can't – like underwater for example. In a nutshell, RockSteady represents an advanced electronic video stabilization which cleverly crops image in order to remove shakes and other movement resulting in a smoother video.
Unfortunately, due to the high CPU demand, this feature is available only for certain settings (resolution, frame rate and aspect ratio). Most disappointing is that you can't use it together with HDR (high dynamic range). There is also a "cosmetic" issue using RS, it produces lag (delay) on display.
High Dynamic Range (HDR) videos
HDR – or High Dynamic Range filming is a quite unique feature in this market segment – not even the top-end Session 7 Black has it. HDR allows to capture more details from bright and dark areas in your videos. However, as I previously mentioned, you can't use HDR with RockSteady, nor can you shoot at over 30 fps. This feature follows to be tested in various light conditions.
Controls and user interface
As I indicated previously, in addition to the rear touchscreen LCD, it has only 3 control buttons. If you own an Osmo Pocket, you will accommodate very quick with the touch-control. Main menu can be accessed by sliding your finger from top to bottom of the screen. There you can find 8 shortcuts: Save current settings, Screen brightness, Touch lock, Settings, Screen orientation, Spot metering On/Off, Voice control On/Off and Full front screen On/Off.
Settings menu allows to configure voice control, default working modes, QS button, Wirelesses connection, Sound level, Grid, Anti-flicker, Screen/Camera power Off, LED status, Language, Date/Time and memory card format. There you have also factory reset option and details about the camera and firmware version.
By swiping up from the bottom you can customize the current mode. For videos you can change resolution, aspect ratio, frame rate. Here you can also activate/deactivate Rock Steady stabilization. Find bellow all resolution/frame rate options you have:
4K 16:9: 60/50/48/30/25/24 (RS for all);
4K 4:3: 30/25/24 (No RS);
2.7K 16:9: 60/50/48/30/25/24 (RS for all);
2.7K 4:3: 30/25/24 (No RS);
1080P: 240/200/120/100/60/50/48/30/25/24 (RS for 60FPS and bellow);
720P: 240/200 (No RockSteady).
The "QS" side button allows you to toggle between working modes. You have a total of 4 video (Standard video, HDR video, Slow-motion and Time-lapse) and 5 still photography (Single, Countdown, Timed, Burst and AEB) modes.
Like most action cameras, Osmo Action also has playback mode which allows to review the footage right on the field. This feature can be accessed by sliding your finger from left-to-right.
Switching between frontal and real screens can be done either by pressing twice the "QS" button, either by double tapping the rear screen with two fingers.
Osmo Action is also capable for hands-free operation. You can start/stop video recording or take still photos by giving voice commands. You can even toggle between front/rear screens. This feature is very handy when it is used as dashcam – you can control the camera while you keep your hand on the wheel.

First weekend with the Osmo Action
After I turn it ON, warned me that I need to register it – you have 5 power cycles to do this. Registering is easy and can be done via the MiMO APP. While I had some issue to connect the camera to my Android phone, with my wife's iPhone worked like a charm. After registering, next suggestion from DJI is to upgrade the camera's firmware.  After your approval, this step is made quick and smooth – in few minutes the OA restarts with the new software.
As I received the camera on Friday and I already scheduled to cut the grass in the weekend, I need it to combine the gardening activities with the testing one. Using a bike handlebar mount a attached the Osmo Action to my lawn mower.
Image and video quality
Firstly, I did 3 short tests: 4K@60fps with RockSteady, 4K@60fps without stabilization and 4K@30fps HDR. If you put side by side RS and non-RS videos, you will find that viewing angle is noticeably reduced. Luckily, the OA comes with wide angle lens, so loosing some FOV is not a big issue. RS does a really great job, the videos were smooth even if I cut the grass on terrain with a lot of unevenness. Next week, I will repeat the test using a 3-axis mechanical gimbal in order to see which stabilization provides better results.
Fish-eye (wide angle lens distortion) effect can be reduced by enabling "DeWarp" option. Unfortunately, there's a tiny bit of extra cropping when you activate this feature.
While the Osmo Action is mainly for videos, it takes still photos with good sharpens and clarity. Dynamic range looks little limited without HDR. Hopefully, next firmware will bring HDR for photos as well. On full manual mode you can configure ISO, Max ISO, Shutter Speed and EV. You have option to take compressed jpeg photos or JPEG + DNG (uncompressed) photos.
Battery life
Finally, let's talk a bit about the Osmo Action's battery life. The removable 1300mAh battery allows roughly up to 2 hours of continuous working time. Battery life is widely depending on which feature you turn on (RockSteady or HDR), also on recording resolution and frame rate. During my tests, I got almost 90 minutes of battery life out of one fully charged battery (when shooting 4K@30fps with RockSteady enabled).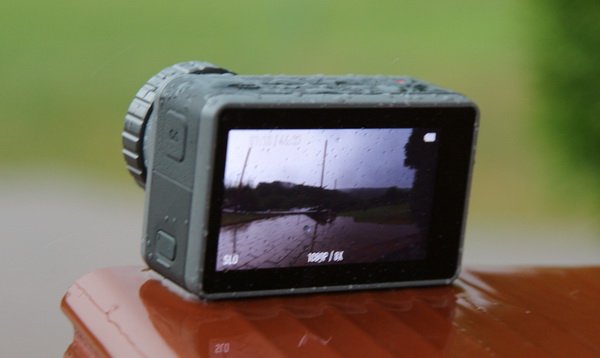 As charging time takes about 90 minutes, it is worth to invest in one or more spare batteries. For example, you can get the Osmo Action Charging Kit which includes 2 batteries with case and a 3-way charging hub for only $69.
Price & Availability
Besides DJI's online store, you can order the Osmo Action from most reputable online retailers (worldwide and regional). While US customers need to pay US$329 for it, EU customers have to pay a bit more, around 379 Euros. At checkout you can opt for memory cards (64GB or 128GB) and extra batteries. Although DJI has been promising for some time a 60 meters rated underwater housing for scuba-divers, this one is still not available on their website. As alternative, you can find third-party cases (30~40 meters) for 10-15 bucks, but you should use them at your own risk.
Editor's ratings
Price/performance ratio

Design and build quality

Image quality

Video Stabilization

Battery life

App Features
Verdict
Without a question, it is far the best action camera that I tested (for now). It can't be compared with those cheap pseudo 4K cameras. It has superior built quality, it feels very professional in your hand. You can use it underwater without additional accessories.
The RockSteady does a great job, even if you loose some of the viewing area. The frontal display is also handy – allowing to frame yourself perfectly. 8x slow-motion and time-lapse modes will open new possibilities for those who like to capture interesting videos.
What I liked
Cheaper than its competitor;
Included mounting frame and basic accessories;
Waterproof out of the box (no case need it);
Changeable lens protector;
DUAL LCD system;
Excellent image quality;
Pro level gimbal like RockSteady electronic image stabilization.
What I didn't liked
No lens cap included;
Date transfer from camera to computer quite slow;
I had some issue to connect the camera to my phone via MIMO APP;
No live streaming.
DJI Osmo Action vs GoPro 7 Black
Osmo Action
GoPro 7 Black
Image sensor
1/2.3″ CMOS 12-megapixels
1/2.3″ CMOS 12-megapixels
Max video resolution
4K/60fps
4K/60fps
Max video bitrate

100Mbps

78Mbps
HDR video

Yes

No
Video stabilization
EIS (RockSteady)
EIS (HyperSmooth)
Slow-motion videos
8x (1080p/240fps)
8x (1080p/240fps)
Live-streaming
No

Yes

Live-view display
Yes
No
Removable battery
Yes,

1300mAh

Yes, 1220mAh
Size
~ 65 x 42 x 35 mm
~ 62 x 45 x 28 mm
Weight
124 grams

116 grams

Native waterproofing
Yes,

11 meters

Yes, 10 meters
Price (US market)

USD $329

USD $399
What's new within the latest firmware? (v01.03.00.10 – 2019.06.10 release date)
Optimized 8x slow motion video quality.
Fixed issues:

When recording for an extended period, the video and audio became out of sync;
During playback, the camera occasionally restarted;
While recording, the camera could not connect to DJI Mimo.
Useful resources for Osmo Action owners
More sample videos