Whether you're a newbie that plays with toy drones or a professional FPV pilot, time will come when you will need a RC battery charger like the HB120QUAD. In addition to the fact that allows charging up to 4 LiPo batteries simultaneously, it is compatible with most common type of rechargeable batteries (Multi-Chemistry).
While most of the toy drones come with their own USB charger, only few FPV quads are packed with a dedicated charger. Over the years, my drone fleet has grown to more than 15 models from various brands. As my wife says, I'm pretty disorganized, so you can imagine how hard is to find which charger fits for each drone. Luckily, most of my drones are powered by batteries with common type of charging/discharging connectors, allowing to use universal chargers. Furthermore, HobbyMate HB 120 QUAD charging station allows to charge conveniently up to 4 battery packs in the same time.
Even the best LiPo battery will not run at its full power if is not charged properly. Things become even more complicated when it comes to multi-cell batteries.
What are the best features of the HB120QUAD LiPo charger?
Integrated AC/DC adapter;
Can be powered from a high capacity 12V battery;
Each channel can be individually configured;
Allows to charge up to 4 batteries in the same time;
Can charge up to 6 cell Li-Po batteries;
Multi-chemistry: can charge various type of batteries (LiPo, LiIon, LiFe, LiHV, NiCd, NiMH and Pb);
Storage Mode for Lithium batteries: end voltage is set to ~3.8V/cell which is safest for long-term storing;
Cyclic Charging/Discharging: can run up to 5 charge/discharge or discharge/charge cycles in order to refresh the battery;
Balance charging: each cell is individually monitored, end voltage will be similar on all cells;
Fast charging mode for LiPo batteries:
Charging program for HV LiPOs (High Voltage 3.8V/cell);
Built-in battery meter: total voltage, individual cell voltage, highest and lowest cell voltage;
Profile data Store/Load: charger can store up to 10 different charge/discharge profiles;
Temperature threshold (protection): if battery reaches critical temperature, charging process is stopped (requires external temperature probe).
First review of the HB120QUAD multi LiPo charger
Disclosure: I received this RC battery charger as part of a product review collaboration with HobbyMate. Product specs and quality may vary according to the manufacturer's reliability, so I cannot guarantee that you will get a charger that performs exactly the same as seen in my review. Thanks again for their confidence letting me to review the charger between the first ones.
I cannot omit to "thank" DHL for their horrible services. In addition that I had to pay 30$ taxes for a free sample, it took more than 12 days to receive the package.
Unbox your charger
First of all, with the weight of almost 3 Kg, we can't tell that HB120QUAD is a portable charger. Probably you will not want to carry all day long something heavy like this in your drone backpack.
Besides the charger, I found inside the box the following accessories:
AC power cable;
DC power cord (XT60 Male to 4.0mm bullet plugs);
4 pieces of JST-XH balance charge boards (2s~6s);
4 pieces Deans-Plug (T-plug to banana) charge cables.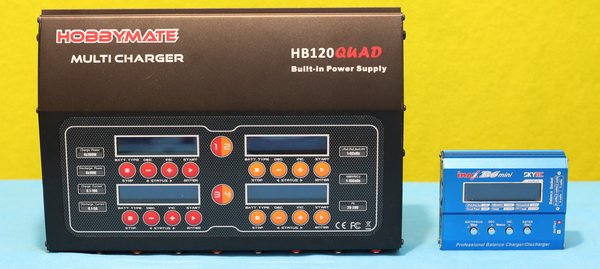 In nutshell, the HB120QUAD looks like any other universal charger, but it is much much bigger and it has four times more buttons, status screens and connectors. Each channel has four control buttons and one status screen.
Let's have a closer look on the HB120QUAD charger's specs
Input voltage: AC 100-240 V or DC 11.0-18.0 V;
Charge power: 4 x 120W (total of 480 Wats);
Discharge power: 4 x 10W (40W);
Charge current range: 0.1-10.0A;
Discharge current rage: 0.1-5.0A;
LiPo/LiFe/LiIo/LiHV cell count: 1 – 6 series;
NiCd/NiMH battery cell count: 1-15 cells;
Pb battery voltage: 2V – 20V (1-10 cells);
Current drain for balancing LiPo: 300mA/cell;
Weight: 2.8kg;
Dimensions: 294 * 199 * 76mm.
Excepting the front panel, the hole case is made of metal. In order to allow good heat dissipation, two venting fans are on each side of the charger. In addition to the AC plug, there is possibility to power the charger with direct current (12~18V DC). For example, on the flight field you can use your car's battery. Just remember that at 12V the charger can drain up to 40 Amp if all channels are in use.
Battery, balance and thermal probe sockets can be found on the front side. No USB plug like in case of other smart chargers – no other way to connect the charger to your computer.
First usage
As described in the HB120QUAD user manual, the right order of usage is to power ON the charger and ONLY after connect the battery. When you finished the charging/discharging process, remove the battery leads and only after this you can unplug the power cord of the charger. If you get the warning "Reverse Polarity", you MUST disconnect the battery immediately!
Due to the four-fan cooling system, I thought that the charger will be very noisy. Luckily, the coolers start to work only if needed. Idle, at room temperature all are stopped.
By default, the 120QUAD starts in 2A, 2S LiPo balance charging mode. As I previously mentioned, each charging unit has four control buttons (Battery type/Stop, Dec, Inc and Start/Enter) and one status screen. By shortly pressing the "Start" button you can change the charge current and number of cells. Long pressing the same button you can start the charging process.
Settings menu is very intuitive, especially if you already own a similar charger. Unfortunately, there is no centralized menu, therefore you need to do the same settings four times in case you want to charge 4 identical batteries (pretty lame).
As last week I received for review a High Voltage LiPo pack, I was glad to find that HB120QUAD has dedicated charging mode for HV LIPOs. Compared to the "classic" ones, they have 3.8V/cell nominal voltage instead of 3.7V.
The built-in battery meter is a very handy feature. You can quickly plug in your LiPo and get the charger to give a voltage test in order to make sure that all cells are OK.
In order to test all charging units in the same time, I configured:
Charging 4s HV LiPo on channel 1;
Discharging 2s LiPo on channel 2;
Storage charging 3s LiPo on channel 3;
Battery meter on channel 4.
Excepting the unorganized wires, everything worked as it should. It is pretty nice that you can do same things with this HB120QUAD multi-charger as with four regular chargers.
Editor's ratting
Price/performance ratio

Design and build quality

Battery compatibility

Cell compatibility
Conclusion
Honestly, I can't tell that HB120QUAD is the best charger that you can have in 2017, not even that is the cheapest one. But, if you need a high-power LiPo charger with built-in power supply that allows to charge up to to 4 batteries simultaneously, the HB120QUAD is the one you look for. Built quality is excellent, you can individually set each channel for different type of batteries. Practically you get 4 chargers in one case.
Since the charger is in testing stage before mass production, price and availability is uncertain. As soon as it will become available for orders, it will be listed here. For comparison, the HOBBYMATE Duo LiPo Charger (HB120Duo) costs $129.90.
Pros
Built-in power supply;
Powerful, can charge with up 10 Amps per channel;
Can charge up to 4 batteries in the same time;
Multi-chemistry, many type of batteries are supported;
Fans starts only if need it;
Easy to use.
Cons
Lack of PC link (no USB nor Bluetooth);
No T-Plug to other type of battery adapters (like XT60, XT30, JST) included;
Heavy;
Expensive.
Finally, here are some tips that you should consider when you charge your LiPo battery:
Ensure that number of cells and battery type are set correctly on your smart charger;
Never charge your LiPo unattended – monitor the battery temperature, if it gets warm or starts to swell, stop charging immediately;
Charging damaged batteries is prohibited;
Never charge your battery with higher "C" rate than specified;
It is highly recommended to charge your batteries in a fireproof location, or in a LiPo safe bag.