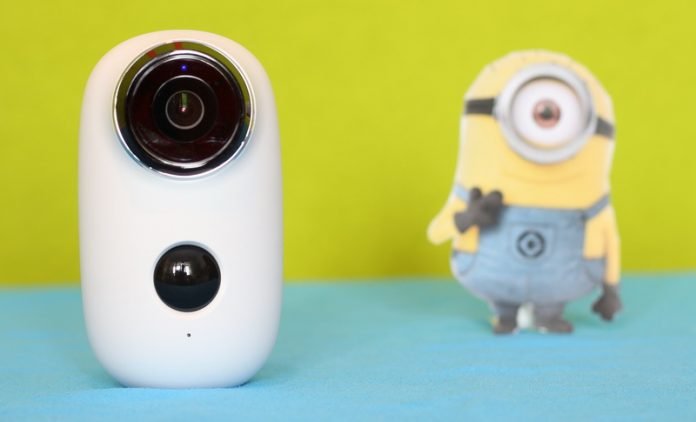 To be honest, firstly I wanted to say pass for Heimvision's proposal regarding the possibility to test and review their products. I considered that wireless WiFi IP cameras are out of FirstQuadcopter niche. After I checked the specs and features of Heimvision HMD2, I found it helpful for many jobs. Being 100% wire-free, it can be installed easily everywhere, the only requirement is to have WiFi coverage.
Last year I build a 20 feet (6 meters) height watchtower close to my flight field which is located on the edge of a forest. At night you can hear the noises of wildlife, which would be interesting to be captured. Besides birds of prey such as the owl and the hawk, there are larger animals like wild rabbits, boars, and deer. Thanks to the two-way audio communication you don't just watch the animals but also hear them – just like in a Discovery Live TV 😀
This summer I have another project in mind, more precisely to build an FPV race track with gates and all the stuff. Not being a fenced area, I thought that at least a surveillance camera would be necessary in case something is going missing overnight.
Heimvision HMD2 wireless IP camera review, ratings, and samples
Disclosure: I received this battery-powered IP camera as part of a product review collaboration with Heimvision. Although the product was offered for free, all the opinions in this review remain my own!
Despite that over the time I tested IP surveillance cameras from many brands, I never heard from Heimvision before their mail. That's why I was pretty surprised that checking search volumes in Google, they are close to Hikvision and Tenvis.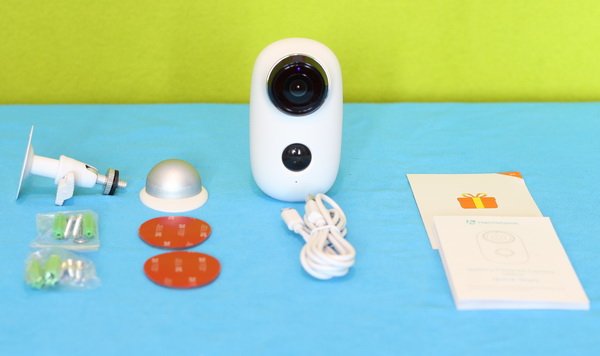 The HMD2 arrived quickly and smoothly with UPS from a UK warehouse. The camera is nicely packaged with two types of mounting accessories, a USB charging cable, and an instruction manual. There is also included a card with 3 possible gifts (solar panel, memory card, or cloud subtraction for 3 months).
At a glance
In terms of design, the HMD2 looks more like a cute one-eyed Cyclops Minion than an IP security camera. With a height of just 10cm and a diameter of 6cm, it is the smallest surveillance camera I've tested. Being loaded with a 6000 mAh battery it feels quite heavy (228 grams).
On the front, there is a large lens, a motion sensor, and a microphone. On the back, below the speaker and magnetic mount and behind a removable rubber sealing cap, there are the USB charging port, micro SD slot, and power button, and reset hole. At the bottom of the camera, there is a standard tripod mount.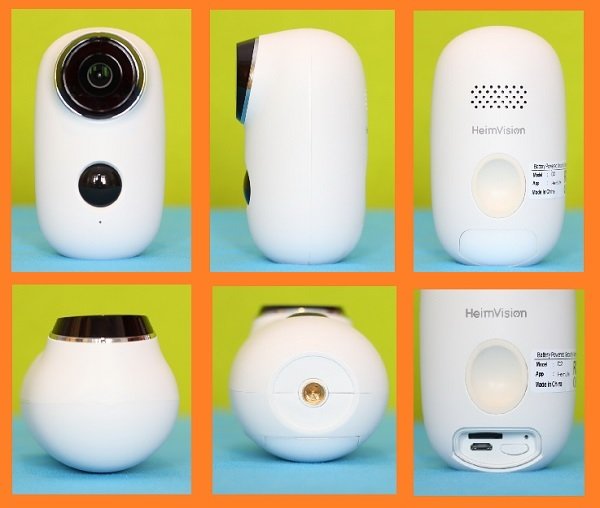 Both included camera mounts allow tilt angle and horizontal FOV adjustments. While the "fixed" mount is suitable for permanent installation with screws, the ingenious magnetic mount allows removing the camera easily as many times as needed.
Heimvision HMD2 camera highlights
Totally wire-free with built-in 6000 mAh rechargeable battery and WiFi connectivity;
Internal SD Card & Cloud Storage recording;
130° wide-angle lens with Full HD 1080@25fps;
Night Vision Up to 30 Feet;
Built-in PIR sensor and 3 IR LEDs;
Two-Way Audio (built-in speaker and microphone);
HeimLife mobile APP with playback and instant alert features.
Price and availability
At the time I published my review, the battery-powered HMD2 IP camera was listed on the manufacturer's website for $63.99. In case you want long-time outdoor operation you should opt for the HMS1 solar panel, which will cost you an extra $35.99.
HeimLife Mobile APP
The HeimLife APP can be easily installed on your mobile device by scanning the QR code from the included user manual. In order to pair the camera with the APP you need to go to the "add device" section and select "Battery camera", then follow the step-by-step instruction. In the end, if the camera reaches the internet, the status LED will change from flashing red to solid blue. The whole setup takes no more than a few minutes. In case you entered a wrong WiFi password or you just want to connect to another wireless router, you need to reset the camera.
Adopting easy to use (user friendly) interface it can be the perfect choice for those who are unfamiliar with surveillance systems. Besides basic configurations and live-view, the APP allows to access captured videos (by date/time) and to export them to your phone if needed. Another cool function of the APP is the push-to-talk intercom feature. The APP also shows popups when alarms (motions) encounter.
On the main screen, there are displayed the following useful information: WiFi strength, battery level, and video transmission bit rate.
Live view and recording quality
Without a web-interface, the only way to access the live-video is through the above-mentioned APP. You have two quality options: "HD" and "SD". As you can guess, HD will offer better image quality, but it is also more bandwidth-consuming.
The live-view quality is very good, you can do even digital zoom in a specific zone. The camera's microphone is always on, so you can hear what's happening in the monitored area. Exported videos from the camera to phone have a resolution of 1920×1080 with 9~15/fps.
Heimvision HMD2 features an automatic day/night mode switch, which means if the light level drops below under a specific level the camera toggles from color mode to black/white mode and IR LEDs are turned ON.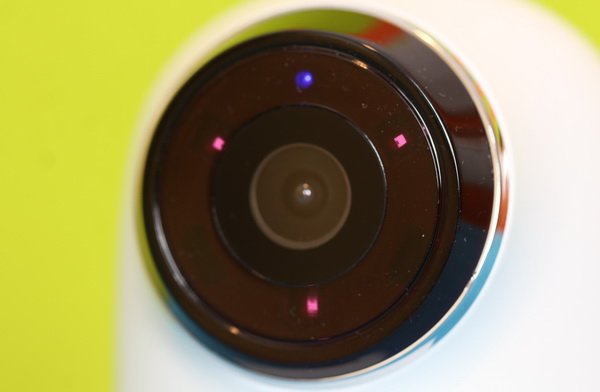 Unfortunately, there is no continuous recording option. Instead of a 24 hours footage, you will have lots of short sequences as motions are detected.
Battery life
According to the manufacturer's specs, the built-in battery can last up to 4 months (10 motion records per day). In case you will use the camera outside with lots of movements, it is highly recommended to use it with the compatible HeimVision HMS1 solar panel (3.2W/ 5.5V).
Indoor, you can power it conveniently from a USB phone charger. As battery level is displayed in the APP, you can opt to charge it when needed only (probably once on a couple of weeks), without keeping it plugged-in permanently.
In order to save energy, during the night the IR LEDs are lighted up only if a movement is detected by the PIR sensor.
Who's it for?
Most likely you will not find HeimVision HMS1 installed inside or outside of a bank. These facilitates need security cameras with special requirements (like metal enclosure) and certifications. To be honest, this camera is designed more for home use. You can install it by your own in a few minutes without the help of any CCTV specialist. I find this camera also usable for temporary zone monitoring due to the easy wire installation.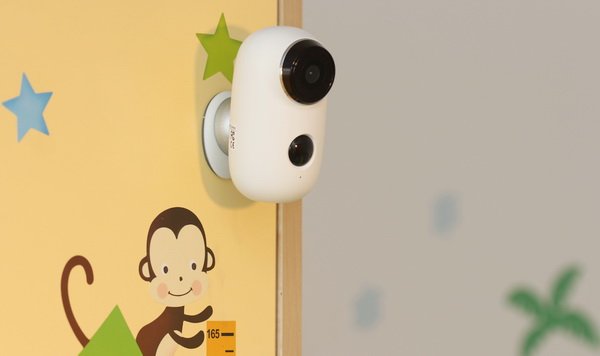 Because of the novel coronavirus outbreak, in most countries, children need to stay home and take online lessons. The HMS1 is the perfect tool to monitor your kid while you are at work. Thanks to the wire-free operation, he can easily move the camera from one room to another in order to be permanently supervised. Furthermore, thanks to the two-way communication you can assist him with his homework.
Unfortunately, the HMD2 can't be integrated with traditional ONVIF NVRs. For recording you have only two options: locally on a micro SD card or you can opt for a hassle-free paid cloud recording services from HeimVision.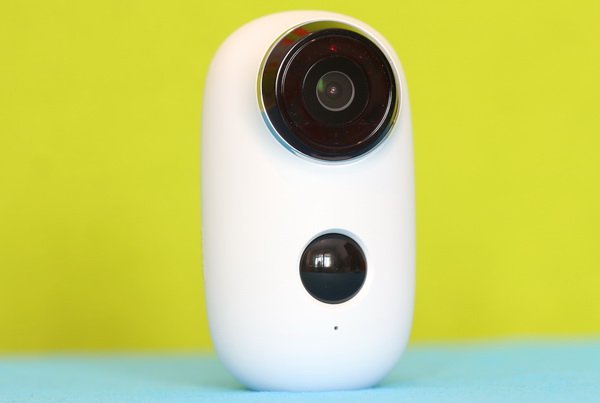 Editor's ratings
Price/performance ratio

Design and build quality

Image quality

Night vision

Battery life
Verdict
Apart from some limitations like continuous recording and ONVIF integration, I find the HeimVision HMS1 quite handy gear around the house. It has a wide range of usability and no wiring is required. In daylight, image quality is good, but during the night those tiny IR LEDs proved to be inefficient when it comes to large fields.
Pros
Compact size and easy to install the mounting system;
IP65 weatherproof certified;
Two-way audio communication;
Battery-powered, 100% wire-free;
Optional solar-panel for longer operation time;
Available cloud recording subscription.
Cons
Can't store multiple WIFI access details;
No continuous recording;
Lack of ONVIF protocol (possibility to use it with an NVR).