An ESC (Electronic Speed Controller) is an essential part of an FPV drone that controls the speed of the brushless motor. It is responsible for receiving signals from the drone flight controller and converting them into motor commands by adjusting the amount of power delivered to the motor's coil. In this review, we will have a closer look at the iFlight BLITZ E55 4in1 ESC board.
FPV drones are commonly using single or 4-channel ESC boards – iFlight's BLITZ 55A ESC is available in both versions. Four-in-one ESCs allow you to move ESCs from the arms of your drone into the center stack with your flight controller.
In a nutshell, an ESC is composed of several components, including a microcontroller, power MOSFETs, capacitors, and resistors. The 4in1 BLITZ E55's 32-bit ARM Cortex G071 MCU runs on the IFLIGHT_BLITZ_G2 target and is the ESC's brain responsible for interpreting the signals from the flight controller and providing motor commands. The high current (40V/200A) 5C430L ESB8J MOSFETs switch the power on and off to the motor while the capacitors stabilize the voltage and filter out any electrical noise.
The performance of an FPV drone is highly dependent on the quality of its ESC. A high-quality ESC can improve the drone motor's efficiency, leading to longer flight times and increased agility.
iFlight BLITZ E55 ESC review
Disclosure: I received this ESC board as part of a product review collaboration with iFlight. Although the board was offered for free, all opinions in this article remain my own, and the sponsor in no way influenced me.
The BLITZ E55 4-IN-1 ESC PCB board comes in a transparent plastic box with the following accessories: an XT60 battery cable, two FC data cables, and two sets of rubber grommets. For extra protection, the board is wrapped in a bubble bag.
Unlike other square/rectangular shape ESCs, the BLITZ E55 has a stellar one, with motor pads on each corner. The board has an approximate size of 45x45mm, a max high of 12mm, and a weight of 15.3 grams. It has a 30.5*30.5mm/Φ4mm mounting pattern. On the opposite side, with the 470μ/35V capacitor, is the FC connector with the following pinout from left to right: GND, GND, VBAT, VBAT, M1, M2, M3, M4, CUR, and NC. The motor pads have generous space between them, allowing easy soldering. Motors can be soldered on both sides of the PCB. From BetaFlight Configurator, you can configure motor order and rotation direction.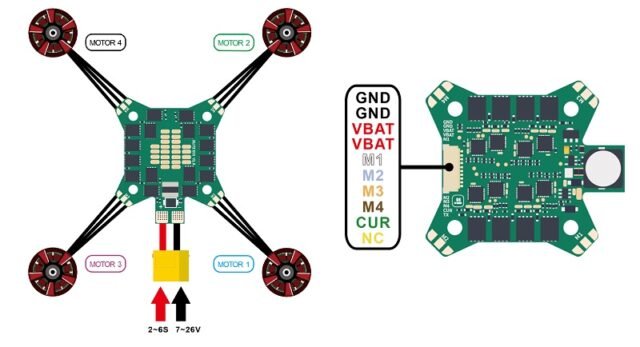 The BLITZ E55 is compatible with 2 to 6S LIPO batteries and intended for 5 to 7″ FPV drones. You can get the current sensor data by selecting "ESC sensor" in the power tab of the BFC, but this requires a free UART port. It can be used in tandem with F4 and F7 flight controllers.
When you make the soldering, here are some recommendations that you should consider to avoid rookie mistakes:
Use the right temperature, and avoid heating for too long. If the whole PCB is overheated, chips can be dislocated
Always use soldering flux. It helps remove oxidation and prevents airflow to the lead, preventing further oxidation
During soldering, cover the rest of the PCB. Solder blobs can make short circuits
Motor wires can "sticked" on with joints that are dangerously close together
Before power-on, double-check everything. A smart XT60 smoke-stopper device could also be useful
Technical specifications
| | |
| --- | --- |
| Mounting pattern | 30.5*30.5mm/Φ4mm |
| Weight | 15.3g |
| Battery compatibility | 2-6S lipo input |
| Low ESR capacitor | Yes, 470μ/35V |
| MCU | 32Bit G071 |
| Current rate | 200 |
| Max constant current | 55 Amps |
| Burst current | 65 Amps |
| Current sensor | Yes |
| BEC | No |
| Compatibility | DShot/DShot150/300/600/MultiShot/OneShot etc |
| Firmware target | IFLIGHT_BLITZ_G2 v.32.8 |
Price and availability
The BLITZ E55 4in1 ESC board can be ordered from the manufacturer's online store for $86.99 -this price includes the XT60 battery cable, FC cables, and mounting silicone grommets. The 'Mini' edition with a 20x20mm mounting pattern is available for $83.99. The one-channel version can be purchased for 36.99. The Combo pack with F722 FC is $155.99.