A few months ago, I built an iFlight Nazgul5 V3 FPV drone, and being on a tight budget, I looked for a cheap but versatile flight controller (FC). While most F7 flight controllers from reputable brands such as Diatone, SpeedyBee, RushFPV, HGLRC, or iFlight were priced close to $100, I found this JHEMCU GF30F722-ICM for only $38.
F7 flight controllers are used in multirotor and fixed-wing unmanned aerial vehicles (UAVs), commonly known as drones. They are a huge upgrade from earlier F3 and F4 flight controllers, offering more processing power, increased connectivity, and improved features.
The JHEMCU GF30F722-ICM flight controller has a powerful microcontroller, allowing for faster data processing and more advanced flight algorithms. This can result in smoother flight performance.
JHEMCU GF30F722 FC: Takeaways
[Budget friendly] Priced between 35-$50 is the most affordable F7 flight controller
[Faster Calculation and Stable Operation] Boasting faster calculations, the powerful STM32F722 CPU can precisely adjust the drone's flight path in real time.
[Plug-in-Play DJI HD VTX Support] With plug-in-play compatibility, you can easily stream high-quality video from your drone without the need for additional wiring or setup.
[Six UART ports] This flight controller can interface with a wide range of accessories, including GPS modules and serial radio receivers
[Integrated 5V/2.5A & 10V/2A dual BEC] Ensure that the drone's electronics receive a stable and consistent power source, improving performance and reducing the risk of component failure.
JHEMCU GF30F722 flight controller review
Shenzhen Jinhang Electronic (JHEMCU) was founded in 2012 and has headquarters in China. In 2016, they started manufacturing flight controllers and ESCs in their own factory. Now, they also have AIO boards, VTXs, and radio receivers.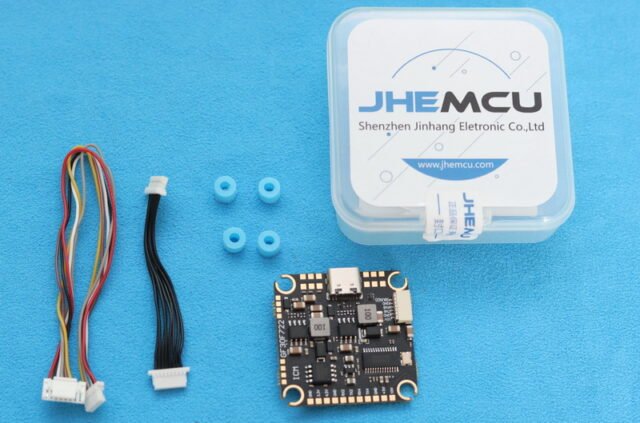 The JHEMCU GF30F722-ICM comes packed in a transparent plastic case with an included ESC and digital FPV cable. A set of silicone rubber grommets is also provided for a soft mounting.
The GF30F722 flight controller measures 36x36mm and weighs 8.8 grams. It has 30.5×30.5 (4mm) so it is more suitable for larger 5-7″ builds. The board has two connectors (ESC and DJI FPV) and a Type-C port configuration and firmware upgrade. It can be interfaced with four ESCs (motor drivers).
The double-sided board uses an STM32F722RET6 32bit microcontroller, ICM-42688-P IMU sensor (6-axis MEMS MotionTracking unit that combines a 3-axis gyroscope and a 3-axis accelerometer), air pressure barometer sensor, and BetaFlight OSD IC. It has a 16MB flash for data logging (BlackBox). There are solder pins on both sides of the FC, which is understandable as it has many extension ports.
Out of the box, it comes with BetaFlight V4.3.1 software (Target JHEF7DUAL). After I did a configuration backup, I updated to the latest v4.4.2 firmware.
Pinout and wiring diagram
The JHEMCU GF30F722-ICM flight controller has six UART (Universal Asynchronous Receiver-Transmitter) ports, which allow you to connect various peripherals such as GPS modules, OSDs (On-Screen Displays), and telemetry systems. It also has dedicated pins for the Buzzer and LEDs. All the soldering pads are nicely labeled, which is helpful in the soldering and debugging process. Besides the DJI HD digital FPV connector, it has dedicated pins for analog VTX and camera.
I completed this F7 flight controller with an iFlight BLITZ E55 ESC, AVATAR HD digital FPV kit, Walksnail GPS, ELRS radio receiver, and ViFly Buzzer. After more than fifty flights, no issue with the JHEMCU GF30F722-ICM, it works well and lasts as long as those from more well-known companies.
Pricing and availability
The GF30F722 flight controller can be ordered from Aliexpress, eBay, and popular retailers such as Banggood. The starting online price is 38$ with free shipping. If you don't need so many UART ports, you can also opt for the F4 NOXE V3, which costs only $16.60.
JHEMCU GF30F722: Technical parameters
MCU
STM32F722RET6
IMU
ICM-42688-P/Gyro/Accel
Target
JHEF7DUAL
BARO
Yes
BLACKBOX
16MB FLASH
BEC
5V-BEC: 5V/2.5A+±0.1V
10V-BEC: 10V/2A
PORT
6 x UART
HD VTX connector
Yes
OSD Chip
AT7456E
Size
36x36mm
Mounting holes
30.5*30.5*4mm
Weight
8.8grams (without cable)