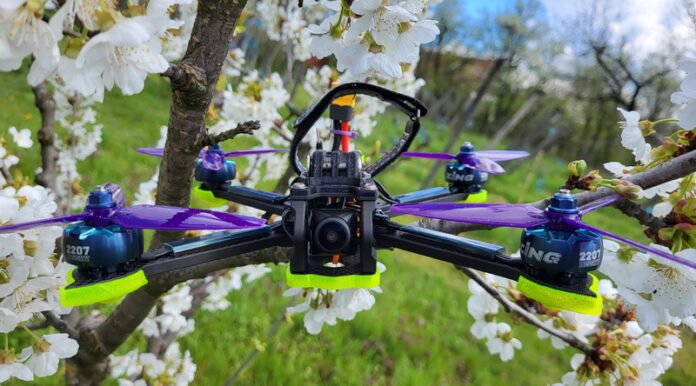 The new iFlight Nazgul5 V3 was specially designed for the DJI O3 Air Unit digital FPV system. It comes with a CNC aluminum camera mount that features vibration-reduction silicone insertion. This FPV drone is intended for freestyling as well as for long-range cinematic footage using a GoPro camera and high-capacity battery. Unlike its predecessors, the newest N5 V3 O3 has only a 6S battery option and comes equipped with XING-E Pro 2207 1800KV motors.
Building an FPV drone from scratch can be difficult and challenging, but it awards you with the satisfaction of making with your own hands something that flies. It also allows you to use different parts from the original version, customizing it to fit best to your needs and budget. It is also possible to use recovered parts from crashed drones saving some money.
For this DIY cinematic FPV drone project, I opted for the following parts with a total cost of $577 (this price excludes the controller and FPV goggles):
Nazgul5 V3 frame kit – $66.99
XING2 2207 1855KV brushless motors – $87.96 ($21.99×4)
GEMFAN 513D propellers – $1.77/set
BLITZ E55 4-IN-1 ESC – $86.99
F722 Flight controller – $55
DJI O3 Air Unit digital FPV system -$229 or Walksnail Avatar HD Pro – $159
BetaFPV SuperD ELRS 2.4G Diversity Receiver -$18.99
VIFLY Finder V2 drone finder buzzer -$13.49
Walksnail WS-M181 GPS -$16.99
iFlight Nazgul5 V3 review and build instructions
Disclosure: I received the frame kit, motors, and ESC as part of a product review collaboration with iFlight. Although the parts were offered for free, all opinions in this article remain my own, and the sponsor in no way influenced me. The rest of the accessories shown in this review were purchased and paid for by myself.
iFlight is headquartered in Huizhou City since 2014. They have grown from a small office to a global workforce in just a few years. Today, iFlight's products are the top favorite of professional videographers, as well as racing and freestyle flying pilots. Besides ready-to-fly FPV drones (Taurus X8 Pro, Chimera7 Pro, Nazgul5, ProTek, and others), they also offer a wide range of parts, including frame kits, brushless motors, flight controllers, and ESCs. In 2022 they released their first ELRS-enabled radio transmitter, the Commando 8 RC.
The Lord of the Rings is my wife's favorite cinema series. She watched all three episodes of the trilogy many times. In the movie, Nazgul is Sauron's most deadly and loyal servant. iFlight's first-generation Nazgul5 drone was released in 2019, the second-gen (V2) in 2020, and the third generation (V3) in 2023.
Last month, I received from iFlight their latest Nazgul5 V3 frame, a set of motors, and the BLITZ E55 4-IN-1 ESC reviewed two weeks ago. Additionally, they included in the box an Anti Spark Filter kit that should extend the lifespan of the XT60 connector and protect the electronics from damage due to the voltage/current spikes.
1. Nazgul5 V3 frame kit
I started this 5″ DIY FPV drone project by assembling the Nazgul5 V3 frame. The kit contains everything that is needed, including screws and some extra parts, such as a second type of TPU antenna mount, two IPEX to SMA VTX antenna pigtail extension cables, and a spare antislip battery pad. Despite that, the frame kit contains only an exploded view, and the screw bags are only partially labeled; I managed to assemble it in just one hour.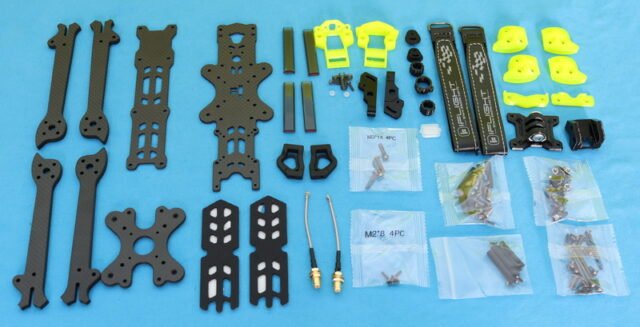 The frame has a classic long body design with four arms (5mm) between a bottom plate sandwich (3mm, a longish top plate (2.5mm), and some 25 mm height standoffs. Arms are intended for 22xx and 23xx motors and can be replaced by removing just one screw, which is quite nice. The bottom plate has screw holes for both 20x20mm and 30x30mm flight stack mounting patterns, but only the 30x30mm has insert nuts. On the tail, for the VTX, there are three mounting patterns: 30.5*30.5 φ3mm, 25*25 φ1.6mm, and 20*20 φ2mm.
It has front and rear TPU bumpers, also TPU motor protectors. As I previously mentioned, two types of TPU mounts are included for single and dual-antenna VTX systems. Both have a tiny ingenious compartment for the radio receiver module. There is also included a TPU buzzer mount, which I did not use because I prefer self-powered drone finder buzzers.
When fully assembled, the iFlight Nazgul5 V3 frame measures 173x173x36.5 mm and weighs about 180 grams. A standard GoPro mount can be installed in front of the top plate. About 10 cm remain free for installing the battery. You can opt for one or two velcros, according to the size of the LIPO.
As a design element, in the center of the bottom plate there is a transparent silicon iFlight logo that glowed by the ESC's LED.
2. XING₂ 2207 brushless motors
The XING2 2207 motors are intended for 5-inch FPV drone drones. The original RTF iFlight Nazgul5 also uses them. There are two-speed options: 1855KV (6S) and 2755KV (4S). Each motor comes with 5mm propeller nuts and four M3*7 mounting screws.
The motors have a 5mm titanium alloy shaft and Crash resistant 7075 aluminum bell. They use smooth, long-lasting NSK 9x4x4 bearings and center-slotted N52H curved arc magnets. I liked that the motor wires are protected by a metal ring so that it wouldn't break easily from the soldering point in case of a crash.
Technical parameters
| | |
| --- | --- |
| KV options | 1855KV / 2755KV |
| Input Volts | 24V / 16V |
| Peak Current | 35.08A / 40.35A |
| Max Watt | 841.90W / 645.60W |
| Interphase Resistance | 50mΩ / 41.5mΩ |
| Configuration | 12N14P |
| Lead | 160mm/20AWG |
| Shaft Diameter | 5mm |
| Shaft Protruding Length | 13.5mm |
| Dimensions | 29.08*19.1mm |
| Weight | 31.6g |
3. BLITZ E55 4-IN-1 ESC
After I installed the motors, I mounted the ESC board in the center of the frame. Remember to use the provided grommets. If you want to use the included wire organizers, pass the motor cables through them before starting soldering. The PCB is installed with the low ESR capacitor facing down. You can read more about this ESC in my BLITZ E55 review.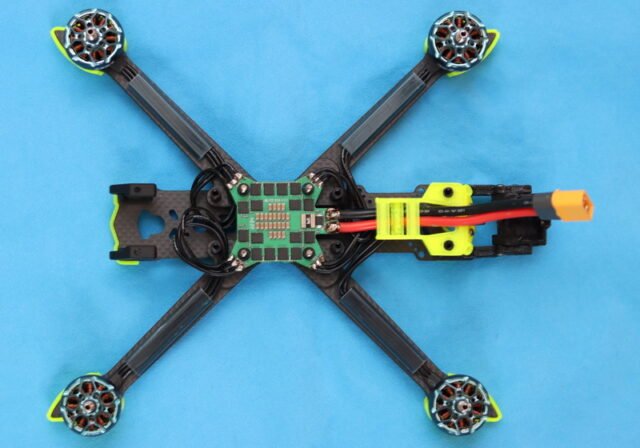 In addition to the standard XT60 cable, iFlight also sent me their new Anti Spark Filter kit. Unfortunately, I couldn't use it because it had a surface mount XT60 connecter and the frame did not have a mount for this.
The ESC's RGB LED can be activated from the BLHeliSuite32 app. You can opt for red, green, or yellow or mix two or three colors.
4. Other parts
In addition to the parts iFlight sent me, I needed a flight controller, radio receiver, and FPV system to finish the Nazgul 5V3. It is also highly recommended to use a GPS modulle and drone finder modules for failsafe RTH and easy recovery in case of a crash.
Initially, I ordered the missing parts from XT-Xinte. Big mistake! Despite that I paid extra for express shipping, it was not dispatched even after two weeks from payment of the order. Seeing that it makes no sense to wait for them, I decided to use one of my existing drones as a donor and remove the needed parts. As the electronics were already wired and configured to work together, I finished the iFlight Nazgul 5 V3 in less than one hour. I just needed to connect the FC with the ESC and mount the O3 AU system (camera and VTX) and the ELRS radio receiver.
Of course, the next day after finishing the build I received the long-waited missing parts so I started the process all over again with the new parts. Meanwhile, I also received Avata HD Pro kit and I decided to use it instead of the O3 Air Unit.
Fully built, without a battery, my custom Nazgul 5 V3 weighs 443 grams. With a 6S 2000mAh LIPO battery (215g) and a full-size GoPro 11 (153g), the total take-off is around 810 grams.
Pricing, availability, and options
The frame kit can be ordered from the manufacturer's website for $66.99. The XING2 2207 motor can cost $20.90/piece. You can opt for 1855KV or 2755KV according to whether you want to run on 6s or 4s LIPOs. The BLITZ E55 4-IN-1 ESC can be purchased alone for $86.99 or in a combo, with the F722 flight controller, for $155.99. If you prefer ready-to-fly drones, you can opt for the Nazgul5 V3 O3 6S HD for $539.99. Considering that just the O3 AU costs $229 by itself, it's a good deal for those who like to fly without the do-it-your-self stuff.
Final thoughts
Nazgul 5 is perhaps iFlight's most popular line of FPV drones. It is sturdy and has lots of space to install various accessories. The TPU parts make it look cool in the air and allow you to customize your quadcopter. You can install an ultra-high-capacity battery for long-range flights by removing the GoPro mount. The 55A ESC gives you enough punch for the trickiest freestyling maneuvers. You did a hard crash and snapped an arm? Get some spares with your order and easily swap them out right on the flight field. The stack is also easily accessible for maintenance; you need to remove just eight bolts.
The Nazgul 5 adopts a True-X configuration, probably the most popular frame design. My only issue with this frame layout is that the propellers are visible in the FPV feed. While the silicone insertion claims to reduce the camera's vibration, there was a lot of jello in the Avatar HD Pro footage.