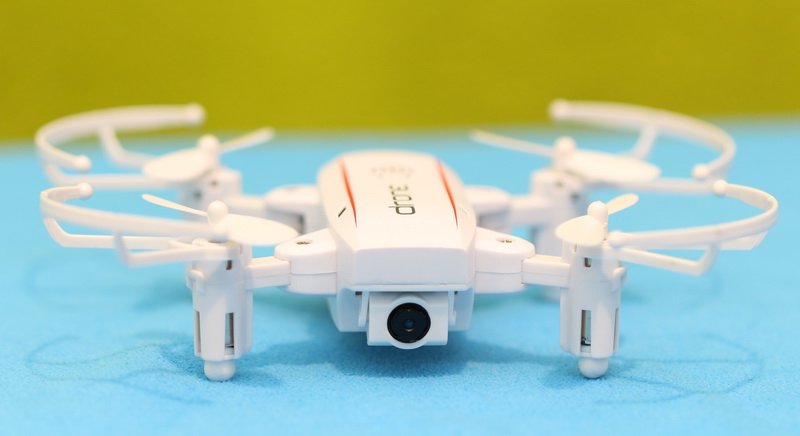 When it comes to children, I would seriously recommend you getting a miniature-kid friendly drone like this JX 1601HW, instead of a larger one. Not just because they are affordable, but also because mini drones can't produce them or the surrounding people major injures.
Unlike video games, drones will improve not just kids' motor and cognitive skills but will also give them plenty of outdoor entertainment.
The JX 1601HW is available in two colors (black and white) and with two different type of cameras. While the 0.3MP version is sold for $33.99, the 2MP can be ordered for $38.99.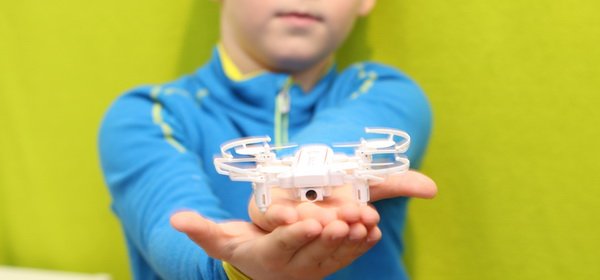 JX 1601HW core features
Pocket size with foldable arms;
Dual control mode (Phone APP and RC);
Easy to replace flight battery;
On-board camera with angle adjustment;
WiFi real-time image transmission (FPV);
Headless flight mode;
Altitude hold (auto hover);
Multiple flight speed rates;
About 5 minutes of play time.
JX 1601HW drone review with pros and cons
I will start my JX 1601HW review with thanking Banggood for offering me this nice kids drone. I also appreciate their continuous support during last year and hopefully they will continue to send me new interesting quadcopters in 2018 too.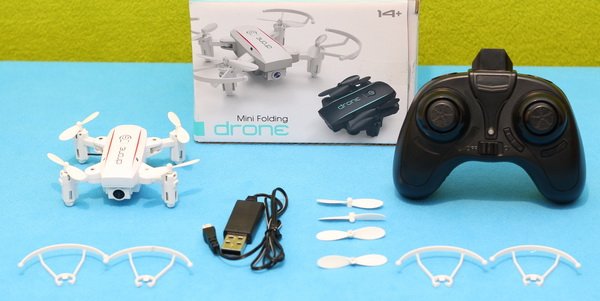 Due to some mistake, they sent me the JX 1601HW twice. One with DHL that arrived last week and one with standard free shipping that is still under transportation.
Inside the box I found, besides the drone and its transmitter, the following: 2 pairs of spare propellers, 1 set of blade protectors, USB charger, phone holder and user manual.
In terms of design it is very similar with the Eachine E59 drone. With folded arms has a size of only 6.5 x 6.5 cm so it fits comfortably into your pocket.

According to the manufacturer's specs, the modular 200 mAh battery allows about 5 minutes play time. Luckily, the battery is replaceable and you can have couple of charged ones ready for more fun time.
Power switch is located on top of the aircraft. While pressing briefly you can turn ON the drone, you need to long press it in order to turn it OFF.
During night flights you will be guided by 3 LED lights, 1 green on front and two red ones on back. Unfortunately, the front LED is visible only from the top of the drone.
How good is the JX 1601HW's camera?
The camera on the JX 1601HW is a basic HD camera. It will take decent pictures outdoor in good light, but do not confuse it with a GoPro. Most drones under $50 with cameras won't take videos that look half as good as your iPhone. The camera is able to stream live-video to your phone through the HTS-UFO App.
Camera angle can be adjusted according to what you want to record, straight ahead or ground.
Four minutes of recorded video (1280×720@20 fps) occupies about 65MB on the phone's internal memory. Both, photos and videos, are stored under the "HTS_UFO" folder.
How to control the JX 1601HW kids drone?
The big question is whether you need a remote controller at all, since the JX 1601HW can be flown at close range using your smartphone. Frankly, I prefer much more the classic way (physical RC) instead of APP control. Maybe controlling the aircraft's movements by tilting your phone sounds cool, but it is not nearly as precise as through a real transmitter.
You will need 2 pieces of AA batteries in order to use the RC. Featuring alt-hold feature, both sticks are centered.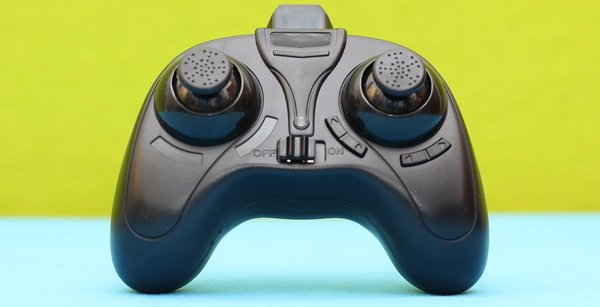 On front panel, besides the two control sticks and power button, there are only 4 trimming switches (grouped two by two).
By pushing the left stick (throttle) as a button, the flight speed can be switched between 3 values according to the operator's flight skills (low, medium and high). The speed rate setting is confirmed with 1,2 or 3 beeps.
Both shoulder buttons have double functionalities. While the left one allows to enable Headless mode or RTH, the right one allows to Take-off or Land.
Calibrating the drone can be done by moving both sticks to the lowest-right position.
As I previously mentioned, JX 1601HW also supports APP control. You can control the drone with your smartphone through virtual sticks or through gyro-sensor (by tilting the phone). Note: there is different APPs for 0.3MP and 2MP version.
Test flight by 8 years old kid
First of all, when I get a new drone, I test it personally before I let my son to play with it. Due to the poor quality check or improper transportation you can receive a faulty drone which can be dangerous for kids. I also strongly recommend not to let children charge the flight battery by themselves. LiPo batteries may swell, overheat or even worse, explode during charging process.
Starting the flight is very easy. After transmitter bind, just press the "Take-off" button and the drone raises about 1.5m above the ground. Thanks to altitude-hold feature, the JX 1601HW automatically maintains its flight altitude.
While the lowest speed rate is just perfect for indoor practice, on highest speed rate the drone becomes more agile, but still not too fast for children without flying experience.
FPV is nice, kids love it, but due to the low latency you need to keep your eyes permanently on the drone.
Editor's rating
Price/performance ratio

Design and build quality

Remote controller

Camera and WiFi FPV

Flight performance
Final Thoughts
Seems like the JX 1601HW has the perfect recipe of a kid drone. Due to its small size and included blade protectors, it is very safe for children. Thanks to the altitude-hold feature it is easy to pilot even by an 8 years old kid.
With dual control mode, can be flown through phone APP as well as through RC.
Despite its small size, the camera offers pretty nice quality in good light condition.
Pros
Compact size with foldable arms;
On-board WiFi FPV camera;
Removable battery;
Included blade protectors.
Cons
Can't record without phone;
Videos have only 20 fps.