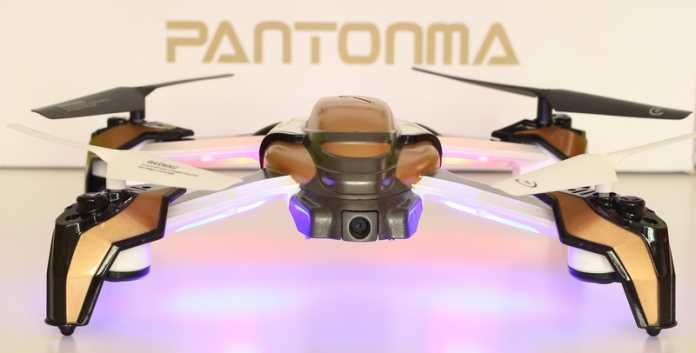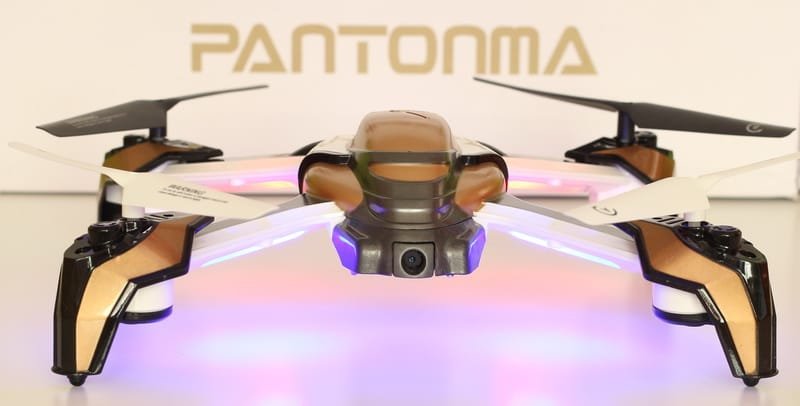 Kai Deng K80 quadcopter – The first cheap drone which claims to have obstacle avoidance feature
Frankly, when I firstly watched the promo video of this Kaideng K80 Pantonma drone I was a bit skeptical regarding all its amazing features. Especially the obstacle avoidance feature seemed to be the less credible for such a cheap toy. In order to discover the real capabilities of this quad-copter I decided to test and review the KD K80 quadcopter by myself.
Compared to its predecessors (K70 Sky Warrior, K61 Sport, and K60 K-drone) this new KaiDeng model features altitude hold (auto hovering). This means that the K80 Pantonma is capable to maintain autonomously its flight altitude approximately at the same level.
The Kai Deng K80 quad was announced in two colors, blue and gold, and with 6 different types of cameras:
0.3mp VGA /480p camera;
2MP/720p HD camera;
5MP/1080p Full HD camera;
0.3Mp VGA Wi-Fi FPV camera;
720p HD Wi-Fi FPV camera;
5.8GHz FPV camera.
Thanks to the innovative modular design, the camera, obstacle avoidance module, and battery are easily replaceable. Yes, I know the property battery is not a great idea because a spare one will probably cost twice as a "regular" one with the same capacity.
Kaideng K80 in-depth review
I will start my Kaideng K80 review by thanking GeekBuying for offering me this nice quadcopter. I also appreciate their continuous support and professional attitude as they never try to influence me in writing my article in a certain way.
Inside the nice cardboard box, besides the K80 drone and its transmitter, I found the following: 650 mAh flight battery, 720P WiFi FPV camera, iR obstacle avoidance module, 1 set of spare propellers, 1 set of blade protectors, UBS battery charger, screwdriver, and user manual.
Kaideng K80 review – Design and build quality
My first impression of this Kaideng K80 was: WOW. Those from Kai Deng Toys made a really nice job. The design of the KD K80 is a nice mix between elegant and aggressive. The built quality of both aircraft and transmitter is pretty good.
Being a ready-to-fly product (RTF) you just need to load the battery into the quad and you can already start having fun with your new toy.
Instead of high landing gears, the K80 Pantonma is equipped with four low profile rubber landing pads.
The "modular design" is pretty nice, you can switch easily between 5MP, Wi-Fi FPV or 5.8G FPV. Please note that the quad comes with only one camera.
In order to allow better orientation, the front propellers are white and the rear ones are black. During night flights you will be assisted by four LED lights. Blue in front and red on rear (one under each arm).
Unfortunately, brushed motors (coreless) are not too reliable and they usually need to be replaced after 10 – 20 flights. Unlike other drones where you need to totally disable the aircraft, the unique design of the KD K80 Pantonma allows fast, easy, and solder free motor replacement.
Both, aircraft's and RC's batteries can be re-charged with the same USB charging cable.
Kaideng K80 Pantonma features and specs:
Lightweight modular design;
Obstacle / Collision avoidance;
Altitude hold / Auto hovering;
Multiple speed rates (beginner/intermediate/advanced);
One key return to home (not GPS one!);
One key to land;
Easy to replace motors;
Remotely adjustable camera angle;
Can be equipped with 6 different cameras (including FPV ones);
About 6 minutes of flight time;
Up to 100 meters control range (in open field).
Kaideng K80 review – Remote controller
The game-style transmitter looks pretty nice and comes with tones of buttons. The RC is extensible in order to accommodate large smartphones, tablets, or even 5.8G FPV displays. Of course, this feature is only useful if you got the Wi-Fi or 5.8G FPV edition. The transmitter is powered by an integrated 200 mA rechargeable battery.
Besides the usual control sticks, I counted another 16 buttons (4 shoulder buttons and 12 front panel buttons). Right under the throttle stick are located two trim buttons and under the direction stick are 4 trim buttons.
Through the two buttons under the power switch, you can remotely adjust the camera's lens angle (lens-up/lens-down). Frankly, it is a great feature for such a cheap RC toy. BTW, you can also remotely turn ON/OFF the LED lights.
While the right shoulder buttons allow to arm or disarm the motors respectively to switch between flight rates, the left ones allow taking photos/videos respectively to engage auto-return to home.
The switch between speed rates (beginner, intermediate, and advanced) is confirmed by 1, 2 respectively 3 beeps.
Kaideng K80 review – Camera
Mine came with a 2mp WiFi FPV camera but as I previously mentioned there are also other 5 compatible cameras. The camera is wire-free and can be easily loaded into the quad just in seconds.
When the KD K80 is powered ON, the camera lens is automatically leveled at approximately 45 degrees. If the view needs a different point of view, the angle of the lens can be remotely adjusted from shooting straight ahead to straight down (0 – 90 degree in 3 steps).
On the rear of the camera, there is an empty hole without any real purpose which can be easily confused with a micro SD slot.
In order to display the camera's live video feed, you need to install on your mobile device the "Pantonma-FPV" APP available for Android and iOS. Although the APP's interface seems to be suitable to control the drone, it does not. The virtual sticks don't have any effect on the drone's movements. Its sole purpose is to display the real-time video feed and take pictures/videos.
The captured photos and videos are stored on the smartphone's internal memory in the "SYKMARROR" folder. Both videos and photos have a resolution of 1280 x 720 pixels. Three minutes of captured videos occupy about 28 MB.
Videos coming from the camera have the usually low quality for such a toy grade quadcopter and of course, they aren't going to be on par with high-end flagship models. BTW, the frame rate seems to be less than 25 per second, and the jello effect is present.
Kaideng K80 review – First usage / Test
Being curious about how it performs the obstacle avoidance feature, I tested the quad indoors. Binding the drone with the RC can be done by pushing up/down the throttle stick (the LEDs will turn eternal ON). The motors can be armed/disarmed by pressing the right-frontal shoulder button.
Honestly, after my first flight with the Kaideng K80 Pantonma I was pretty impressed by the way it behaved the altitude hold feature. At the same time I got a bit disappointed by the performance of the collision avoidance module, it is very limited, it works only on low-speed rate and doesn't work with glasses. Also, I found it very inaccurate.
Switching to a medium speed rate I found out that the quad behaves much better. It became more responsive and faster, so probably I will remove the anti-collision module.
When the battery is near empty, the K80 will land safely on its own (hopefully not above a lake or river :D).
If you opt for the manually land the throttle stick needs to be hold on the lowest position for about 3 seconds, till the motors stop otherwise the drone will bounce above the ground.
Both of my test flights had about 5 minutes (fully equipped), so the advertised 6-7 minutes is near the reality. In order to extend the flight time, you can remove the propeller protectors, camera, and IR obstacle avoidance module. Less weight means longer flight time.
Price–performance ratio

Design and build quality

Flight autonomy

Camera / FPV

Remote controller
Kaideng K80 review - Final words
In my opinion, this Kaideng K80 Pantonma could be definitely the winner of the "Best drone 2016" contest. For only $90 there is no other model with so many features.
The "Obstacle avoidance" sounds pretty good but I don't think it performs too well. Anyway, it works at low (beginner) rate only.
My only complain is the availability of spare parts. Also it would be awesome if the manufacturer includes a second battery.
This nice learn-to-fly drone with obstacle avoidance can be bought at the price of $89.99 with free shipping from here. You can opt between gold and blue colors but only for 2MP Wi-Fi FPV camera.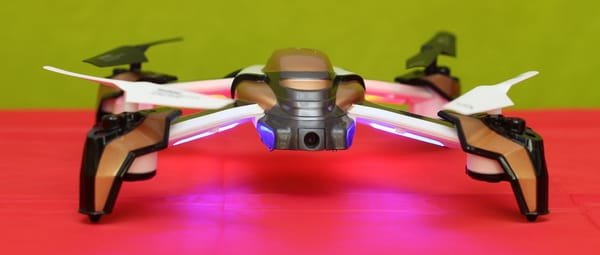 The Good
Obstacle avoidance (not perfect but it is still nice to have it);
Altitude hold \ Auto hoover;
Headless flight mode;
Automatic landing on low battery;
Transmitter with Li-Po battery;
Easy to replace motors.
The Bad
Proprietary battery;
Not the best image quality;
Lack of spare parts.
Sponsored review