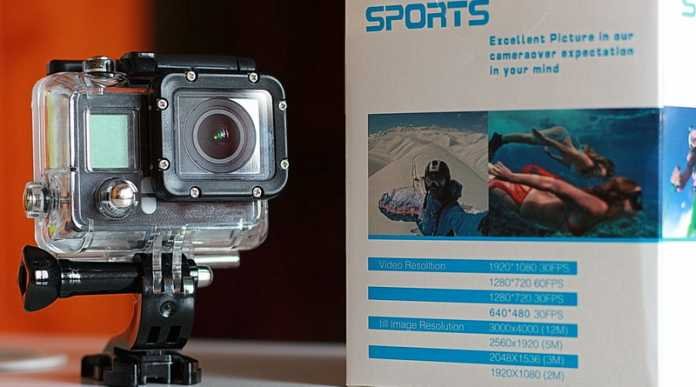 Keecoo – Cheap Wi-Fi FPV quadcopter camera
There are several small cameras on the market so why Keecoo and not GoPro or other alike action cameras?
I want it something cheap, light weight, with good video quality and decent battery life. My plan was to use the same camera for hobbyist aerial filming and first person view flights. Of course, for FPV I needed a camera with AV-out.
GoPro cameras have the best image quality and are very reliable, they are ahead other ones but are also expensive too. Because off the price I took them out of my option. Some models are even more expensive than the quadcopter itself and, as I'm a beginner flyer, never knows what can be damaged during crash lands.
I broke my smartphone's display twice without flying with it :), therefore I wanted a camera without live view display and I excluded one of the most popular quadcopter camera, the SJ4000. Besides this, I took into consideration that the display consumes a lot of power which means shorter battery life. The Keecoo camera can work up to 150 minutes with a single battery charge, so you won't be afraid that the camera will remain without power while you record some spectacular aerial videos with your quadcopter.
Searching on several online stores, including eBay, I found the Keecoo camera on Geekbuying. Regarding the features and specs, it was the perfect camera for my needs. The Wi-Fi connection was not necessary for me, but, eventually, I'm glad it has this feature too.
Keecoo camera review. It is good for anything?
The camera comes in a beautiful transparent box, a common mode of presentation for such products. So you can see on the first bite what you paid have paid for :).
After removing the camera form the waterproof case, you will find actually how small and light weight is this Keecoo camera. The design of the camera is simple with rubber touch finish and is available in 3 different colors: silver, gold and black.
Under the camera, there is a box with a lot of accessories you need in order to mount the camera on your bicycle, helmet or tripod. To install this camera on you quadcopter or gimbal, you will need some additional materials like velcro tapes.
The camera has only 3 buttons, one for the Wi-Fi mode (On/Off), one to take pictures or start/stop video recording and one multifunctional on/off button.
With the power button you can power on/off the Keecoo camera and switch between the function modes. The camera can work in video, photo, burst photo and time-lapse photo mode. Also, through this button you can access the setting menu of the camera.
On a tiny grayscale character LCD you can review the current camera mode, battery status and the settings menus. Frankly, I'm to old or the display doesn't have the best quality. I had to focus very well on it in order to make the first setup (like time&date, video and photo resolution).
Cameras with wide angle lenses provide a very large field of view, so practically you will be able to capture the entire scene from the front of your quadcopter without making too much side to side rotation.
The video resolution of the Keecoo camera can be set to full HD 1080P with 30fps or 720P with 60fps if you need higher frame rate.
Certainly, the video quality of a camera is the most important aspect. The AIT 8427 32 bit 500Mhz CPU, which is the heart of the Keecoo KO, does a decent job. Maybe a bit over saturated and sometime noisy on fast movements, but overall provides a very good video quality for it's price range.
If you zoom the image and watch the photo in its actual 4000×3000 resolution, you will be a bit disappointed. The photo is not too sharp but this is normal in case of wide angle lenses.
Keecoo KO-01 camera test images (12MP 4000×300 original size, unattached)
As I mentioned before, the camera can be connected via Wi-Fi to any Android and iOS device (smart phones and tablets). Just push the left side button that enables the Wi-Fi connection on your camera and look on your device for the "SPORTDV_WIFI" network and select connect using this password "0123456789". To control the camera via your smartphone you must install the "AIT WIFI Cam viewer" tool from Google Play.
The Keecoo camera is powered with a 3.7V 1050mAh Li-ion battery that allows 150 minutes work time. Spare batteries cost around $7, it's well worth having at least one spare when you are in holiday.
Keecoo camera features and specs
AIT8427 32-bit 500 MHz main CPU (Alpha Imaging Technology);
micro SD slot for up to 32GB memory cards, remanded Class 6 or above;
Grayscale character LCD display;
Image sensor: 12MP CMOS;
Lens specs: F2.8 , f=4.93mm, M12, 7G+1IR, 170 degree wide angle;
Image resolutions: 4000×3000(12MP), 2592×1944(5MP), 2048×1536(3MP), 1600×1200(2M);
JPEG image compression;
Video resolutions: 1080p with 30fps and 720p with up to 60fps;
H.264 video codec and AAC audio codec;
Auto white balance and sensitive mode;
micro HDMI video out;
AV out (PAL / NTSC) via USB port for FPV;
Built-in microphone and buzzer speaker;
Connectivity: wireless Wi-Fi and USB;
Waterproof up to 30m (with case);
3.7V 1,050mAh Li-ion Battery (replaceable);
Working tine: up to 150 minutes;
Size: 59 x 41.5 x 21.4 mm;
Weight: 77g with battery and without waterproof case;
Keecoo camera package includes:
The quadcopter camera it self;
30meter waterproof case;
220V to 5v USB power adapter;
USB charging and data cable;
3.7v 1050mAh Li-Po battery;
Bike holder;
J-Hook buckle (for helmet);
2pcs Helmet bandage;
3pcs of screws;
4pcs of cable tie;
2pcs of 3M adhesive tape;
Flat camera mount;
Mini tripod mount adapter;
Tripod mount adapter;
3-way pivot arm;
Curved camera mount;
Lens cleaning wipe;
Keecoo camera instruction manual.

KeeCoo camera – package contents
Keecoo camera review – final words
As usual, you get what you pay for. The camera offers a decent video quality for an affordable price. The AV-out and lightweight design makes the Keecoo KO-01 the perfect quadcopter camera for aerial filming and first person view flights.
The camera can be ordered using this coupon code "RUNFOFUW" for only $81.99 from here. Don't forget to add to your order some accessories like: spare battery, lens cap and USB AV-out cable required to connect the camera to the quadcopter's FPV system.
Pros:
Light weight, only 77g;
Good value, all-around action camera.
FULL HD 1080P video resolution;
AV-out for FPV;
Good battery life;
Wi-Fi connection. Compatible with Android and iOS devices;
30meter water resistance;
Impressive accessories pack.
Cons:
Not the best photo quality;
Too small LCD screen;
Non standard micro USB port;
Lens cap not included;
FPV (AV-out) cable not included.
Images with the Keecoo quadcopter camera