Nowadays, most drones weighing less than 250 grams are charged via USB. Laptop manufacturers are also moved from dedicated power adaptors to more convenient PD USB chargers. Often, I have to charge 3-4 devices at the same time and I borrow my wife's and kid's wall charger which makes them unhappy if they have to charge their phones too. The Kovol Sprint 120W Charging Mate can bring back balance and peace to the family :)
In the backpack of a professional vlogger, there are even more devices that need to be charged via USB. Commonly they have a gimbal, a couple of LED lights, an action camera, a tablet, a phone, and who knows what else. The Kovol 120W not just allows you to charge four devices at the same time and also in a faster and safer way. It can deliver up to 100W on a single USB Type-C PD port or simultaneous dual 60W PD output withal five safety features including thermal and surge protection.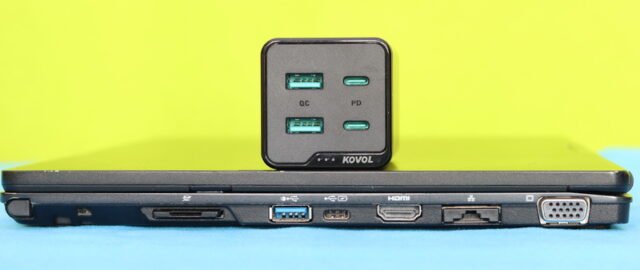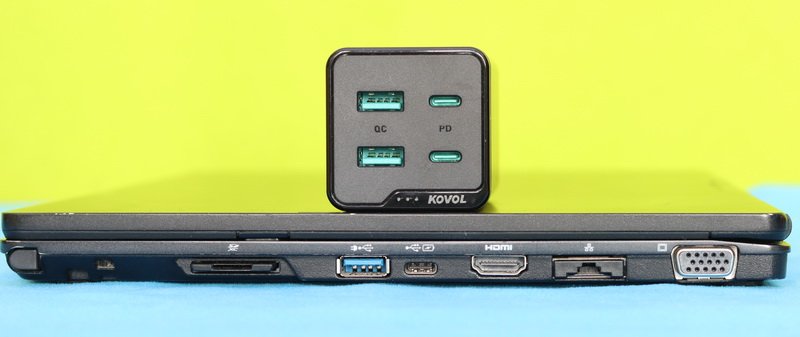 Kovol integrates into their new 120W PD charger Gallium Nitride (GaN) technology that is the next-generation semiconductor that replaces silicon, allowing high energy efficiency and high power in very small size and lightweight.
Kovol Sprint 120W KV-PC001 features
Mighty 120W Output (up to 100W/channel or dual 60W PD output);
Compatible with a wide range of USB devices (including Laptops, Phones, and Drones);
Latest GaN II Tech (~30% smaller than typical 120W chargers);
Low-Heat & Safe Charging (Q-Pulse technology);
Four charging ports (2x Type-A and 2x Type-C);
Optimized Power for Each Device (PD 3.0 certified);
Super comact (46 x 46 x 85mm/1.81 x 1.81 x 3.35″);
Wide range of input voltage (100-240V ~ 50/60Hz).
Kovol Sprint 120W charger in the world of drones
Disclosure: I received this USB desktop charger as part of a product review collaboration with Kovol. Product specs and quality may vary according to the manufacturer's reliability, so I cannot guarantee that you will get a charger that performs exactly the same as seen in my review.
The charger was sent with standard China Post and arrived in about 4 weeks. Besides the Sprint 120W Charger Mate, the package included only an IEC320-C7 type power cord. No USB cable is included. To use its full power, you will need high-quality 100W rated USB Type-C cables.
The Kovol KV-PC001 GaN charger has a minimalist cuboid design. After the measurement, the product size is approximately 46 x 46 x 85mm (1.81 x 1.81 x 3.35 inches). It may be bigger than wall chargers, but as a high power output charger, it is reasonable. You can drop it in your backpack and carry it wherever you like. The overall build quality feels good, no complaints here.
On the front panel, there are 4 USB ports (two USB-A and two USB-C) and 3 status LEDs. The USB-C ports support PD (Power Delivery – up to 100W), while the USB-A ports support QC (Quick Charge up to 18W). Initially, I thought that the LEDs have some smart features like showing which channel is charged or when the process is finished. They only indicate when it is plugged into the AC outlet. Thanks to the wide range of input voltage (100-240V) and frequency range (50/60Hz), it can be used in both US and Europe regions.
Kovol Sprint 120W power distribution table
1x USB-C PD Port
100W
2x USB-C PD Port
60W + 60W
1x USB-C PD Port
1x USB-A QC port
65W
18W
2x USB-C PD Port
1x USB-A QC port
65W + 20W
18W
1x USB-C PD Port
2x USB-A QC port
65W
18W + 18W
2x USB-C PD Port
2x USB-A QC port
65W + 20W
18W + 18W
Output voltage
USB-C PD Output: 5V-3A, 9V-3A, 15V-3A, 20V-5A, 100W Max. each port
USB-A Q-Pulse Output: 5V-3A, 9V-3A, 12V-1.5A, 18W Max. each port
PD power ports can be used with both PD and non-PD-compatible gears. When you plug something into them, they'll detect how much power is required, and deliver the right amount.
Charging and Heat test
Instead of a load meter, I used two laptops to test the charger. After two hours, both laptops were fully charged. The Kovol KV-PC001 heated up to approximately 48°C, which is acceptable taking into consideration the heavy load. It remains generally cool to the touch under normal load.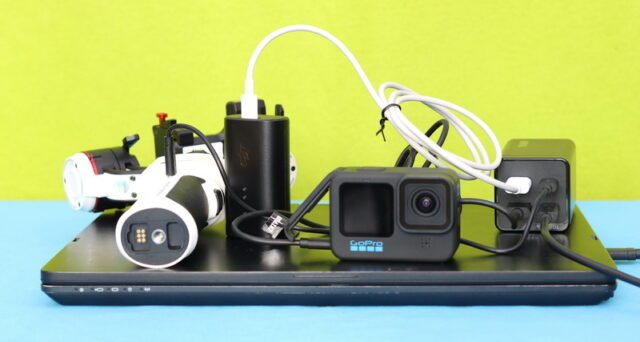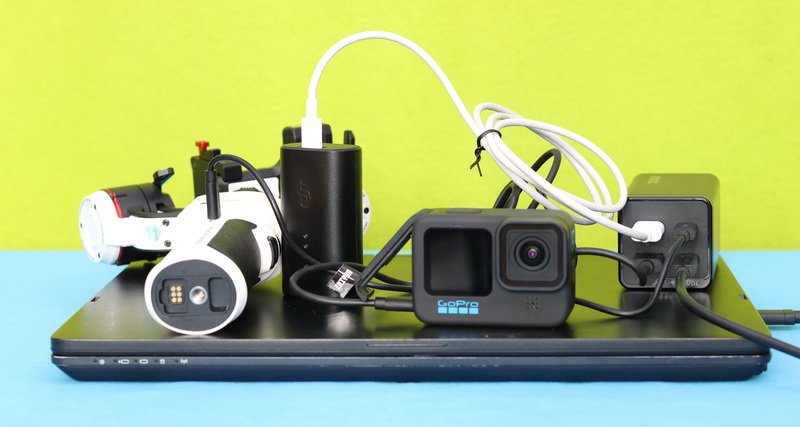 Charging your smartphone from your computer is not an option anymore. With the KOVOL 120W, you can charge your mobile device up to 5 times faster. Also, my Autel EVO Nano+ has been charged two times faster compared with a wall charger.
Price and availability
The Sprint GaN 120W charger can be purchased from KOVOL for $99.99. If you don't need that much power, they also have a 65W version with similar features for only $49.99. A 100W rated high-quality USB-C to USB-C charging cable is available for $15.99. New customers can get 20% off with this "NEW20" coupon code.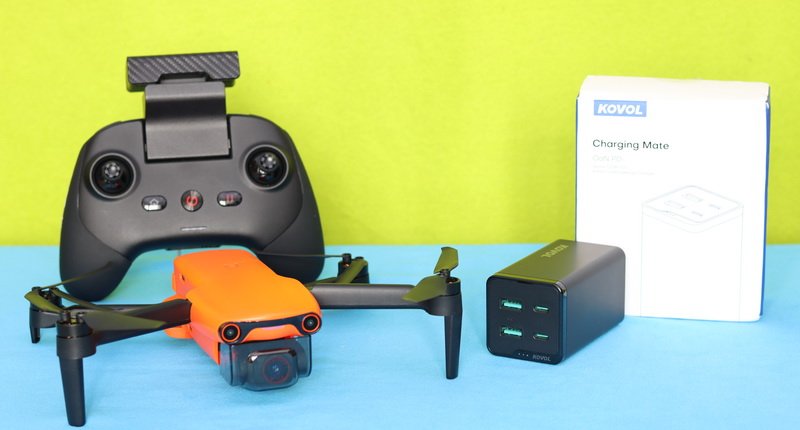 Price/performance ratio

Design and build quality

Power to size ratio

Device compatibility
Summary
KOVOL Sprint 120W GaN charger is compatible with a wide range of devices. It supports the total maximum output power of 120W, or up to 100W fast charging on a single PD port. It can charge two 60W laptops simultaneously with no issue. It was nice to have the ability to charge four drones at the same same time. Even the 18W Type-A port allowed a faster-charging process than the stock wall charger.
Pros
Super compact and powerful;
Can charge laptops, tablets, phones, drones, and other USB gears;
4 USB ports (2x Type A + 2x Type C);
Up to 120W of total power (max 100W/channel).
Cons
Lack of car adapter input (12V);
No USB cables included.