Last month, LDARC, formally known as Kingkong, announced their third beginner-oriented drone transmitter named EX8. Being compatible only with Futaba & FrSky receivers, without any future upgrade capability, I think they joined late to the game, as everyone moves to ExpressLRS these days. My LDARC EX8 review covers technical specifications, features, and initial settings.
The LDARC EX8 features 8 channels (2×2 for sticks and 4 for switches), adjustable transmission power (25/100mW), Futaba/FrSky radio compatibility, and a removable battery. It has about the same set of features as the LiteRadio 2 Radio but with a nice status screen. No fancy features, just the basic functions that every beginner pilot could need.
LDARC EX8 transmitter hands-on review
Disclosure: I received this remote controller from MakerFire in order to test it and do an in-depth review. Although the product was offered for free, all opinions in this article remain my own, with no influence from my partner.
The time LDARC EX8 was released, it looked like a compact backup remote controller for my Taranis Q X7, as most of my drones are equipped with FrSky radio receivers.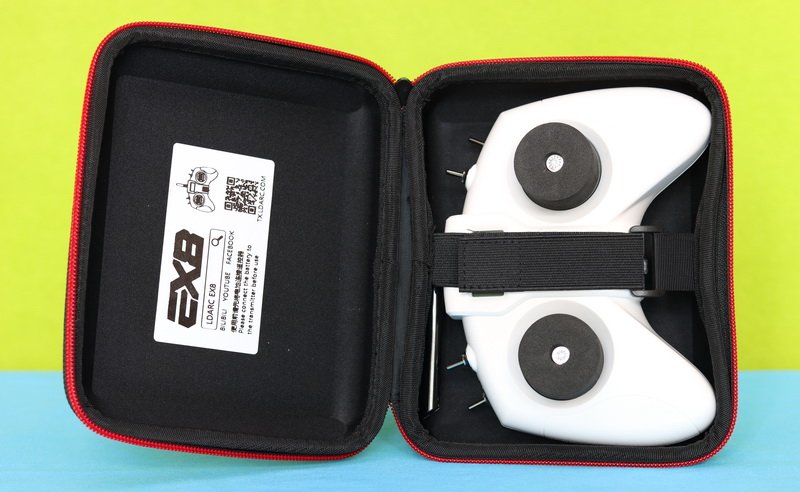 I received the package in just 14 days after we agreed with Crystal Young from MF on the review terms. Upon my request, she included an X-BOSS Oasis wireless FPV simulator USB dongle (this will be reviewed in a future article). The box also included two sheets of bonus stickers that allow customizing your radio and drones.
At a glance
The EX8 comes in a nice compact handbag. The transmitter is secured inside the case with an elastic velcro band. In terms of size and form-factor, it is very similar to the Jumper T-Lite as you can see in the picture below. It weighs only 220 grams so you will not feel it heavy even using it for a longer period. Maybe the finish is a bit slippery but when you hold it with two hands it has a good grip.
I received mode 2 (throttle stick on left), but if you prefer mode 1 (throttle on right) you can convert it by reversing the two sticks and switching to mode 1 in the 'TX setting' menu (they have connectors, so no soldering is required).
It comes with a 3.7v/600mAh LIPO that should allow about 2-3 hours of working time (manufacturer says 4-7 hours). If you need a longer operation time, the battery bay has room for a much higher capacity battery. Remember that you can use only 1S (max 4.35V) LIPOs. It has a built-in charging circuit so you don't need to remove the battery.
On the front panel, in addition to the two joysticks, there is a status LCD and a clickable control wheel with a programable RGB backlight. There are only software trim switches, which is just fine. On the back, besides the battery cover, there is only an M3 screw hole for optional accessories such as an FPV monitor.
It has four shoulders switches, a 2-poz and a 3-poz on the left, and two 3-poz switches on the right. On the sides of the non-removable antenna, there is a 3.5mm trainer port and a USB Type-C charging/firmware port.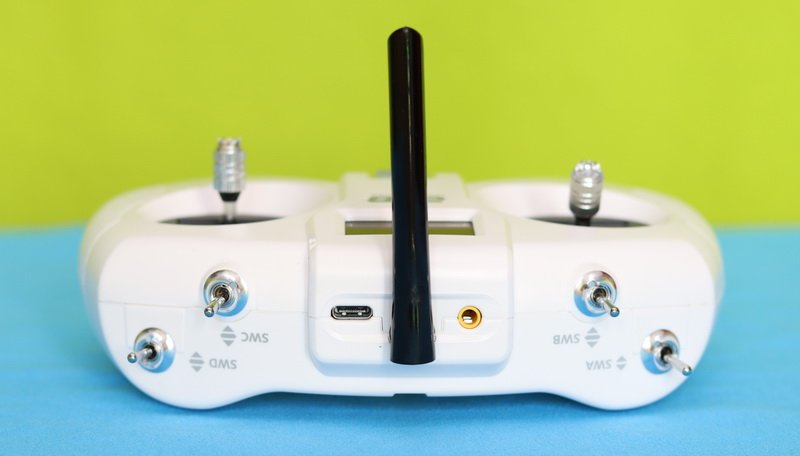 Turning on the transmitter can be done from a tiny switch at the bottom. It features both audio and vibration alerts.
Price, availability, and options
The LDARC/KingKong EX8 controller can be ordered from MakerFire for $52.99 with 20% off. They have only Mode 2 version, but on other websites, I saw Mode 1 too. If you plan to use it with drone simulators, there is also a combo pack with X-BOSS Oasis USB dongle that allows wireless connectivity between your computer and RC. For the extra $27 you will also receive an AC900 receiver to install on your drone.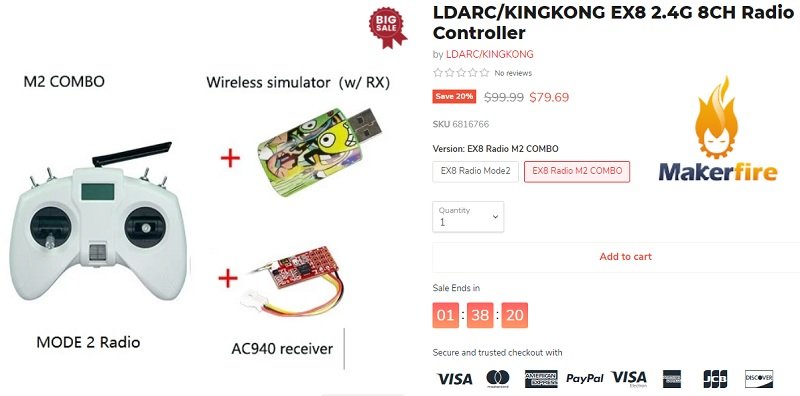 For now, it is sold individually only, but I have read on the manufactures website that they also plan to offer it for quadcopter makers that want to provide it in RTF packages with their drones. LDARC offers the possibility to customize the EX8 transmitter with a personalized bootup logo, radio shell colour, and logo on the front and back cover.
LDARC EX8: Initial setup
Intended for beginner pilots, setting up the LDARC EX8 is very easy. The user interface is straightforward. All the controls can be done from the clickable scroll dial. Despite that, I'm over 40th, I had no issue reading the tiny screen like in the case of the Jumper T-lite. The main screen shows the pilot name, trim settings, stick and switch positions, TX mode (version/power), and timer.
By clicking the dial you toggle between different menu positions. In 'RF Settings' you can select TX type (Futaba S-FH2S, FrSky D16nEU or D16EU), TX power (25 or 100mW), and binding. When you change the RF type will reboot automatically.
In the main configuration menu, you have 8 tabs: Channel Monitor, Channel Reverse, RGB LED settings, LCD settings, TX settings (Stick mode/Calibration), and Info screen (Firmware version/Factory reset).
The timer can be also configurated according to your needs, you can even assign a switch for a quick reset. Timer automatically starts on the first rise of the throttle stick.
Binding
After I connected the battery, in less than 15 minutes the LDARC EX8 was bound with one of my drones. The only thing you need to do is to configure the appropriate TX type and enable the 'Bind' option on the controller. At the same time, you need to power on the receiver while you press and hold the F/S button.
I didn't manage to bind with one of my FrSky R-XSR receivers. It is possible that need to update the RX firmware…
LDARC EX8: FPV simulators
Being a beginner-oriented transmitter, you would expect to work natively with FPV simulators (USB game controllers). Unfortunately, the USB port serves only for charging and possibly for firmware upgrades. In order to use it with drone simulators, you have 3 possibilities, but the last one is quite risky:
Using a compatible wireless USB dongle like the X-BOSS Oasis (best and easiest way);
A flight controller + FrSky/Futaba radio receiver connected via USB to your computer;
Using a complete drone with onboard FrSky/Futaba radio receiver connected via USB to your computer
The last two require running the 'set usb_hid_cdc = on' command in BetaFlight. When you are using a complete drone you should consider that parts like VTX and ESC are heating even if the drone is not actually used (flying).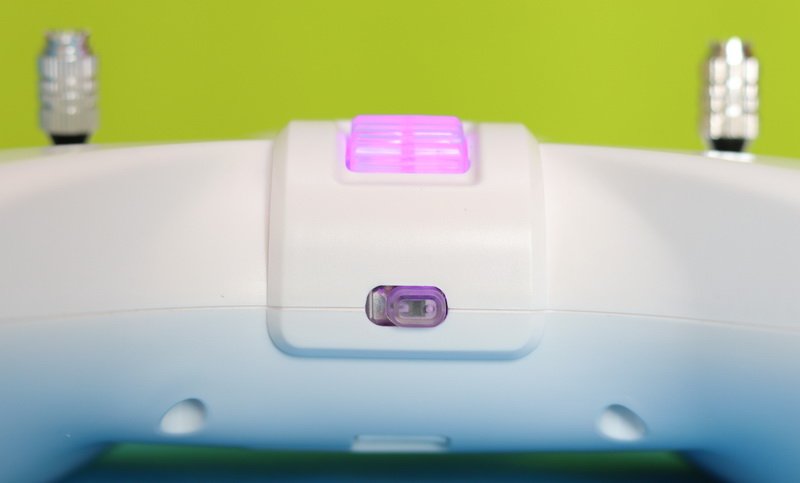 Editor's ratings
Price/value ratio

Design and build quality

Ergonomy

Features

Compatibility
Summary
The LDARC EX8 is an excellent entry-level transmitter for its price. It is compatible with FrSky radio receivers (both EU and non-EU), which I also use in most of my drones. The user interface is very friendly, without the complicated settings required to get it to work.
Unfortunately, without OpentTX firmware and external TX module bay, you are very limited. No possibility to migrate other radio systems like ExpressLRS. If you plan to stay and evolve in this hobby I would suggest you look for a more versatile and upgradable remote controller. For just a couple of extra bugs, you get the Jumper T-lite for example.
Core features
S-FH2S, D16non-EU, and D16EU-LBT compatibility;
Mode conversion possibility (Mode 1 <> Mode 2);
Adjustable transmitter power (25/100mW);
G 3842 mechanical joysticks;
One 2-stage switch and three 3-stage switches;
LCD display with backlight;
Built-in removable battery (USB-C charging port);
Trainer mode and simulator support;
Sound and vibrations alert;
Pros
Small, portable and comfortable;
Easy configuration;
Rechargeable battery;
Built-in timer;
Trainer port;
Sound and vibration alert.
Cons
Can't bind with one of my R-XSR receivers;
Lack of telemetry;
The antenna can't be replaced;
Compatible only with FrSky and Futaba protocols;
No external TX bay.