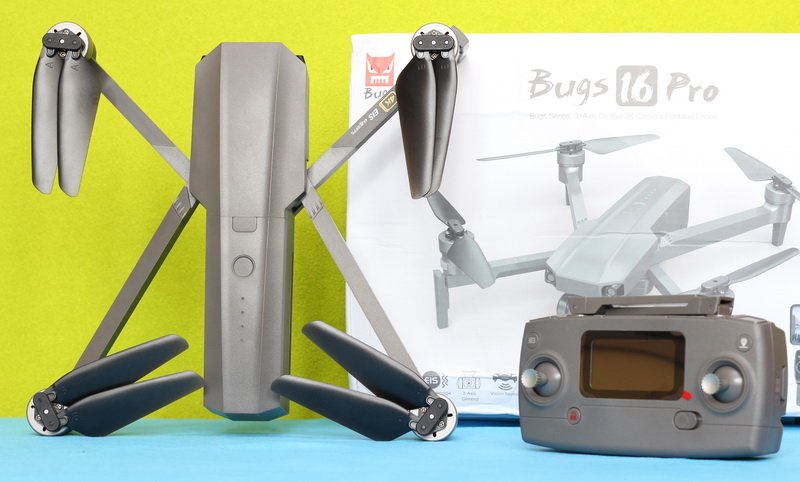 The MJX B16 Pro is the very first drone of its kind. Many Bugs series drones have been released with many good choices, but none of them had a 3-axis gimbal combined with EIS. Our MJX Bugs 16 PRO review covers unboxing, quick-overview, camera quality, and flight performance. As usual, we will squeeze out the maximum from this drone in terms of range and battery life.
MJX R/C is a popular drone brand that is known for its fairly priced products. The latest additions to their epic Bugs lineup are the little B19 MINI (with two camera options) and the B16 Pro. Both drones feature a folding design, brushless motors, GPS positioning, and a 4K camera.
MJX Bugs 16 PRO in-depth review
Disclosure: We received this MJX quadcopter from RCGoing in order to test it and do an in-depth review. Although the product was offered for free, all opinions in this article remain our own, with no influence from our partners. I have to thanks Ben for their continuous support. RcG becomes this year our best sponsor.
Yunexpress did again a fast and smooth delivery. Due to the slow shipping time, complicated customs process, and even lost packages I prefer to pay more and order locally from Europe instead of China. Nevertheless, when receiving packages from RCGoing I never had any of these issues.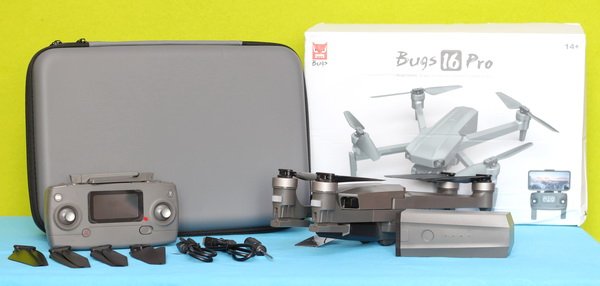 Lately, the included storage bag became a market standard, which is nice. The carry case can store all MJX Bugs 16 PRO accessories (remote controller, set of spare propellers, USB Type-C charging cable, and PD charging cable) plus two spare batteries. The internal zipped mesh pocket allows to safely store smaller accessories.
At a glance
In terms of design, the biggest difference compared to other folding drones is that arms are folding out from the center of the fuselage instead of front and rear. Looking at it from top to bottom it looks like a water spider. A similar design approach is adopted by the well-known Parrot Anafi. From the front it looks like a Mavic Pro 2, it has even fake collision avoidance sensors. When it is folded measures 295*80*87mm and weighs 612 grams with a loaded battery. Personally, I prefer a more rectangular form factor than this longish one. Propellers and the front landing gears are also foldable.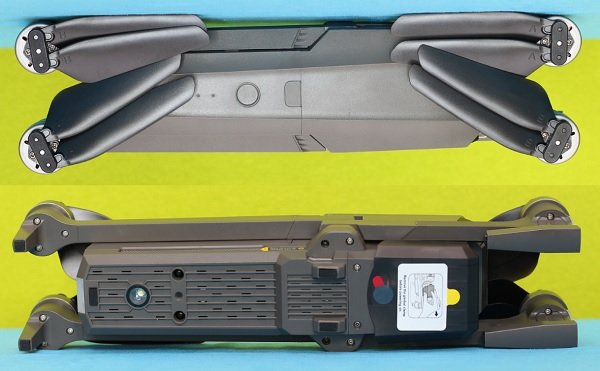 On the belly of the drone, there are the 3 optical flow sensors and a bright landing LED light. During night flights, additionally, to the bottom light, you will be guided by one tail and two front LEDs (one under each motor).
The 3200mAh battery pack slides in from the top of the drone. By short pressing its power button, you can check the charging level of the battery. The 6 lockers ensure that the battery will not fall off from the frame.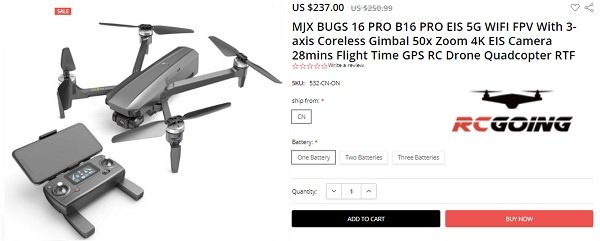 Price and availability
Currently, the B16 Pro is on sale at RCGoing. Right now you can get it with one battery for $237 or with 3 batteries for $299. These prices include storage and a set of spare propellers.
MJX Bugs 16 PRO: Camera
As I mentioned in the introduction part of my review, the Bugs 16 PRO is MJX's first drone with a 4K camera that features three-axis mechanical stabilization (gimbal) and electronic image stabilization (EIS). The camera has a 1/3″ CMOS sensor that allows recording with 3840×2160@30fps or 1080P@60fps. The 120° wide-angle lens has a focal length of 2.96mm with a fixed aperture of ƒ/2.0.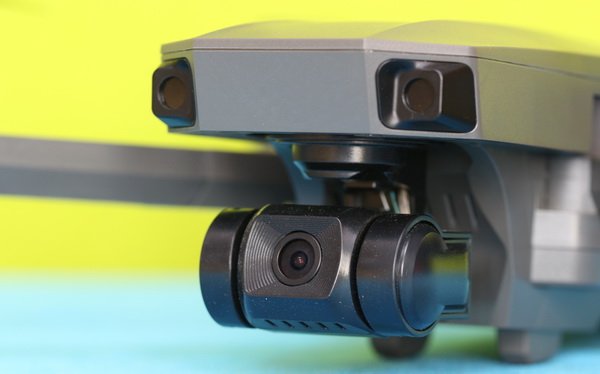 The 3-axis gimbal combined with EIS provides super smooth video quality, even in windy conditions. For cinemalike footages, I recommend setting flight speed to tripod (low rate) mode. Video quality is more than decent from such an affordable drone. Footages are sharp and reach in colors. The B16Pro features 50X digital zoom, which affects not just live-view but also the captured footage. At the end of my review, you can find a couple of more sample videos, at both resolutions (UHD@30fps and FHD@30fps).
Thanks to the onboard recording, image quality is not affected by distance nor WIFI signal quality. You can load up to 128GB micro SD cards, class 10 is recommended for UHD recording.
MJX Bugs 16 PRO: Remote controller & Flight range
The MJX B16 PRO comes with the same nice entry-level transmitter as its smaller brothers (B19 4K and B19 EIS). The remote controller is powered by two AA battery cels and it has two foldable grips for comfort in use. You can expect about 3-4 full flights with pair of new batteries. The phone holder pops up between the two antennas. All controls are nicely labeled. On the right of the controller there is a GPS ON/OFF switch, remember to turn it ON when you are flying outside, otherwise, RTH will not work.
On the front panel, besides the usual controls sticks and power switch, there are only 3 buttons (Motor lock/unlock, RTH, and Camera). It has two shoulder buttons (left – takeoff/land and right – Speed/LED) and two shoulder dials (left – fake and right – gimbal angle).
The bright status screen provides telemetry information such as flight altitude, distance from home, drone battery level, and controller signal strength. With some experience, you can fly this drone even without a phone, but remember, it does not have an obstacle avoidance system, so set the cruise altitude accordingly.
Binding the transmitter with the drone can be done by holding the 'Motor lock' button while you power it ON. In a rural open field, with low RF noise, I got a top-flight range of 600-800 meters. WIFI FPV range can be widely affected by the phone you are using, and even by the position in which you hold the phone.
M RC Pro APP
The M RC Pro APP is available for both popular mobile operating systems (Android and iOS). Besides some basic configurations (max flight altitude, max flight distance, orbit diameter, and return to home altitude) the APP allows to perform geomagnetic (compass) and Gyro calibrations. Under the camera settings, you can toggle between 4K@30fps and 1080@60fps recording modes. On the last tab, you can find the logs of your flights (date, distance, and altitude).
By clicking on the four rectangle icon you have access to Follow me, Orbit, and Headless intelligent flight modes. In map mode, you can create an autonomous flight path by adding waypoints.
MJX Bugs 16 PRO: Battery life
According to the manufacturer's specs in optimal flight conditions, the 3S 3200mAh LIPO battery pack should allow up to 28 minutes of flight time. Based on my experience, the best performance can be achieved after 5-10 cycles of charging. During my hovering tests, in moderate wind conditions, it managed to stay in the air for 26 minutes.
Another sweet spot of the MJX B16 PRO is the fast-charging capability. Using a 45W PD charger you can charge it in less than 1 hour. For this purpose, there is included a Type-C to Type-C cable. By comparison, the charging process takes almost 6 hours using a standard USB phone adapter. By long-pressing the power button you can check the charging level of the battery.
Both APP and RC use 4 lines to monitor the battery level. When 2 lines are remaining (which should be 50%) the RC beeps and the APP shows Low battery warning with the following message 'The battery only supports the drone flying in 30m altitude and 100m range'. When 1 line remains (25%) the drone lands autonomously and you can't abort the process or adjust its position.
Flight experience
Firstly, I thought that I received a faulty drone. When I power it ON, the gimbal didn't initialize itself – like it had no power. After I connected it with my phone and got a live view on the screen, the APP warned me that I needed to perform compass calibration. I followed the onscreen steps (3-4 horizontal rotations followed by 3-4 vertical ones). When I placed the drone back on the ground, finally, the gimbal initialized and leveled. The calibration process must be done after every power ON, unfortunately. The next challenge was to arm the motors. I was used to doing this by moving both sticks to the lowest inner or outer, but nothing happened. MJX makes it easier, you just need to press the button with the red padlock. From this point, everything was fun with the Bugs 16 Pro.
It hovers super stable, and the GPS return to home is accurate. I tested what happens if I turn off the controller mid-flight. The B16 PRO waited a few seconds, then raised to RTH altitude and headed home until the take-off point. It takes moderate wind gusts with no issue. On the high-speed rate, it can achieve 35-45 km/h based on my perception.
I also tested flying without a phone. It is possible but you can't operate the camera, start/stop recording, or taking still photos.
During night flights the landing LED is very handy, you can see your drone when it's right above you.
First crash (pilot error)
The transmitter is nicely labeled, but drone makers are not using the same button layout. When I wanted to stop recording, by mistake I pressed the red button (it was the motor look instead of record) and hold it. All the motors on the MJX B16 Pro stopped and it fell like a stone. Luckily it was only 1 meter above the ground and nothing bad happened to the drone.
Editor's ratings
Best 4K drone for your money!
Price/performance ratio

Design and build quality

Intelligent flight modes

Transmitter/Range

Camera

Battery life

Mobile APP
Summary
Not a 'Pro' drone in its true sense, but it is currently the best one of the Bugs series. It has excellent flight performance, you can fly with no fear in moderate wind. The 3-axis gimbal performs very well. The 25-minute battery life is more than fair for its price. The 3 battery combo pack allows more than 1 hour of continuous fun. The range is decent but far to be extraordinary, if you want to fly miles and miles, get a DJI drone with OcuSync communication.
I'm not a big fan of the longish profile, but you can get used to it quickly. Anyway, up in the sky it looks like any other drone :)
My final opinion is that MJX managed once again to bring on the market an excellent mid-range drone for beginners, but they still can't compete with DJI or even Xiaomi and Hubsan drones. I didn't like the every time compass calibration and not consistent battery level monitoring. I also had some issues with WIFI pairing.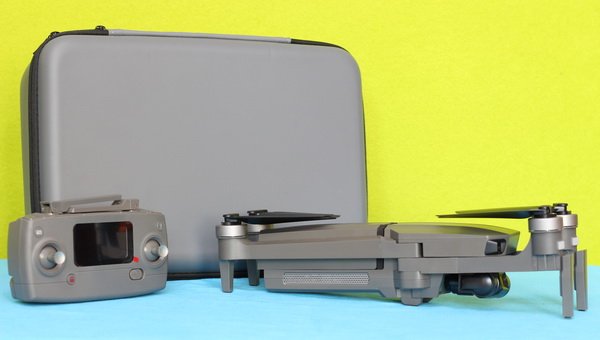 Reasons to buy
Shoots true 4K@30fps videos with excellent quality;
Onboard recording (micro SD lost, up to 128GB);
3-axis gimbal + SmoothMAX EIS;
Excellent wind resistance;
Landing light;
Super stable in both indoor and outdoor environments.
Reasons to avoid
Take-off weight is more than 600 grams and it requires registration in most countries;
Needs to be connected with the phone for operating the camera;
Wierd power management/battery monitoring.
More MJX B16 Pro sample footage and test videos