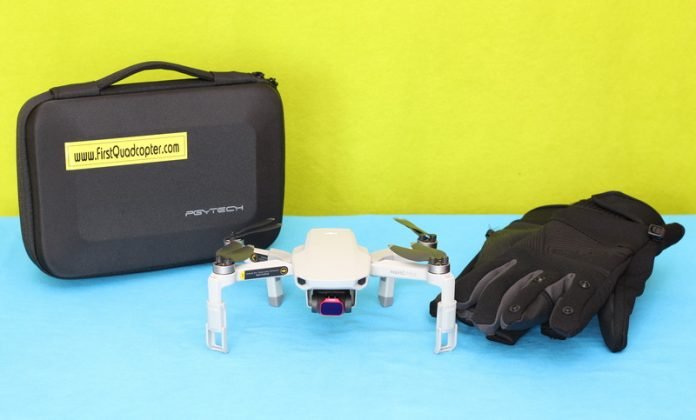 DJI in collaboration with PGYTECH started to offer a wide range of accessories from the first day of Mavic Mini official launch. Ordering accessories directly from the manufacturer's website is proof that you will get certified safe to use accessories for your drone. While lots of online retailers offer many kinds of Mavic Mini accessories from known and unknown brands, only a few of them guaranty that these products are safe to use without losing the drone's warranty. For example, few pilots reported sudden crashes using aftermarket propellers and motor covers. Unfortunately, in these cases, they are out of warranty and they will need to pay for the repair.
Despite its small size, the Mavic Mini is a versatile flying machine. It's super lightweight and easy to fly. Having the right accessory can make your flying experience even more enjoyable. Image quality can be also improved by using the proper neutral density filers.
PGY-TECH is a popular photography and drone accessory manufacturer. They provide extensions for almost all DJI drones, from the little Tello to the professional-grade Inspire. In this review, we will have a closer look at their Mavic Mini case, ND filter pack, landing gear extensions, and drone gloves.
Top PGYTECH Mavic Mini accessories: In-depth review
Disclosure: I received these Mavic Mini accessories as part of a product review collaboration with PGYTECH. Although the products were offered for free, all the opinions in this review remain my own!
Immediately after I reviewed the DJI Mavic Mini I contacted few accessory manufacturers in order to evaluate their products. Besides optical filters, I was interested in some landing gear extensions as I found the Mini's ground clearance too short to safely take-off/land from grassy fields. PGY-TECH was between first who positively accepted my request. Unfortunately, their first attempt to send me the gears from Dubai failed due to DHL's complicated customs clearance process. Secondly, they sent it from Shanghai via UK distribution house. Taken into consideration the actual pandemic situation, everything went smoothly and reasonably fast.
While back in January, due to the coronavirus outbreak, I stopped ordering from China, now almost none of the countries are free of this highly contagious virus, even in my city are confirmed twenty Covid-19 cases. Despite that Peter from PGYTECH reassured me that 'everything in the box has been sterilized' I decided to keep the package in the open air for two days.
At a glance
As agreed, I received an ND filters kit, Landing gear extensions, Drone gloves, and a handbag. All accessories were nicely packed with an included user guide and bonus black and white Pgy-Tech stickers. At first look, all gears have excellent build quality. Now, let's have a closer look at each of them.
1. PGYTECH ND filter pack for Mavic Mini
Neutral Density (aka ND) essentially a darkened piece of glass (or resin) that is designed not to change anything other than the quantity of light that passes through them. In a nutshell, they are like sunglasses for your drone's camera and they limit the amount of light entering the lens. A good ND filter should never have a negative impact on the sharpness and color balance of the camera.
PGYTECH's Mavic Mini ND kit includes 4 filters:
| | | | |
| --- | --- | --- | --- |
| Model | Filter index | Aperture | Suitable for |
| HD-ND8 (PRO) | 8 | 3 | Mostly cloudy days or approaching sunset |
| HD-ND16 (PRO) | 16 | 4 | For partly cloudy days |
| HD-ND32 (PRO) | 32 | 5 | Best for very bright days |
| HD-ND64 (PRO) | 64 | 6 | Extremely sunny days |
The filters feel solidly built from lightweight aeronautical aluminum. All 4 filters weigh 3 grams, so each is less than 1 gram. Filters are labeled with their ND factor, so you can't mess them up.
Despite that mounting, the PGYTECH filters are very simple, you should do it with great precaution. The attaching part is made of sharp metal which could scratch easily the camera's lens. In case you accidentally touch the optical parts (lens or filters), use the included cleaning cloth. Find below a slow-motion video of Mavic Mini's gimbal initialization with ND filter on.
As we are locked down for the following weeks, I managed to perform only a few tests of the filters. Below you can see a side by side comparison of the ND64, ND32, and ND16 filters against flying without a neutral density filter. All 4 videos were recorded with full auto camera settings and 2.7K@30 fps resolution.
Highlights
Quick-release design for easy installation;
SCHOTT optical glass;
Double-sided, multi-layer coating;
Aeronautic aluminum frame w/ ultra-thin shrapnel;
Super lightweight (less than 1 gram);
Reduces color aberrations;
Four different ND values (8, 16, 32, and 64).
Pros
multiple ND values;
Correctly stop down the exposure;
No visible negative impact on image quality (sharpness nor colors);
Pass gimbal initialization.
Cons
2. Mavic Mini landing gear extensions
The box includes four landing gear extensions and a tiny flyer with instructions on how to install them. Both, frontal and rear extensions feature space-saving foldable design. You can leave them on and still fold the MINI's arms.
According to the technical specs, the PGY-TECH elevates the drone by 25mm, which is fairly enough for most landing fields (with grass or gravel). IMHO, higher, stork-feet style extensions could make the drone unstable during the take-off/landing process.
The landing gear extensions can be easily attached and removed, no additional tool required. You need to unfold the extension until you hear a tiny "click" sound.
PGYTECH landing gear extensions features
Quick-release foldable design (no need to be removed every time when the drone is folded and stored);
By elevating the drone with 25 mm it protects the gimbal from ground debris;
Increase stability during take-off and landing;
Each landing gear has a silicone pad which reduces shocks during landing;
Weighing only 17 grams no negative impact on flight performance.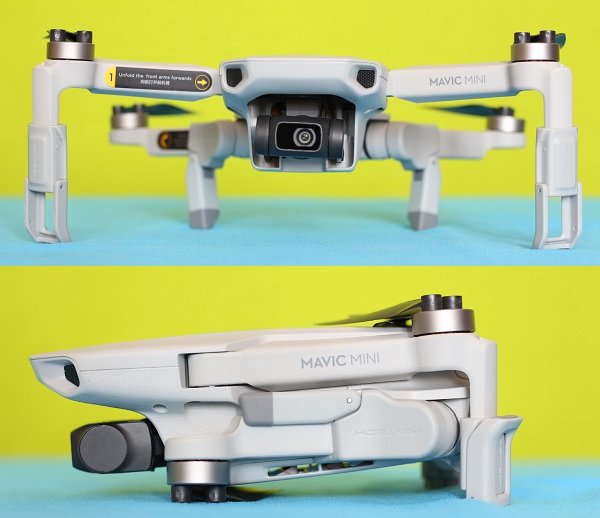 My only complaint regarding the PGYTECH gear extensions is that you need to remove them in order to fit inside the stock DJI case – maybe its time to switch to another Mavic Mini case? 🙂
Pros
Protects the gimbal/camera during take-off/landing;
Better stability during take-off/landing;
The drone can be folded without removing the extensions;
Easy to install.
Cons
Theoretically, due to the extra weight, you will need FAA registration in the US;
MM with leg extensions doesn't fit anymore into DJI combo case.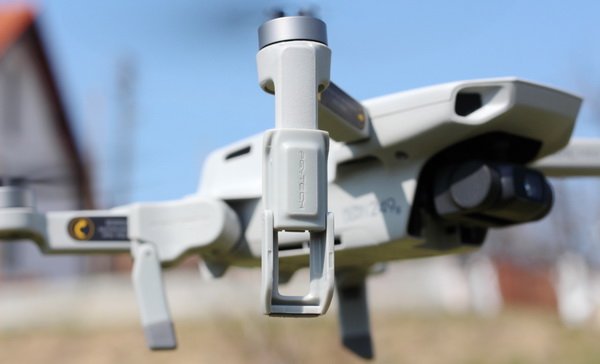 3. Dedicated Mavic Mini carrying case by PGYTECH
Out of the box, the PGYTECH Mavic Mini carrying case looks well built using good quality materials. It has a hidden handler, two zippers, and a brand logo on the front. The empty case weighs about 350 grams and measures roughly 245 x 175 x 75 mm.
Featuring Velcro dividers, interior space can be easily reconfigured according to your needs. By default, on bottom space, you can accommodate the Mavic Mini, remote controller, two batteries, and stock USB charger.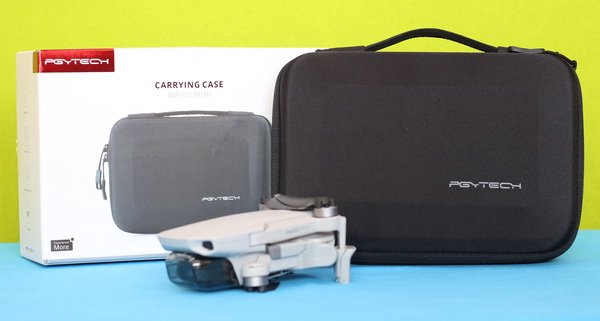 Compared to my other MM handbag, this one has a middle leaflet which allows to conveniently organize your cables, memory cards, and spare propellers. On top flap there is a generous hidden meshed pocket for other gears.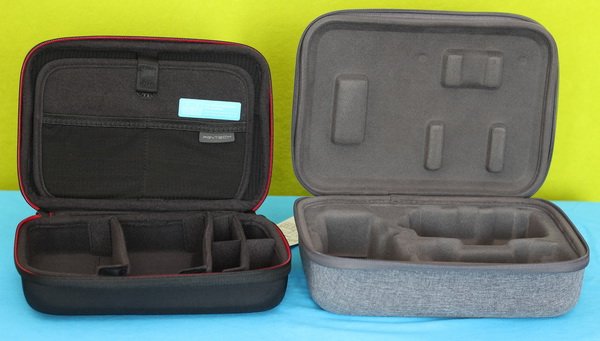 As you can see in the image above, the PGYTECH is slightly smaller than DJI combo case. Unfortunately, it is also less "robust", it would not take to much pressure without failing to protect its precious content.
Highlights
Can accommodate the Mavic Mini, Remote control, stock charger, and up to 5 batteries.
Dedicated compartments (middle leaflet) for smaller accessories (memory cards, card reader, data cables, and spare propellers);
Velcro interior dividers (space can be quickly adjusted according to your actual needs);
High-quality EVA hard shell design and wear-resistant nylon fabric;
Large mesh pocket on back flap;
Hidden handles for easy carrying.
Pros
Super compact and lightweight;
Velcro dividers, internal space can be reconfigured as you wish;
Middle leaflet for small accessories.
Cons
No room for 2-way charger;
It could be stronger (in case of physical stress).
4. Gloves for winter flights
Unfortunately, or luckily, the winter is gone along with the cold temperatures, so these gloves will rest till next winter flight season.
Being a hobbyist photographer for more than 20 years, I always wanted a pair of gloves which are not just warm, wind and waterproof but also gear friendly. PGY-TECH's gloves seem to have all the features we could expect, it has conductive finger caps (touchscreen friendly) and removable finger caps (3 fingers can be exposed) for precise stick control.
The PGYTECH photography gloves are available in 3 sizes and black color. They feature high-quality materials with HIPORA and 3M certificates.
As I don't have particularly large hands, I opted for size "L" which proved to be somehow tight. In case you want to order a pair, I suggest to try them if they fit comfortably for you.
Highlights
Suitable for photographers, drone pilots and during outdoor sports activities;
HIPORA waterproof and breathable membrane and 3M Thinsulate cold-proof cotton;
Innovative design which allows exposing 3 fingers;
Touchscreen ready (conductive finger cap);
Anti-slip palm print finish;
Multiple size options (M, L, and XL).
Pros
Must have during winter flights and photography activities;
Comfortable, breathable and weatherproof (could, wind and water repellent);
Touchscreen compatible;
Transmitter stick friendly (critical fingers can be exposed);
Cons
None, perfect just as they are.
5. Other PGY-TECH Mavic Mini accessories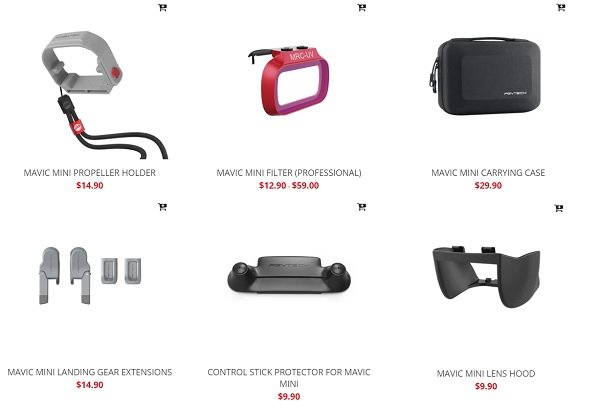 Mavic Mini propeller holder;
Professional grade UV filter for Mavic Mini;
Protective lens hood;
Transmitter stick protector;
Tablet holder;
Landing pad;
Lens cleaning pen;
Propeller cage (discontinued).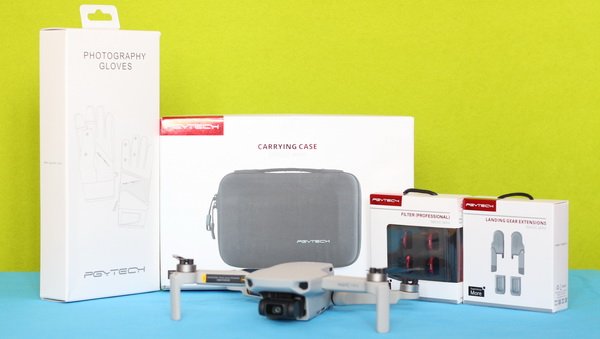 Where can you buy these accessories?
All the above-listed Mavic Mini extras can be purchased directly from the manufacturer here. As I mentioned in the introduction part of my review, most of these accessories are also available on DJI's online store as well. If you have a Banggood account, you can order a wide range of PGYTECH drone accessories from them also.