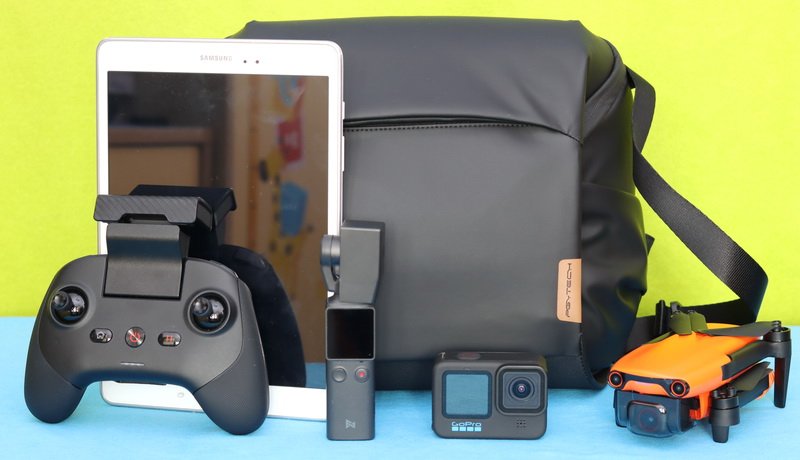 Most drone manufacturers, including DJI, Autel, FIMI, and Hubsan, offer their drones in two package options. Only the 'Premium/Fly More Combo' edition includes a dedicated bag/case. The PGYTECH OneGO looks to be a great storage and transportation solution for those purchasing the more affordable 'Standard' kit.
The PGYTECH's OneGO series includes a backpack, two shoulder bags, and a sling bag. In this review, we will have a closer look at the PGYTECH OneGO 6L shoulder bag that is perfect for both vloggers and drone pilots. The manufacturer stands that it can accommodate a Sony Alpha 7M3 mirrorless camera with 2 lenses or a DJI AIR 2s drone along with its remote controller. Furthermore, it has a dedicated compartment for an Apple iPad Pro 11" tablet.
With a single strap that runs over one shoulder, the 'Messenger bags' have easy access and are ideal for both cities and travel. Their design lets you push them round to your back for cycling, for example.
PGYTECH OneGO 6L review
Disclosure: I received this shoulder bag as part of a product review collaboration with PGYTECH. Although the product was offered for free, all the opinions in this review remain my own!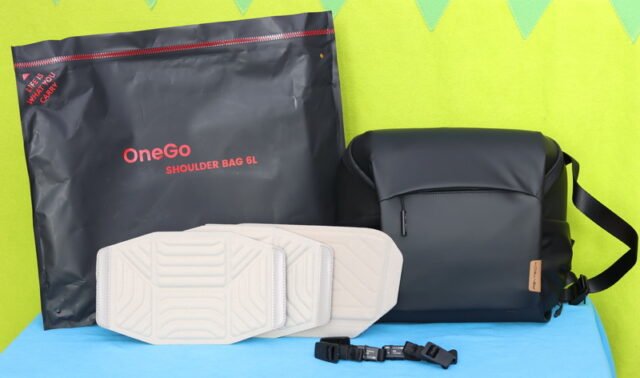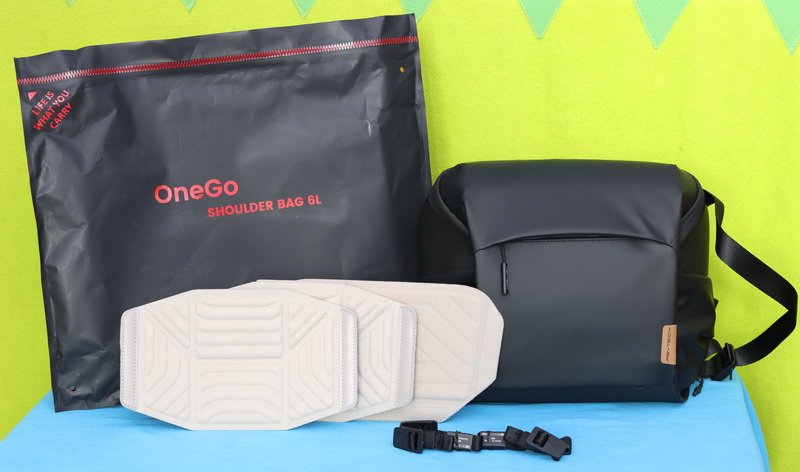 PGYTECH is a creative, team-based, out of China that makes a wide range of accessories for photographers, vloggers, and drone hobbyists. Their products include filters, tripods, camera clips, and of course, backpacks.
Thanks to its folding design, the OneGo sample arrived in a shipping carton, less than 10cm thick. For further protection, the bag comes in a stylish black/red nylon zipper-top sack with the slogan 'Life is What You Carry'. The OneGo 6L is 300 x 240 x 135mm and comes in at 720g without the dividers and 835g with the dividers. The exterior of the OneGo is polyurethane-coated aka "POLY" that grants a silky smooth finish. The high-tech protection layer makes the shoulder bag scratch-resistant, dust-proof and waterproof. The zippers are YKK AquaGuard to be watertight. Inside, there are two multi-folding multipurpose dividers that allow customizing the storage space for your needs.
For easy manipulation, the PGYTECH OneGO 6L has a shoulder strap and a handler. In order to be more comfortable, the shoulder strap is foam-padded and can be adjusted according to your height. Two additional straps are included to attach things, such as a mini tripod, to the bag. For this purpose, there are four attachment rings at the bottom of the bag. On each side of the OneGo, there is an elastic pocket that can accommodate a 500ml water bottle. Outside, it has two pockets, a zipped one in the front and a regular (slip) one on the back.
There are two main pockets inside. The zipped one has a special set of battery pockets that has coin magnets sewn in. Using the included two-sided medallions (red side for empty battery and greenside for fresh) you can color-code your spare batteries. Simple but handy feature.
PGYTECH OneGO: Who's for?
Personally, I plan to use the OneGO 6L with my Autel Nano+ drone. The dividers allow you to customize the interior in order to suit your setup, building a secure and padded slot for the drone and its remote controller. It has 3 dedicated pockets for spare batteries and a couple of more pockets for cables and other must-have accessories. As I previously mentioned, there's a sleeve for an 11-inch tablet if you like to fly using big screens.
Vloggers will appreciate the design of the OneGo messenger bag. With a blend of simple but chic styling and three dividers that allow them to customize the interior, the OneGo is a bag you can enjoy for many years. The multi-purpose folding dividers are especially helpful for those carrying prime lenses like 50mm f/1.8 or 24mm f/2.8, where you have the flexibility to stack multiple lenses. Despite its small size, it can accommodate a small camera body and up to 4 lenses, or 1-2 lenses and a flash.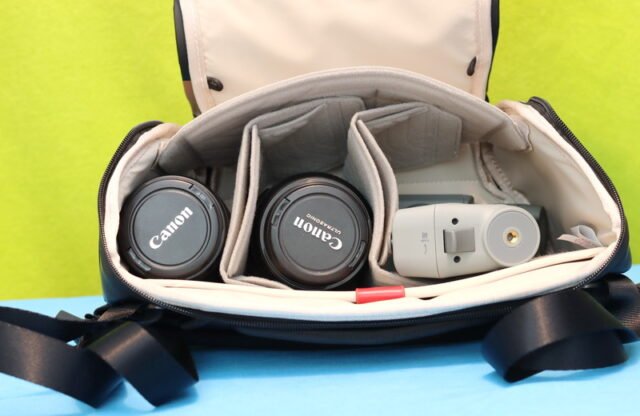 Price and availability
You should be well aware that quality costs money, therefore the price range of the OneGo series shouldn't come as a surprise. If you're spending $1000+ on photography or drone gears, then another 100 bucks for a bag that houses it all safely is surely a no-brainer!
At the time I published my review, the OneGO 6L was priced for $89.90 at PgyTech. If you need more storage space, you can get the 10L version for $129.90. There are also combo packs available with Beetle Canera clip, Solo Sling, or a OneGo backpack.
Price/value ratio

Design and build quality

Loading capacity

Protection
Summary
The PGYTECH OneGO is a reasonably priced and well build shoulder bag that can be a great companion, whether you are a drone pilot or a vlogger who likes to be on move.
Pros
Stylish, comfortable, and folding design;
Watertight zippers;
Customizable internal space;
Dedicated spare battery compartments and Tablet sleeve;
Water bottle holder.
Cons
PGYTECH OneGO 6L vs OneGO 10L
OneGO 6L
OneGO 10L
Dimensions
300 x 240 x 135mm
350 x 280 x 145mm
Example of loading capacity
Sony Alpha 7M3 (1 camera body with 2 lenses) or DJI AIR 2s kit, and Apple iPad Pro 11"
Canon 5D (1 camera body with 2 lenses) or DJI Mavic 3 kit, and Apple MacBook Pro 13"
Included accessories
Battery indicators x 2
A divider x 1
B divider x 2
External straps x 2
Battery indicators x 2
A divider x 1
B divider x 2
External straps x 2
Sternum strap x 1
Colour options
Obsidian black
Deep-sea blue
Seashell
Obsidian black
Pearlescent Grey
Price
$89.90
$129.90