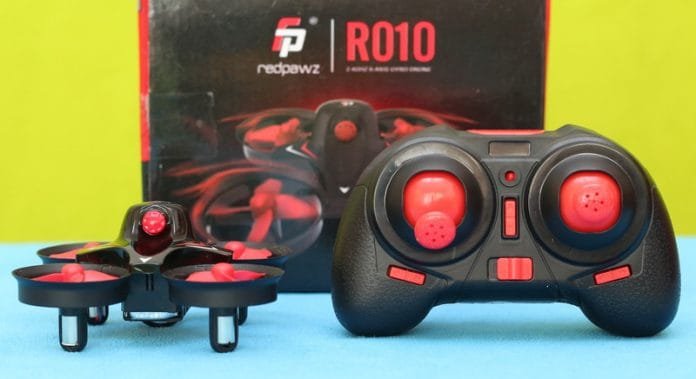 A couple of days ago I received to test and review the Redpawz R010, a mini quadcopter with ducted propellers. Although the basic design was firstly introduced by Blade Inductrix, Tiny Whoop was the one who made the concept popular.
The design not just that should offer improved efficiency of the propellers but also makes the aircraft very safe for children. The ducted propellers can't produce major injuries or damages if they bump into something.
I know that featuring basic flight controller (without Acro mode) and closed radio protocol, the Redpawz R010 can't be a real competitor for the TW, but honestly, for only $15.99 we can not expect that.
Redpawz R010 drone highlights
Tiny Whoop alike ducted propellers;
High speed 49000 RPM 716 brushed motors;
6-axis gyro stabilization;
Headless flight mode;
Ultra fast 3D Flips and Rolls;
High and Low speed rates;
Up to 6 minutes flight time;
Two color options (red and blue).
Redpawz R010 quadcopter review
Disclosure: I received this Redpawz R010 as part of a product review collaboration with GeekBuying. Although the product was offered for free, all the words in this review remain my own and I was in no way influenced by them.
Inside the box I found, besides the Redpawz R010 Mini quad and its transmitter, a complete set of spare propellers (2 x CW and 2 x CCW, all same color), USB battery charger and user manual (EN, FR, DE and CH). BTW, I received a red one but it is also available in blue version.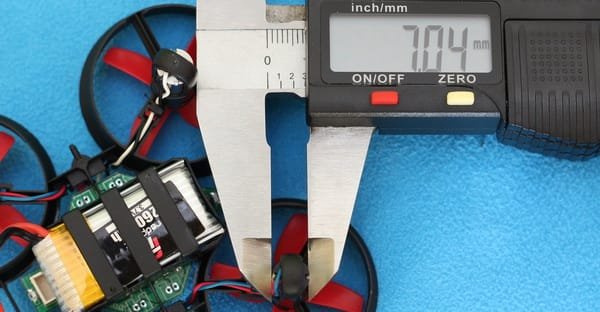 My first impression was that it smells like shit… After few minutes, the strong plastic smell disappeared.
The ducted fan design of the R010 nicely copies the Tiny Whoop. Basically, the black uni-body propeller guard serves as airframe. The 7 mm motors, as well as the receiver board (K2KK2RX-1), are mounted on the propeller guard. The mainboard is protected by a piano black finish canopy.
In my opinion, compared to the JJRC H36 and Eachine E010, the Redpawz R010 has a bit better build quality and hopefully also better impact resistance.
Removing the canopy I find on the flight controller 4 soldering tabs (V+, GND, SWCLK, SWDIO). So, there is a chance that we can fine tune some flight parameters, or they have only debugging purpose ?!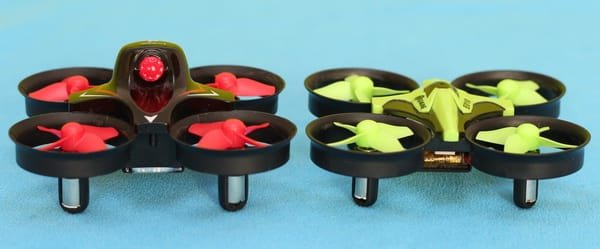 Powered by a 30C, 260 mAh battery, the advertised flight time is about 6 minutes. The battery is swappable, which is nice because you can have a charged spare one ready for more fun time.
Usually, even the smallest quads have at least 4 orientation LED lights, so I was surprised to find out that this R010 Mini features only two LEDs, one red in the front and a blue one in the rear.
Redpawz R010 review: Remote controller
The black/red transmitter with the size of only 10 x 6 cm may be a little small in my hands,  but all the controls can be easily accessed even by adults.
Besides the usual control sticks and power button there are only 3 trim switches. No shoulder buttons.
Control sticks also act like buttons. By pressing the left one (throttle in mode 2) you can engage the "Return to home" feature. 3D flip mode can be activated by pressing the right control stick.
Toggling between speed rates (40% and 100%) can be done using the left trim switch.
According to the specs, the RC has about 30 meters range, of course only in optimal conditions (open field without much radio interference).
Redpawz R010 test: Flight performance
WOW, this little bird is damn fast and agile. Even without altitude hold it is very stable and easy to control. Two speed rates are available – "High" and "Low", yaw rates change accordingly. Both first-time and intermediate pilots will love to play with it.
3D flips are performed quick and accurate without losing too much altitude.
After about 5 minutes of flight, when the battery was near empty, the LEDs started to flash notifying me that it is time to land and refuel.
After few crashes the propellers started to pop off. I would recommend to glue them to the motor shaft.
If it starts to fly abnormally you can try to perform aircraft calibration by moving both sticks to lowest-right position than to lowest-left position.
Price/features ratio

Design and build quality

Flight performance

Remote controller
Verdict
Even without a FPV camera, the R010 still offers a lot of fun to fly it. It is one of the fastest toy drone that I have tested. Amazing how quick it performs the 3D flips. Flight time is good, it has probably enough extra power to a attach a tiny FPV camera.
If you are a newbie and decide to start your journey into the word of drones with this affordable mini quad, you should know that it can be found here with free shipping for $15.99. You can also purchase it in bundle with 1 spare battery for $18.99.
What I liked
Great value;
Fast and Agile;
Decent flight time;
Removable battery;
Spare parts availability.
What I didn't liked
At its price, None!
Toyish remote controller, closed TX protocol;
Blades easily pop off.