Looking for a versatile and easy-to-use flight controller stack for your next digital FPV drone? Check out the RushFPV F722 V2 + 5A ESC Stack which has just been released and seems a reliable option. The biggest advantage of this flight stack is that it requires minimal soldering due to the onboard connectors. This modular design is also great for testing various accessories such as GPS, RX, and VTXs.
A flight controller (FC) is essentially the brain of the FPV drone. It is responsible for interpreting the stick inputs from the pilot and controlling the aircraft's movements accordingly. It does this by using a combination of onboard sensors, such as accelerometers, gyroscopes, and magnetometers, to determine the drone's orientation and position in space.
Another crucial component of a racing drone is the electronic speed controller (ESC). It regulates the power flow from the LIPO battery to the brushless motors, controlling the drone's speed and maneuverability upon the FC's commands which, in turn, controls its altitude, pitch, and yaw.
Rush F722 FC & Rush BLADE 50A SPORT F4 ESC review
Disclosure: I received this digital flight stack as part of a product review collaboration with RushFPV. Although the electronics were offered for free, all opinions in this article remain my own, and the sponsor in no way influenced me.
RushFPV is a relatively new player in the FPV market, specializing in making VTXs. They claim to have become one of the most popular analog VTX brands in less than a year. Now, their product range includes flight controllers, ESCs, motors, frames, and even ready-to-fly FPV drones. RushFPV has two stack sizes, 30.5*30.5mm and 20*20mm (named Mini), for smaller builds. Both adopts modular design with connectors and are available for analog and digital FPV systems.
Both the F722 flight controller and 50A ESC board are packaged in the same red plastic box. On the back of the case is a list of the included accessories and some technical specifications. The cool thing is that the boxes can be stacked (attached to each other like LEGO blocks) and re-used for storing screws and other small parts.
1. RUSH BLADE F722 V2 flight controller for digital FPV (DJI Air Unit O3 and more)
The BLADE F722 V2 flight controller is packed with many cables (including DJI Air Unit O3), two sets of rubber grommets (5 and 8mm), a user manual, and bonus RushFPV silver stickers for the brand's fans. For broad compatibility, RushFPV includes an ESC cable with two different connectors. The board measures 36.5*37*5.2mm and can be used in 30.5×30.5mm stacks.
I always wanted a flight controller with I/O connectors for easy swapping and testing FPV drone parts. The RUSHFPV F722 V2 has a removable protective plastic cover that shields the sensible parts. The enclosure protects the electronic components from entering dust and grass clippings. Even the USB Type-C has a rubber cap for the same purpose.
In addition to the ESC connectors (with UART3), it has UART5, HD VTX (UART2 and UART4), UART1, and LED output. The only missing thing is a Buzzer connector. If you want to use one, you will need to solder it on the back of the FC board. Actually, all the I/O ports (including USB) are also available on the back of the FC for soldering if you prefer a more secure connection.
As its name suggests, this FC is based on a high-performance STM32 F722 MCU. It adopts an ICM42688P gyroscope and BMP280 barometer. It has 5 UART and 8 PWM ports for external accessories (RX, VTX, GPS, LEDs, and more).
Out of the box, the board runs on BetaFlight 4.3.1. Upgrading the firmware to the latest 4.4.1 version (05 April 2023) went smoothly. You can select auto-detect or opt for Blade F7 target.
Key features
High-performance STM32 F722 MCU with speeds up to 216MHz
ICM42688P gyroscope, independent low-noise power supply
Designed for digital FPV (DJI Air Unit and Air Unit O3 cables included)
Built-in analog video OSD, 16M black box, 5xUART ports, 8PWM output ports, 2ADC ports, 1 I2C port
Dual high-power synchronous rectifier BEC supports up to 36V input and provides stable 5V/10V 3A output
A modular cable design with a reliable locking structure can be installed quickly while retaining full-featured pads on the back, providing more expansion support
Single-side layout, lower mounting height, 6-layer PCB, isolated ESC interference
PC case is impact resistant and easy to disassemble, isolated from dust and grass clippings
Technical parameters
| | |
| --- | --- |
| MCU | STM32F722RET6 |
| Target | BetaFlight RUSH_BLADE_F7_HD |
| GYRO | ICM42688P |
| BARO | BMP280 |
| BLACKBOX | 16MB FLASH |
| BEC | INPUT 7-36V / 3-6S LIPO,OUTPUT 1 5V 3A,OUTPUT 2 10V 3A |
| PORT | 8×PWM 5×UART 1×I2C |
| ADC | V-BATT / CURR-ESC |
| LED | WS2812 LED STRIP |
| Size | 36.5*37*5.2mm |
| Mounting holes | 30.5*30.5mm |
| Weight | 11grams (without cable) |
2. RUSH BLADE 50A SPORT F4 ESC
The SPORT F4 50A ESC is packed with two types of ESC cables. One is intended for RUSH flight controllers, and the second can be customized for other branded FCs. A 35v/450μF LOW ESR capacitor is included, but not an XT60 battery cable. I saw on RUSH's website that they have a dedicated power filter board compatible with this ESC. The module has two 35v/330μF capacitors and three high-power TVS diodes on board, which can cut voltage peaks at nano-seconds speeds and absorb high-voltage surges caused by collisions of the propeller during a crash in time to protect the field-effect tube and other components from the surge.
The board measures 45*36.5*7.5mm and weighs roughly 17 grams. It has a metal heat sink on both sides. It has large motor pads but relatively small power tabs. The motors are labeled so that you can match them easily in the BetaFlight configurator. The ESC features a Cortex M4 core 32-bit microprocessor and runs on BLHeIi_32 firmware.
Key features
Cortex M4 core 32-bit microprocessor for excellent performance.
Up to 128KHz PWM drive frequency, dynamically adjustable according to RPM.
Independent high precision voltage comparator with accurate sampling against desync.
Double-sided lightweight aluminum alloy armor for maximum protection.
Dual PCB design with separate power and signal circuits.
BLHeIi 32 firmware is the third generation of BLHeli firmware, following base BLHeli and BLHeli-S.
All codes use damped light mode. Damped light does regenerative braking, causing very fast motor retardation and inherently also causing active freewheeling.
Supports regular 1-2ms pulse width input, as well as Oneshot125 (125-250us), Oneshot42 (41.7-83.3us), and Multishot (5-25us).
Dshot signaling is supported at any rate up to at least Dshotl 200. The input signal is automatically detected by the ESC upon power-up. No need for throttle calibration.
Supports beacon functionality, where the ESC will start beeping after a given time of zero throttles. This can be very useful for finding a lost drone.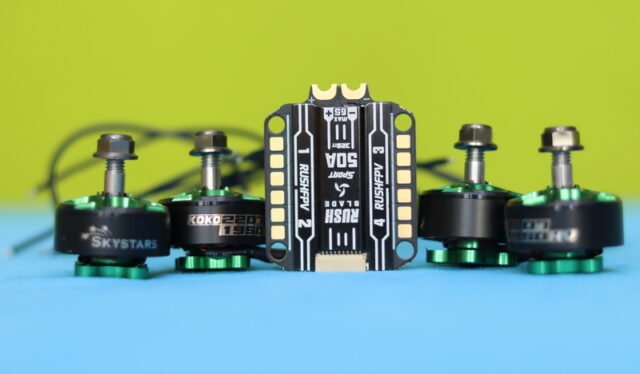 Technical parameters
| | |
| --- | --- |
| CPU | Cortex M4 core 32-bit |
| Firmware | BLHeli_32 ARM rev32.x |
| Current | 50A |
| Battery compatibility | 2-6S LIPO |
| Max voltage | 40V |
| PWM FREQ | 24-128K |
| Size | 45*36.5*7.5mm |
| Mounting pattern | 30.5*30.5mm |
| Weight | 16.2 grams |
Pricing, availability, and other options
The BLADE F722 Digital FC can be ordered from the manufacturer's website for $63.99, and the BLADE 50A SPORT F4 ESC for $62.99. If you prefer a 20x20mm mounting pattern, RushFPV also has a "Mini" version of their F722 flight controller. For 20x20m ESC, you need to opt for the RACING V1.2 60A. Most RushFPV parts and accessories are also available on AliExpress and many popular RC retailers.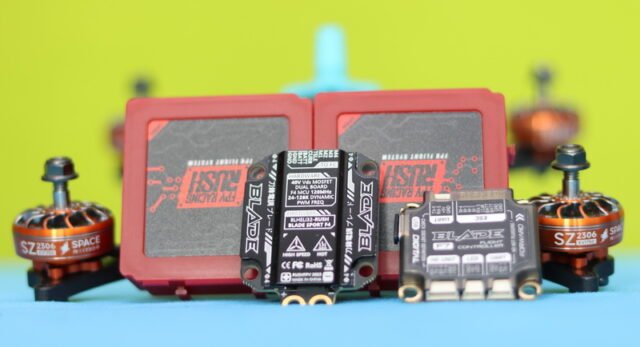 What's next?
I plan to build with this F722 flight stack a 6″ long-range digital FPV drone. I just placed an order for a FlyFish Volador II VD6 frame kit and a set of Flash 2506 motors. I am also waiting for the O3 Air Unit and the rest of the parts (RX, GPS module, Buzzer, and props) to be delivered.
Before ordering the frame, you should double-check to accept 30.5×30.5 stacks because some new models are compatible only with 20×20 mounting patterns. Remember also to order an XT60 battery cable, as the ESC comes without one.