The SEQURE SQ-001 is one of the most portable soldering iron at the moment. Its small size and battery-operated mode make it perfect for FPV pilots that like to repair their drones right on the flight field. In our SQ-001 review, we'll take an in-depth look at this handy and great-quality small piece of tool.
A soldering iron is a must-have in your toolbox, whether you want to build, upgrade, or repair your drone. Without any question, soldering stations provide better performance and adjustability, but they are quite difficult to carry around and it occupies a lot of space. Instead, the SEQURE SQ-001 kit, with all the essential accessories, comes in a eyeglasses hardshell case and you can power it directly from your drone's battery!
When you are seriously into FPV racing, drone maintenance will be required quite often, regardless of how good of a pilot you are. After minor crashes, usually, you need to replace just a prop or a broken wire, but sometimes it can be even worse. Not so long time ago, I had to replace the flight controller and two motors on my BetaFPV Pavo 30. Good soldering iron with digital temperature control can be the key to the success of these repairs. Both under and over-temperature can kill your hardware.
SEQURE SQ-001 portable soldering iron review
Disclosure: I received this soldering iron kit from SEQURE in order to test it and do an in-depth review. Although the product was offered for free, all opinions in this article remain my own, with no influence from my sponsor.
Shortly after I published my drone repair tool kit review, I was contacted by SequreMall to review one of their soldering iron. A few years ago, I used the TS100 digital soldering iron, and I liked its portability, so I opted for the 65W SQ-001, which has about the same functionalities. In order to complete my repair tool kit, I also request a soldering mat.
SQ-001 soldering kit content:
SQ-001 Controller(Blue/Black);
4 x Solder Tips (TS-B2, TS-BC2, TS-D24, and TS-I);
DC5525 to XT60 power cable
Mini bakelite stand holder;
Lead-free solder wire and tin absorbing wire;
Hex Key and spare screws;
Tool Bag;
User Manual with safety instructions.
First impressions
Weighing just 19 grams, I had the impression that is only the housing. By comparison, my actual 220V soldering iron weighs about 100 grams. The SQ-001 has a length of 96mm without soldering tip and 170mm with the tip. Unfortunately, the case is too small to accommodate the iron with the tip installed. If SEQURE would have designed the case just 2cm longer and a bit wider, it would have been perfect.
On the front panel, it has two buttons (simply labelled A and B) and a tiny OLED status display. When you connect the power source, the screen indicates which button you need to press for heating up. At the top-end are the DC 5525 power interface and a micro USB port for configuration and firmware upgrade.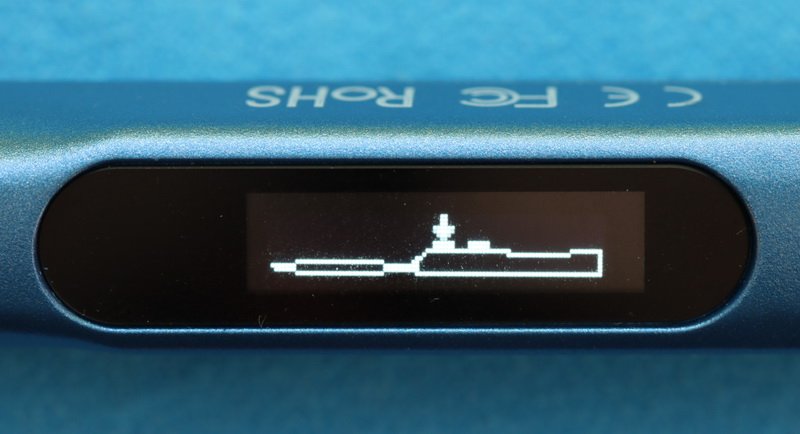 I use it continuously for about 30 minutes and it was still comfortable -not too hot. For good quality soldering, you have to keep your soldering tip clean, without oxidation or other residues. For replacing the tip you need to lose two screws with the included hex wrench, not the most convenient solution, but it does the job. It has an additional screw on the top for grounding.
Soldering mat
SEQURE has 3 sizes of soldering mats. I opted for the largest one that measures 450x300mm. It is only 16mm thick so you can leave it always on your desk or rolled and put it in the drawer.
The mat is made from high-quality thermal insulation and an environmentally friendly silicone with up to 500 °C temperature resistance. It has 3 dedicated closable compartments for small parts. It also has handy magnetic areas for screws and other metal parts. The work area is perfect for flight controllers, ESC boards, or even an entire smaller drone.
Price, availably and options
SequreMall offers their SQ-001 in a wide range of package options with starting price of $52.90. You can opt between blue and black versions. The combo kit with storage bag and 4 soldering tips shown in this review can be purchased for $91.99. A set of 8 types of compatible soldering tips are available for $69.99. For battery operation, I suggest you the 6S/1800mAh 65C pack that currently is listed for $33.99.
My workbench is deeply marked by solderings I made in the past. A heat insulation silicon mat not just protects your table but also helps in organizing your work. The 450x300mm mat with strong magnets can be purchased for $22.99.
How to power the Sequre SQ-001 soldering iron?
According to the spec sheet, you can use anywhere from 12 to 24 volts to power the iron (3 to 6 cell LIPOs). You can use an AC/DC adapter that outputs those voltage ranges. I used a 12V/5A adapter from my LIPO charger for soldering at home since it's easier to plug it directly into the wall, rather than stress the LIPO pack every time. You can also use laptop chargers – they usually have 19V. Higher voltage allows faster warming up – check the table below for estimated heating times.
| | | |
| --- | --- | --- |
| Working voltage | Power | Fastest time from 30°C to 300°C |
| 12V | 17W | 40s |
| 16V | 30W | 20s |
| 19V | 40W | 15s |
| 24V | 60W | 11s |
When you are using it with a LIPO pack, it is recommended to monitor the battery voltage. Discharging below 3V/cell could cause irreversible performance loss and even damage to the battery. For a few dollars, you can find a battery voltage meter with a low-voltage buzzer alarm that can be connected to the pack's balance port.
Temperature control and smart features
The most important feature that makes the Sequre SQ-001 such an appealing soldering iron is that it is programmable. Besides the step-less manual temperature control, it has an internal configuration file that can be accessed via USB and adjusted according to your needs.
SQ-001 parameter file
StbTemp=200 #(100~400)
WkTemp=300 #(100~400)
SlpTime=180 #(60~999)
IdlTime=360 #(100~999)
TempStp=10 #(1~25)
OffVolt=10 #(5~19)
Temp=0 #(0,1)
Hand=0 #(0,1)
ZeroP_Ad=239 #ReadOnly
When you plug in the power source, it remains in 'cold' mode. This is a handy safety feature, as you can leave the iron plugged in and only crank up the temperature when you actually need it. Pushing the 'A' button, you can start heating – depending on how much voltage you are supplying, takes anywhere from 30 to 11 seconds to reach 300° Celcius. You can set the working temperature to up to 400°C if needed.
Another cool feature of the Sequre-001 is the built-in accelerometer sensor. When the soldering iron is not used for a specific time (180s by default), it puts itself in standby mode (200°C by default). This temperature is still not safe enough to touch, but it is cool enough so the tip won't oxidize as quickly. When you pick up the iron gain, its internal sensor will detect the movent and it will heat back to your set temperature.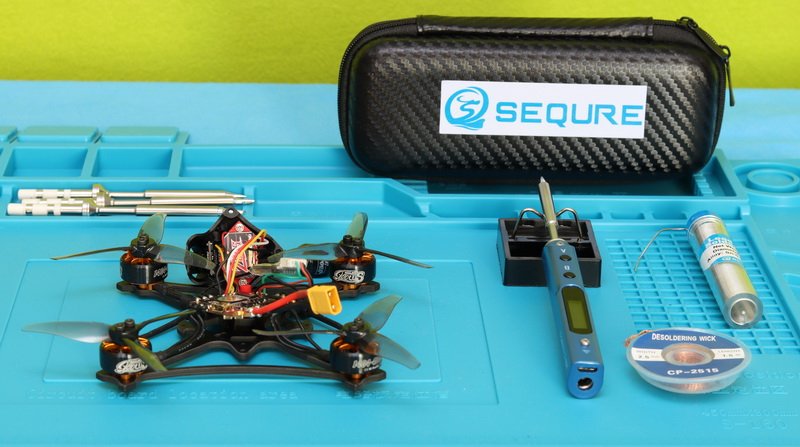 Editor's ratings
Price/value ratio

Heating power

Temperature control

Comfort in use
Summary
The SEQURE SQ-001 is a super compact and versatile soldering iron. You can power it with an AC/DC adapter (12-24V) or your drone's 3-6S LIPO battery allowing field soldering. With a 24V/60W power source, it can reach 300°C in just 11 seconds. Temperature can be adjusted to up to 400°C. The kit I received includes 4 soldering tips (different types), soldering wire, a mini stand and tin absorbing wire.
Core features
Compact and lightweight (304 stainless steel nested ABS + PC shell);
USB drive emulation for parameter file;
Firmware upgrade possibility;
Wide range of input voltage 12-24V (3S-6S LIPO battery);
Intelligent temperature control between 100-400°C;
± 2% temperature stability range;
Automatic sleep and over-temperature alarm;
Pros
Wide range of power options (3S-6S LIPO battery/12-24V Power adapter/PD phone charger);
Easy settings and configuration file;
Stepless temperature settings;
Wide range of compatible soldering tips.
Cons
No built-in voltage meter;
The manual temperature setting is not saved;
The case is too small to store the iron with the tip installed.