I purchased my first tripod together with my first digital camera, about 20 years ago. It was a cheap unbranded model that served me well for many years. A few years later, I purchased a more versatile tripod from a trustworthy Italian brand when I started reviewing drones. It was super OK for inside work, but on the first trip, I learned that travel tripods have a slightly different set of requirements than studio tripods. They must be lightweight and small when folded in order to be easy to pack and carry into a backpack, or at least hook them onto one.
Travel tripod makers use lightweight materials like aluminium (good) and carbon fibre (better), creative designs with thinner legs that fold 180° over the ball head, telescoping legs with as many as 5-6 sections, and clever extras like sandbag hooks, extensible center column, and built-in bubble levels. SIRUI Traveler 5 series has both versions, aluminium and carbon fibre. SIRUI also has the series 7 that can be turned into a monopod for those who need a bigger and more powerful travel tripod.
If you love capturing waterfalls that look smooth and milky, sunset time-lapse footage, or astrophotos using slow shutter speed, you'll need a lightweight travel tripod that can take a beating in the field and keep going. Sirui Travel tripods come with 6 years warranty!
SIRUI Traveler 5C tripod review
Disclosure: I received this travel-friendly tripod as part of a product review collaboration with SIRUI. Product specs and quality may vary according to the manufacturer's reliability, so I cannot guarantee that you will get a product that performs the same as seen in my article.
SIRUI claims to be the world's leading anamorphic lens, lighting equipment, and camera tripod brand and has long been dedicated to providing filmmakers with the ultimate shooting experience. Their products are known for high performance at an affordable price.
Despite tripods are not commonly used drone accessories, I happily accepted SIRUI's offer to test one of their tripods. Like me, probably many others love to fly sitting in a comfortable fishing chair with a built-in beer holder and the FPV monitor on top of a tripod.
At a glance
The tripod comes in a handy shoulder bag with two hex wrenches for maintenance and camera installation. Additionally, I requested a second camera plate for easy gear swapping.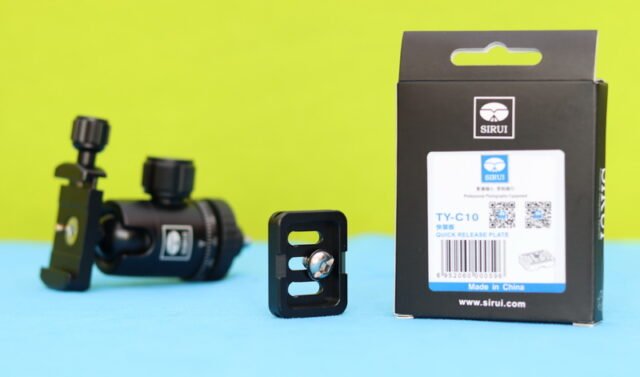 Removing it from the box, surprised me with how compact and lightweight this tripod is. When folded measures about 33x8x8cm and weighs just 850 grams. By comparison, my existing aluminium studio tripod weighs more than 2 kg and has a closed length of 65 cm.
In order to minimize the folded size of the tripod, it features 5 telescoping leg sections. Releasing/securing the sections can be done by a half turn of the rigs (column twist locks). Two legs have rubber foam padding for a good grip during handling. The centre column can be extended and even removed if low-angle shots are needed. It has a stabilizer weight hook in the center that will make your tripod much more stable, allowing you to take razor-sharp images, even if you are doing long exposures.
Each column has spike-shaped rubber feet that provide indoor and outdoor stability. The semi-automatic leg angle adjustment clamps provide three predefined positions ( 23 / 52 / 84°).
Besides the carbon fibre tubes, most of the Traveler 5C is made from nicely-finished aluminium anodized mat black. Everything feels solid and well-built. Only the section securing rings are made from plastic.
Out of the box, the 5C tripod comes with the entry-level 3T-35K ball head. In my opinion, this is the weak point of this tripod. The head has only one knob to control the ball's friction and locking. It weighs 180 grams and uses a 25mm ball that can handle up to 4 kg payload.
Sirui Traveler 5C specifications
Material
Carbon fibre (5C) or Aluminium (5A)
Folding design
180 reverse leg fold-up
Sections
5
Center column
Yes, retractable
Height/Lenght
Min. Height: 16cm/6.3″
Max. Height: 138cm/54.3″
Retracted Height: 61.5cm/24.2″
Folded Height: 330cm/13″
Weight
850grams/1.87lbs
Max. Load
4kg/8.8lbs
Head type
2.5cm ball with up to 4KG load capacity
Number of bubble level
1
Warranty
6 years
SIRUI 5C: User experience
I liked that the 5C is so compact that it fits comfortably inside the side pocket of my Think Thank FPV Airport Helipak backpack. The sandbag carabiner doubles as it allows you to secure the tripod to your bag's strap. The included tripod bag allows easy transportation during cityscapes when you want to carry with you only the essential gear.
The unfolding/folding process is pretty smooth and fast, this is crucial while travelling and when you want to move from one spot to another. Its ingenious design allows shooting from close to the ground to almost eye height (16-138cm).
Sirui stands that the Travel 5C can take gear up to 4KG. Personally, I test it with a Canon 90D DSLR camera that weighs 701g (24.73 oz) and three of my lenses (50mm/f1.8 – 159g, 18-135mm – 480g, and 70-200mm – 695g). I noticed that not the weight but the setup's geometry is more critical. Using the telephoto lens appeared a little unstable. Also, being very light, it is recommended to use a sandbag to make it more stable.
It was windy on testing day, and the 7″ FPV monitor on top of the tripod acted like a sail. At a stronger gust, it overturned, and the FPV screen broke into two pieces. Luckily there is nothing that can't be fixed with duct tape and a few drops of super glue. Apart from getting a little muddy, the 5C tripod didn't suffer anything.
Carbon fibre has several advantages over aluminium apart from being lighter weight. As winter is coming, one of the most important is that your fingers will not freeze on the metal parts.
Price, availability, and options
SIRUI's Travel series can be ordered directly from their website. As I mentioned at the beginning of my review, both the 5 and 7 series are available in aluminium and carbon fibre. The 5C shown in this review is priced at $114.90, and its bigger brother, the 7C at $159.90.
Sirui Traveler 5C versus 7C
| | | |
| --- | --- | --- |
| | Traveler 5C | Traveler 7C |
| Material | Carbon fibre | Carbon fibre |
| Weight | 850grams/1.87lbs | 1.57grams/3.46lbs |
| Max. Load | 4kg/8.8lbs | 8kg/17.6lbs |
| Folded height | 33cm/13″ | 48cm/18.9″ |
| Min. Height: | 16cm/6.3″ | 48cm/18.9″ |
| Max. Height: | 138cm/54.3″ | 166cm/65.55″ |
| Number of section | 5 | 4 |
| Monopod mode | No | Yes |
| Feet type | Rubber | Rubber and Stainless steel |
| 1/4″ Accessory port | No | Yes |
| Center column | Removable/Extensible | Reversible |
| Tripod head | 3T-35K ball head | E-10 ball head |
| Price | $114.90 | $159.90 |