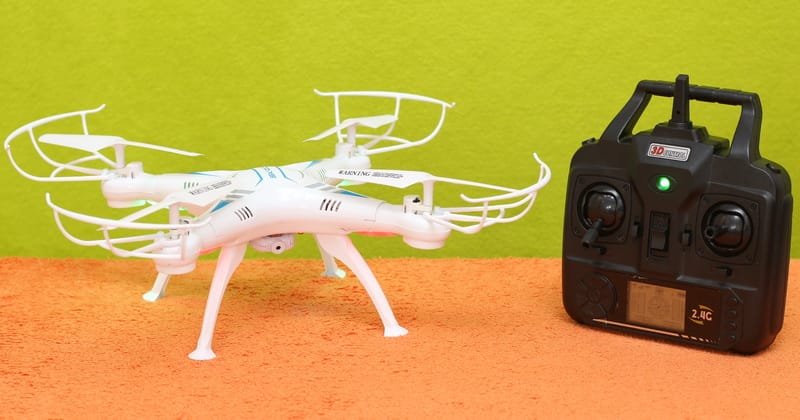 SKRC Q16 – Dirty cheap WiFi quadcopter
After many "high-end" quadcopter reviews, it was time to test something more affordable, the SKRC Q16. This model was announced about 4 weeks ago by an unknown Chinese manufacturer (at least for me) called "ShengKai".
Basically, the design of the SKRC Q16 reminds me about the Syma X5C, which was my first quadcopter. Lately, I read many negative comments regarding the build quality and the reliability of these cheap RC toys. Frankly, if you look carefully to this toys you have to admit that you receive pretty much technology for their price. For example, this SKRC Q16 costs about $39 with free shipping, and you get a decent sized quad with lots of features. Of course, these low prices lead to lack of quality tests and poor reliability. Anyway, first time pilots will inevitable crash few times their first quadcopter till they familiarize with the basic flight movements, so it is smarter to sacrifice a $50 quad than a $1000 professional model.
At the time when I purchased my first quad, a similar model with this SKRC Q16, in size and design, but with much less features cost about $100. The technology in this area evolved very much over the past years. Features like headless mode, APP control and FPV are now present even on cheap entry-level models.
SKRC Q16 features and specs
Dual control mode (by APP and physical RC);
Dual speed rates ("Fast/high" and "Slow/low");
WiFi FPV camera;
Adjustable lens angle;
Headless flight mode;
One key return to home (RTH);
360° rollover function;
About 10-15 minutes play time (I doubt it…);
Up to 200 meter control range.
SKRC Q16 quadcopter review
Before I get into details, I should thank GearBest for offering this product in order to make a honest review. If you have read my last review about the REDCON Phoenix 210, you already know that I reveal not only the positive but also the negative things without allowing to be influenced in any way by the sponsors.
I received the package in about 20 days after we agreed on the review. Unfortunately, due to the fact that the box is made from thin cardboard and the "careful" handling of the postal workers, one of the control sticks was broke.
SKRC Q16 review – First impressions
Besides the quadcopter and its transmitter with phone holder, the package includes: 1 set of spare propellers (CW and CCW), 1 set of propeller protectors, 4 pieces of landing gears, USB battery charger, screw driver and user manual.
The build quality of the quad is not exceptional but good enough considering its price range. Excepting the landing gears, the design of the SKRC Q16 is very similar with the one Syma X5C has. As you can see on the image below, in order to allow a higher ground clearance, the Q16 quad is equipped with taller individual landing legs instead of "bridge" type landing gears. While the propellers are preinstalled by the manufacturer, you have to mount the blade protectors and landing gears by yourself prior to the first flight.
In order to protect the main gears from excessive dust, strands of hair or grass they are enclosed in the main frame. I always check if the propellers spin freely because the brushed motors can easily burn out prematurely if they are slowed down by this unwanted impurities.
The aircraft is powered by a 500 mAh Li-Po battery with micro Losi connector, which allows an advertised 15 minutes of flight autonomy. I know, it looks very optimistic :). The low battery voltage alarm will warn you when it's time to land and re-charge your battery, which can be done with the included charger through any USB socket. If you need more flight time you can look for higher capacity batteries (you can find for couple of bucks, 650 mAh ones).
Under each arm there are two LED lights which will help you in orientation, especially during night flights. Red ones in the front and green ones in the rear.
SKRC Q16 review – Transmitter
Basically the remote controller looks just like the one Syma has. The only difference is that the dummy buttons on the side of the status LCD are reversed.
I just read in a review made by a fellow that the adopted radio protocol is Bayangtoys compatible and the SKRC Q16 can bind with the Bayangtoys X8 transmitter.
On the top of the transmitter there is a fake antenna, which serves to mount the phone holder instead of boosting the radio signal.
Through the left shoulder button you can switch between "Fast" and "Low" speed rates according to your flight skills. Like in case of other models, the "3D flip" mode can be activated using the right shoulder button.
The control range is pretty good for such a toy grade transmitter. In my opinion, 150-200 meters range it should be far enough so I will probably skip over any kind of range hack.
In the features and specs I wrote that the SKRC Q16 has dual control mode, but actually you can control this quad in 3 ways:
psychical remote controller;
through WiFi UFO APP with virtual sticks;
gyro mode by tilting your smartphone.
SKRC Q16 review – Camera
The 0.5 MP Wi-Fi camera weights about 10 g. The tilt angle of the lens is slightly adjustable in order to obtain the desired field of view. On the left side of the camera there is located the external WiFi antenna which allows pretty good FPV range. In the back of the camera is a fake micro SD slot, so don't try to insert any memory card there. The captured photos and videos are stored on your the smartphone memory.
In order to connect your smartphone to the Wi-Fi camera, for first person view flights, you must install the WiFi UFO App (available for both Android and iOS devices).
As I expected, the image quality of the camera is not brilliant at all. Even in daylight, the captured videos are sometimes blurry. Anyway, I don't think that someone can imagine this quad is capable to record award winning aerial videos.
Both, videos and photos have the same resolution (720 x 576 pixels). The videos are saved from the live video feed with an average of 15 fps. Two minutes of captured video occupied about 10 MB on my smartphone's internal memory, which shows very low bit-rate.
SKRC Q16 review – Test flight
Being very lightweight (about 100 g) and small, the ShengKai Q16 is suitable for both indoor and outdoor flights. Firstly, I test it indoor in a 5 x 5 meter room. Although, the SKRC Q16 has gears, it was surprisingly quiet, excepting a weird noise… one of the propellers touched the blade guard and I fixed it quickly :)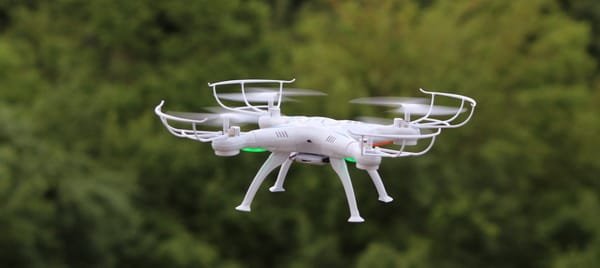 Indoor, at slow speed rate is very stable and easy to hover, even newbies would manage to control it.
Next day I went out with 3 charged batteries (I had two ones from my old Syma X5sC-1) determined to test this quad well. One battery lasted only 1 minute, it looks that the Li-Po batteries degrade even without using them. The original battery lasted about 8 minutes till the LEDs started to flash warning that it is time to land.
Generally the quadcopter performed very well. It is a nice stable flier with good range. On "High" speed rate it has more power and can resist better to the wind. It can be controlled in 3 different ways (virtual sticks, gyro and RC) but I recommend for first time pilots to practice with physical transmitter.
I skipped over the headless mode but I was curious how it performs the auto return to home feature (RTH). It proved to be mainly useless, sometimes it didn't even find the right direction not to mention the takeoff point.
If you fly too far (out of control range) or the transmitter is switched OFF, the motors of the SKRC Q16 are almost instantly stopped, which is good because flyaway can't occur.
Un-boxing and maiden flight video
Price–performance ratio

Design and build quality

Control range

Camera

Play time
SKRC Q16 review - Verdict
Overall, the SKRC Q16 is a nice all-in-one quad and an affordable alternative to the popular Syma X5C. It offers much more features for less money.
The WiFi APP control is pretty high-tech but, I prefer to control the aircraft in the "convectional" way through a psychical remote controller.
Because the poor quality camera, lag of the WIFI transmission I do not recommend to fly exclusively in first person view mode (FPV). It is nice for fun but nothing more.
In my opinion this quad is just perfect for beginner pilots. They can get used with the basic flight movements on "Slow" speed rate and as they evolve can switch on "High" rate or move to a more expensive quad.
Those who are interested to begin their journey in the world of quadcopters with this remote controlled toy should know that it can be ordered on GearBest website here. BTW, you can opt between white and black version.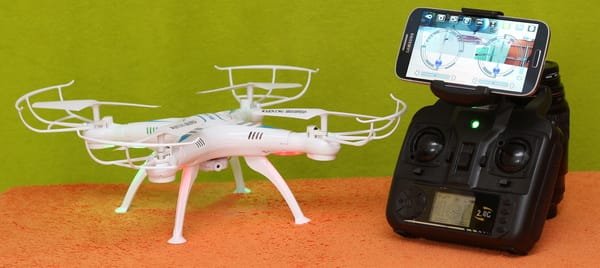 Pros
Affordable WiFi FPV quad;

Decent flight range;

Dual control mode (APP and RC);

Lots of features;

Power On/Off switch.
Cons
No altitude hold;

Poor video quality;

Poor packaging.
SKRC Q16 review – Photo gallery