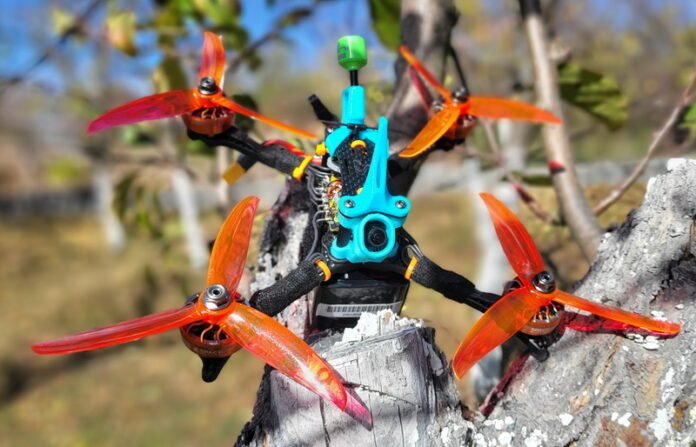 Racing frames like the Skystars Bolt5 or Foxeer Caesar prioritize light weight and aerodynamic efficiency for maximum speed and maneuverability. Their geometry is optimized to have the smallest friction in the air, and the battery is mounted underneath the frame to obtain the optimal center of gravity (COG).
My review refers to the SkyStars-RC Bolt5 frame kit, but as the Foxeer Caesar V2 has only a few minor differences, you can expect about the same results from that kit too. Except for the "X" and "S" logos on the camera mount, these two frames look identical. Both are made of high-quality T-700 carbon fiber and have a  3d-printed TPU shark fin on top for turtle mode (flip back).
SkyStars-RC Bolt5 adopts a completely symmetrical TrueX frame design that offers equal stability on all axes as the distance between the rotors is equal. With a wheelbase of just 200mm, it is the smallest 5″ frame that I tested.
Skystars Bolt5 frame review
Last year, SkyStars-RC sent me this Bolt5 frame with the F722HD Pro+KM55 flight stack, and I forgot about it until last week when I wanted to build a new racing drone. The frame kit was still in its original bag, including mounting screws, TPU parts, and two battery straps.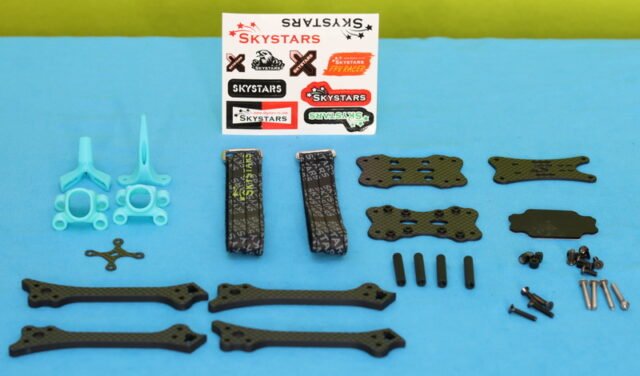 The Bolt5 frame consists of four 5mm thick arms, a top plate, and two bottom plates. The arms are held together in a bottom and middle plate sandwich. There is enough space between the two plates to stretch the LIPO strap. The bottom plate has rubber padding for more secure battery installation.
Mounting Options
The electronic parts can be installed in the center of the frame using a 20×20 mounting pattern. On top of the flight stack, there is room for an analog VTX or a low-profile HD digital VTX, such as the Walksnail Avatar HD Pro. The arms are compatible with motors that have a 16x16mm (M3) mounting option.
3D-printed TPU mounts
Skystars-RC included two types of camera brackets. Both TPU mounts provide an aggressive camera angle needed for racing competitions. The VTX antenna holder can accommodate only super-small antennas with short pigtails.
The shark fin in front is not just a cool design element but also handy for Turtle mode, allowing you to flip over if you crash upside down. Unfortunately, the fin has the disadvantage of making it impossible to install a GoPro or other camera for 4K recording on board. When it is fully assembled, the frame weighs about 75 grams.
Build Tips
Despite that no documentation is provided, you can assemble the Bolt 5 frame in less than 15 minutes. Remember to use thread locker or thick viscous grease on the screws to prevent loosening.
For electronics, consider using a flight stack and VTX (analog or digital) with a 20mm x 20mm mounting pattern (30.5×30.5mm will not fit!). I completed the Bolt5 (Caesar V2) race frame with a MEPS flight stack (F7 FC + 45A ESC), SZ 2306 KV1750 motors, 350mW VTX, and an ELRS radio receiver.
Under the frame is room for 4S with up to 2000mAh or 6s with 1500mAh LIPO. To avoid cutting the battery (power) cable by the propellers, I suggest you tie it to one of the arms.
Technical parameters
| | |
| --- | --- |
| Material | Toray carbon fiber T-700 |
| TPU parts | Turtle fin, Camera, and Antenna mounts |
| Diagonal size (wheelbase) | 200mm |
| Configuration | TrueX |
| Thickness of the arm | 5mm |
| Compatible props | 5.1 inch |
| Flight stack mounting | 20x20mm M3 |
| Motor mounting | 16x16mm M3 |
| Camera mount | Nano (14mm) |
| Frame kit weight | 76 grams (including TPU and screws) |