3D-printed FPV drone frames offer a number of advantages over traditional frames made from carbon fiber or other materials. Firstly, they can be completely customized to suit the pilot's specific needs, allowing for greater control over the design process and resulting in a perfectly optimized frame. It is great for prototyping, allowing testing of different design approaches conveniently and at a low cost. For example, in just a few hours, I 3D printed four FPV drone frames of different designs and sizes using 250 grams of SUNLU PLA-CF filament. Another plus when using 3D-printed parts or an entire frame is their relatively low density. The number of perimeters and infill percentage can be adjusted to decrease weight significantly.
When it comes to 3D printing drone frames, choosing the right filament is crucial. The material used will determine the frame's flexibility, strength, durability, and weight, all of which are essential factors for a successful FPV drone build. If you want to 3D print your drone, you should consider the following safe and easy-to-use filaments:
Carbon fiber reinforced filaments (PLA-CF and PETG-CF). CF filaments are composite materials formed by infusing carbon fiber fragments in polymer base 3D printing materials, such as PLA, ABS, PETG, PEKK, or PC, among others. CF-reinforced filaments are the most appropriate for 3D printing FPV drone frames due to their improved mechanical properties.
PLA filament is a popular choice for 3D printing drone frames because it is easy to print and affordable. It is available in a variety of colors and can be printed using a standard extruder. However, it is not as strong and durable as CF-reinforced materials.
PETG filaments are a great compromise between PLA and ABS. They are lightweight, strong, easy to print, and, more importantly, safe to print. PETG is resistant to UV radiation, which makes it ideal for outdoor use. It is also available in a variety of colors and can be printed using a standard extruder.
SUNLU PLA-CF filament review
Disclosure: I received this PLA-CF filament as part of a product review collaboration with SUNLU. Product specs and quality may vary according to the manufacturer's reliability, so I cannot guarantee that you will get the material that performs the same as seen in my article.
Last month, together with the Sunlu T3 3D printer, I also received a bobbin of PLA-CF carbon fiber filament. They use black plastic bobbins of 196 x 60mm (diameter x width) packed in an airtight nylon bag with tiny silica gel sachets inside. The gross weight of 1KG filament, including the spool, is around 1230 grams. The diameter tolerance of SUNLU PLA-CF is +/- 0.02 mm. During my tests, I had no issue with spool tangling or unwinding.
First, I printed a drone stand that came out nicely, as you can see in the image below. I used 220°C nozzle and 65°C print bed temperature settings. A hardened steel nozzle is recommended, given the abrasiveness of the filament.
SUNLU PLA-CF technical specifications
Mechanical proprieties
Length/1KG spool
300 meters
Tensile Strength
11-14kgf
Melt Flow Index
11-16/10 min (220℃,10kg)
Diameter
1.75mm ±0.02mm
3D printing parameters
Extruder Temperature
200 – 230℃
Bed temperature
60 – 80°C
Printing speed
50 – 100mm/s
Recommended build surfaces
Masking paper, PVP solid glue, PEI
3D Printed 2.5″, 3.5″ Toothpick, RaceWhoop, and 5″ Racing drone frames
Secondly, I printed a 5″ standard racing drone with an unmodified design. It had a 4mm bottom plate and a 3mm top plate. The result looks nice, but the arms flexed too much to be useable. If the frame is not perfectly rigid, the drone wobbles a lot making it feel unstable, and the videos with jello.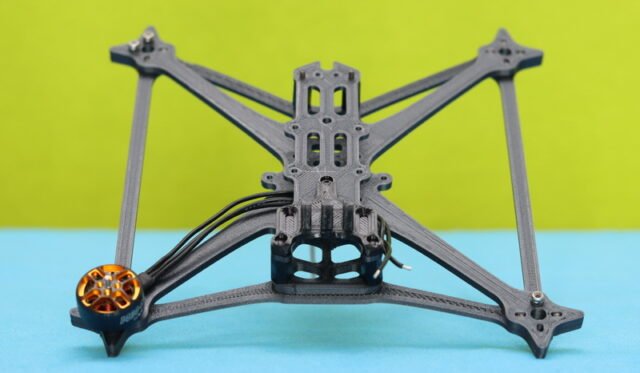 Next, I printed the BabyMOD_TrueX_3.5in_FPV_Frame. The 2mm X-shape frame was reinforced with four bracers (one on each side) to be stiff. The assembled frame was lightweight and rigid enough, but would not survive a minor impact with a concrete wall.
The third FPV frame was specially designed to be 3D printed. The frame was reinforced at the bottom, thus giving extra rigidity, and weight, of course. All the parts (top and bottom plates, antenna, and camera mounts) of the 2.5″ frame were printed in approximately 3 hours. The assembled frame kit weighs 45 grams, including the screws.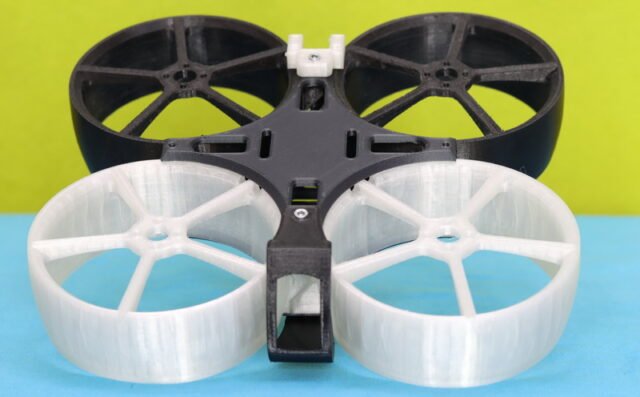 My last test project was printing the top and bottom plates for a RaceWhoop-style FPV drone. For this design, the SUNLU PLA-CF filament could be a great choice over genuine CF parts, as the force of an impact is taken by the TPU 70D ducts.
To complete any of these four 3D-printed drone frames, you will need the following parts:
AIO Flight controller with onboard 4in1 ESC ~ 60$
Radio receiver ~20$
Four brushless motors 60-80$
Set of propellers -2$
Battery and velcro band 15-25$
Optional FPV system (Camera + VTX) ~30$
Price and availability
When I published my review, the PLA Carbon Fiber filament was available for $32.99. This material is available only in black color and spools of 1kg/2.2lbs (1.75mm diameter).
Real carbon fiber frame vs. 3D printed PLA-CF filament frame
While true carbon fiber materials have long continuous fiber strands that improve mechanical resistance, the PLA-CF filament contains short particles of around 0.01 mm in diameter. Although this is enough to improve the strength of printed parts, they cannot compare to the ones made from pure carbon fiber. Genuine CF-frames have much better impact resistance.
| | | |
| --- | --- | --- |
| | Carbon Fiber frame | 3D printed PLA-CF frame |
| Flexibility | No | Yes |
| Impact resistant | Good | Low |
| Temperature resistance | High | Low |
| Suitable for outdoor use | High | Medium |
| Design options | Limited | Endless |
| Easy to get | Online order | Print at home |
| Recommended frame size | 2-10″ | up to 3.5″ |
| Weight for 5″ | ~120g | ~90g |
| Cost for 5″ frame | $30 | $4 |