Syma X13 Miracle mini quadcopter
I started my journey in the world of quadcopters with probably the most successful Syma model, the X5C. At that time I opted for that multi-rotor instead of other ones because it seemed reliable and affordable. The time has proven that it was a good choice so I ordered with confidence this new Syma X13 Miracle mini quadcopter for my son.
Not so long ago I bought a tiny quadcopter to play with it indoors. After only a few fights with this X12 quad, my 6-year-old son was also infected by the virus called "quadcopter addiction". Having the same remote controller as his first quad, the Syma X13 quadcopter seemed to be the perfect children's day gift for him.
Before I placed my order, I tried to search on Syma's website for more details about the X13 but, being a new product, is not even listed there yet and I couldn't find any relevant review about it anywhere else.
The features and specs of the X13 have nothing to do with Miracles :) but what more can you expect for only $32.99.
Syma X13 Miracle features and specs:
2.4GHz remote controller;
Headless flight mode;
Adjustable flight speed (low and high);
3D flips;
ON/OFF power button;
Control distance: up to 20 meters;
Flight time: 7-9 minutes;
Syma X13 size: 15.6 x 15.6 x 3.6 cm;
Available colors: white and green.
Syma X13 quadcopter review
After only two weeks of placing my order, I got the Syma X13, the box was surprisingly big for a mini quadcopter and its remote controller.
Syma X13 is a ready to fly quadcopter, the propellers and prop guards are preinstalled and secured with screws. The only thing you have to do is to load 4pcs of AA batteries in the transmitter and you are ready for having some fun with your new toy.
The props are engaged through the main gear, so it has a bit more noise compared to direct drive constructions, where the propellers are installed directly on the motor shaft.
Regarding its size (160 x 160mm) the X13 is recommended for indoor use, but on not windy days it can be flown outside too.
From the quadcopter's remote controller you can also set two flight speeds (low and high) which is extremely useful when you are flying in limited spaces, like small rooms.
For better orientation, the Syma X13 is equipped with 4 LED lights, blue color in front and both sides and red color in the back. For the same reason the front propellers have black color and the back ones are white.
Yesterday I made some indoor test flights with it and I can say that is incredibly stable and easy to maintain the quadcopter's flight height and position.
In conclusion, I can say that this RC toy is a decent practicing mini quadcopter for newbies at an affordable price. For those who are interested in this Syma X13 can be ordered from Geekbuying.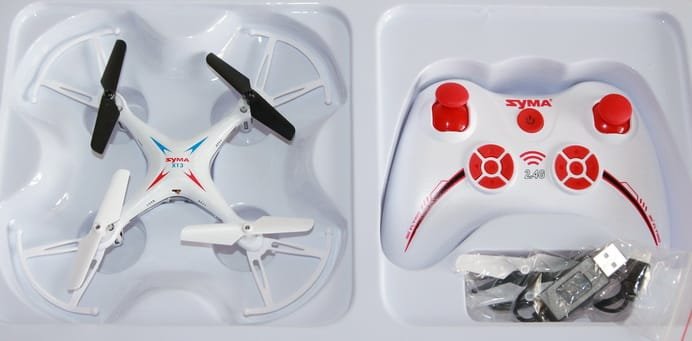 Syma X13 package includes:
mini quadcopter with prop guards;
3.7v 200mAh Li-Po battery;
micro USB battery charging cable;
1 set of spare propellers;
Syma X13 user guide.
When you are a beginner flyer is always good to have around the quadcopter's instruction manual. You can download the X13 user manual in PDF format right here: