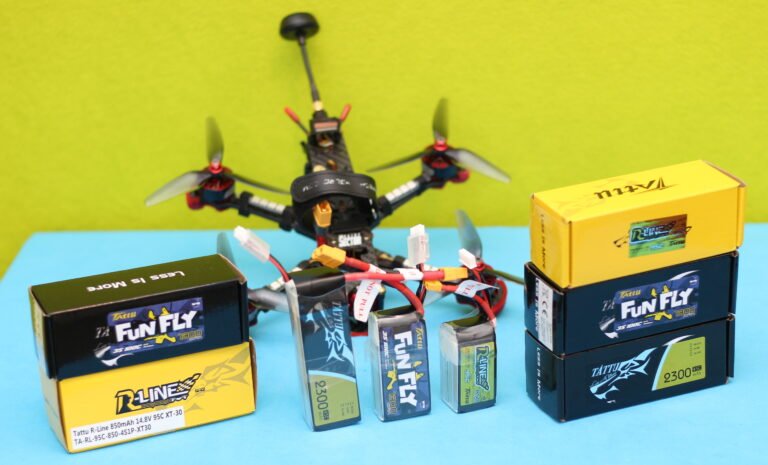 I published my first Tattu battery review in October 2017. Since then, I have had the opportunity to test more of their products. This time we will have a closer look at 3 of their packs, a GensTattu 4S/2300mAh 45C, FunFly 3S/1300mAh 100C, and an R-Line 4S/850mAh 95C one.
Tattu LIPOs are very popular among FPV pilots due to their great build quality and excellent power to weight ratio. I would lie to stand that after 3 years of usage, all my Tattu batteries are in perfect condition, but from 8 packs if only one started to swollen. It is not a bad failure rate.
Last month, one of my FPV drones crashed from an altitude of about 50 meters. The impact was so high that the battery was bent around the 4mm thick antislip rubber band. I found the drone after 2 hours of searching. The battery remained connected, and it drained out completely – cell voltage was between 1.6-3v. As the wrapping and LIPO cells seemed intact, I decided to give it a try and charge it (using a fireproof metal box, of course). Guess what, the 4S/1800mAh Tattu worked again. One of the cells drained faster than the other, but it was usable. Anyway, I decided to dispose of it because I didn't want to risk a midflight failure.
Tattu LIPO batteries review
Disclosure: I received these batteries as part of a product review collaboration with Gens Ace. Although the LIPOs were offered for free, all opinions in this article remain my own and the sponsor influenced me in no way.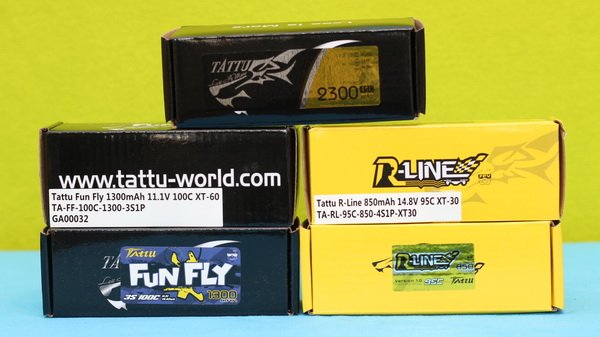 When I opened the package and saw the yellow boxes I hoped that I received some of their latest R-Line V4.0 packs. They are not just lighter but also have an improved formula for better performance. Tattu has three product lines dedicated to FPV drones: GensTattu, FunFly, and R-line. They are also working on a new LIPO battery charger, which I should receive soon for review.
All Tattu batteries were packed in a high-quality cardboard box with protective foam inside. The LIPO pack itself was once more packed in an air bubble bag. The discharge plug is secured to the battery and also protected by a tiny piece of foam. A safety instruction manual is provided with each battery. While the Tattu 4S/2300mAh and FunFy 3S/1300mAh packs had the balance plug protector already installed, the R-Line 4S/850mAh had it separately in the box. All batteries had an initial cell voltage between 3.80 and 3.82, which is best for long term storage.
'Tested capacity' from the table below is obtained by discharging the batteries to 3.3V/cell and recharging them to 4.2V/cell at 1C. This is the way I tested all my batteries and compared them to each other.
'C' number on the label of a LIPO battery means the safest continuous rate of discharge. The continuous current (Ah) that can safely be drawn from a battery is obtained by multiplying the batter's C-rating and the cell capacity.
Technical details
GensTattu 4S/2300mAh
FunFly 3S/1300mAh
R-Line 4S/850mAh
Pack configuration
4S1P
3S1P
4S1P
Cell count
4
3
4
Tested capacity
2216 mAh
1356 mAh
840mAh
Voltage
14.8V
11.1V
14.8V
Total power
34.1Wh
14.43Wh
12.58Wh
Max charge current
11.5A
6.5A
4.25A
Continuous/Burst
Discharge rate
45C/90C
100C/200C
95C/190C
Max discharge current
Continuous/Burst
103.5A/207A
130A/260A
80.75A/161.5A
Weight on my scale
215 grams
120 grams
99 grams
Power to weight ratio
0.158Wh/gram
0.120Wh/gram
0.127Wh/gram
Measurements
106x36x31mm
74x35x23mm
59x30x31mm
Price
$35.99
$18.99
$19.99
Now let's have a closer look at each of these Tattu batteries.
1. Tattu R-Line (v1) 4S 850mAh 95C
The R-Line 4S 850mAh 95C battery has an XT30 plug, and it is suitable for 150-200mm size FPV drones. As I previously mentioned, I received version 1, but in 2021 Tattu released the V4 revision of this R-line family. The R-Line, aka Race-line, has the best performance from all Tattu batteries. They could advertise it as rocket fuel :D
The battery measures 59x30x31mm and weighs just 99 grams. By comparison, my same capacity CHNL MiniStar battery measures 62x30x32mm and weighs 110 grams. It seems that Tattu managed to make their battery pack not just smaller but also lighter.
Firstly, I test it with my Veyron 3 CineWhoop. Performance-wise no complaint, it can take any maneuver without a significant voltage drop. Secondly, I decided to check this little devil's limits and install it on a 5″ drone. Flight time was very short, of course, but the 95C discharge rata managed to satisfy this power-hungry drone without any issue.
2. Tattu FunFly 3S 1300mAh 100C
Tattu's FunFly series was introduced somewhere in 2018. FunFly batteries are specially designed for daily training and freestyle, which requires medium performance.
While most actual FPV drones are designed for 4S batteries, many beginner pilots use them with 3S batteries. As motor speed is proportional to supply voltage, running a 4S drone on 3S batteries will make it slower and more maneuverable.
The FunFly 3S 1300mAh 100C is suitable for entry-level 150-250mAh FPV drones. The pack measures 74x35x23mm and weighs 120 grams. By comparison, a CNHL Black battery with the same specs measures 74x34x24.6mm and weighs 125 grams.
3. Tattu GensTattu 4S 2300mAh 45C
2300 mAh and higher capacity batteries are not commonly used with racing drones, they are quite heavy for competitions. The Tattu GensTattu 4S 2300mA is suitable for 6-7″ long-range drones. Featuring a narrow design, it can be installed on top of most 5″ drones as well. Despite its 'only' 45C discharge rate, it can deliver more than 100A continuously.
The pack measures 106x36x31mm and weighs 215 grams. It has a 0.158W/gram power ratio. By comparison, the 4S 850mAh R-Line has only 0.127W/gram.
Price and availability
Tattu batteries can be purchased from many popular RC retails, including eBay. You can also order batteries from their Global, US, and European warehouses. On GensAce, the 4s 2300mAh battery is listed for €30.99, the FunFly 3S 1300mAh for €19.99, and the R-Line 4S 850mAh for €20.99.
Price/value ratio

Build quality

Flight time/Weight

Punch-out
Summary
While the FunFly series is a great compromise between price and performance, the R-line is what you need to win the race. Due to its good power to weight ratio, the Tattu 4S 2300mAh 35 is just perfect for 5″+ long-range FPV drones.
I'm using Tattu batteries for more than 3 years now and I can confirm that they are durable if you respect basic things like never over-charge/discharge them. Also, for long-term storing, you need to keep the packs half-charged (around 3.8V/cell).
Pros
Excellent wrapping quality;
Included balance plug protectors;
Smaller and lighter than budget LIPO packs;
Great durability;
US/EU availability.
Cons
Not the most affordable LIPO packs;
Tested capacity slightly below nominal capacity.
Tattu 4S 2300mAh 45C test with HGLRC Sector 5 V3
Tattu FunFly 3S 1300mAh 100C with HGLRC Veyron 3″