Regarding FPV drone parts that are waterproof or water-resistant, it's important to note that, while some components like this DarwinFPV Cement ELRS receiver might have a certain level of protection against moisture, truly waterproof FPV components are relatively rare due to the nature of the electronic components involved. Water resistance can be particularly useful if you plan to fly your quadcopter in wet environments, such as near waterfalls or in rainy conditions. If you want to fully immerse your drone in water, you will need a watertight fuselage that protects not just the individual components but also the battery and wiring.
A radio receiver (RX) is a key component responsible for receiving the control signals from the transmitter and relaying them to the flight controller. ELRS stands for ExpressLRS, which is an open-source and long-range radio control system designed for remote-controlled crafts, particularly for FPV drones. It focuses on providing a reliable and extended-range communication link between the transmitter (radio controller) and the receiver on the quadcopter. ELRS was developed as a budget-friendly alternative to existing long-range radio control systems such as FrSky and Crossfire.
The DarwinFPV "Cement" ELRS receiver has an IP67 rating, meaning that it is dust-tight and can withstand being submerged in water up to 1 meter for a limited time. This rating is often found on various electronic devices, such as smartphones, action cameras, and outdoor equipment, to indicate their resistance to dust and water.
DarwinFPV Cement ELRS 2.4GHz RX review
Disclosure: I received this Cement ELRS receiver in a product review collaboration with DarwinFPV. Product specs and quality may vary according to the manufacturer's reliability, so I cannot guarantee that you will get a drone that performs the same as seen in my article.
DarwinFPV is a pioneer of waterproof FPV drones and FPV parts. The DarwinFPV HULK was the first FPV drone featured in our drone news section, and since then, no other brand has brought on the market a similar product. In addition to this ELRS receiver, the company's waterproof product range includes a flight stack (F7 FC+ 100A ESC), AIO FC (F4&45A), 600mW VTX, Cemented FPV camera, and a watertight case for the DJI O3 Air Unit.
The DarwinFPV "Cement" ELRS receiver comes in a small antistatic bag with a pre-installed antenna, 7cm FC wires, and a transparent shrink tube. The module measures 14.2x22x4mm and weighs roughly 3 grams. It is slightly heavier and bigger than non-waterproof ELRS RX modules. All the electronic components are encapsulated on the front in a cemented metal case, and only the four solder pads (RX, TX, 5V, and GND) are left accessible. The T-tyle antenna has a length of 50mm, and its connector is also cemented, so it cannot be replaced\upgraded. The back of the module is super clean; there are only two solder pads (ROOT).
Like most ELRS received, this "Cemented" waterproof version also uses LoRa SX1280 long-range 2.4GHz RF transceiver and ESP8285 highly integrated Wi-Fi SoC. The 100mW built-in power amplifier (PA) provides the transmitter telemetry data (RSSI signal health). Out of the box, it comes with "BetaFPV_Nano_2400 RX ELRS 3.2.0" firmware version. The software can be upgraded in UART mode (through FC BetaFlight) or WiFi using the built-in web server.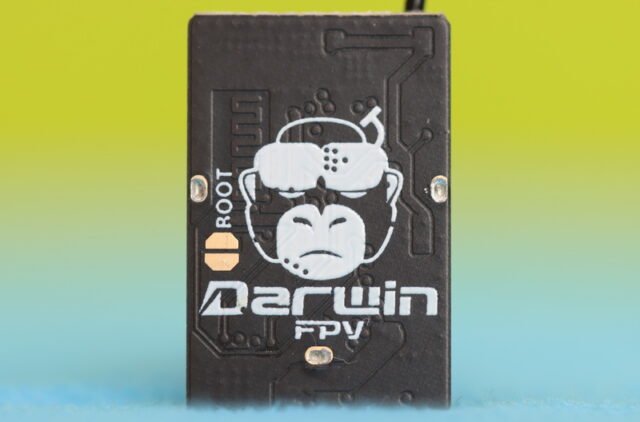 Remember that DarwinFPV's ELRS receiver is not completely waterproof; flying in wet conditions still carries risks. After soldering, the pads need an additional coating to avoid corrosion. Even 100% water-resistant FPV components can be damaged if they are submerged or exposed to significant amounts of water. Also, you should consider that seawater is more corrosive than freshwater because of the higher conductivity and the penetrating power of the chloride ion through surface films on a metal.
DarwinFPV ELRS RX: Key features
[IP67 Waterproof and Dustproof] Ultra-high dust-proof and waterproof performance, no fear of metal particles, fine and gravel, weeds, or dew; Can easily cope with various weather conditions such as rain and snow.
[Power supply polarity anti-reverse protections] Built-in protection module, the receiver will not be burned even if the power wires are reversed.
[Built-in 100mW power amplifiers (PA)] Telemetry output (RSSI signal is stable), longer distance, greater sensitivity, and stronger anti-interference ability.
[Support BetaFlight remote control FC] Using the ExpressLRS open-source project, you can remotely control and configure the flight controller through BetaFlight, allowing you to adjust parameters anytime, anywhere.
Pricing and availability
The Cemented ELRS radio receiver can be ordered from the manufacturer's website for $17.99 or $18.99 with included "Care" card that provides 25% off for further purchases (two/year).