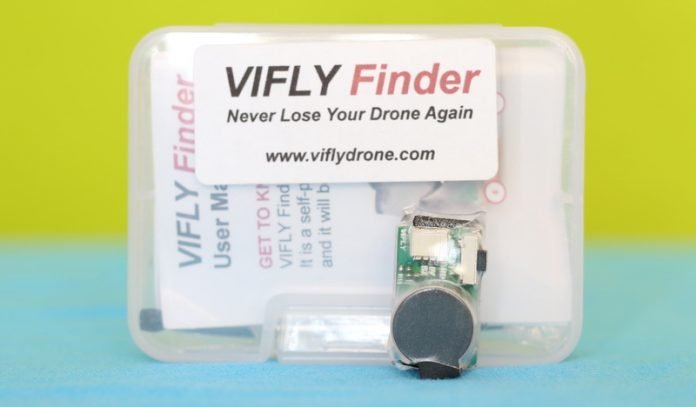 While most of the FPV drones are already equipped with an on-board buzzer, why you need such a thing as the VIFLY Finder Drone Buzzer? Let's discover in our review!
Compared to LoS flights, when you have permanently your eye on the drone's position, during FPV flights you see what the drone sees and you never know the exact location of the drone if you crash it. If you're lucky, the main battery remains connected as it happened during my first Fly Away and the on-board buzzer will guide you to the crash point. If not (battery ejected/disconnected), you will need a lot of patience to find it. Being self-powered, the VIFLY Finder Drone Buzzer will operate and make load noise for up to 6 hours, even in case the main power is disconnected.
VIFLY Finder Drone Buzzer review
Disclosure: I received this drone buzzer as part of a product review collaboration with VIFLY. Product specs and quality may vary according to the manufacturer's reliability, so I cannot guarantee that you will get a product that performs exactly the same as seen in my article.
Although, at the time Vifly contacted me to review their Drone Finder Buzzer, they promised to send me 3 pieces, I received only 2. Inside the transparent box, I found besides the two buzzers the following: two servo cables (3 wires), two zip ties and a tiny instruction manual.
VIFLY Finder Drone Buzzer features & specs
Self-powered (built-in LiPo battery);
Integrated charging circuit;
Easy operation (1 control button);
Very Load, up to 105DB;
Lightweight, only 4 grams;
Ultra compact, 23 x 13 x 16 mm (L x W x H).
VIFLY Finder Drone Buzzer review: At a glance
The buzzer module measures 23 x 13 x 16 millimeters and weights about 4 grams. While, in terms of size, is located between the JHE42B Finder and the FullSpeed Lucky Box, considering the weight is between the JHE42B Finder and the HellGate Buzzer.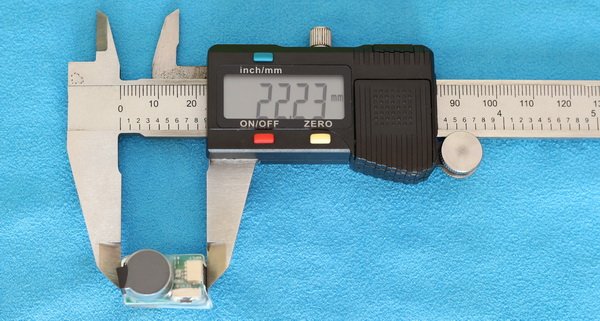 A tiny LiPo battery is attached to the buzzer's PCB through a double-sided tape. The hole thing is protected by a transparent shrink tube. On front part, besides the 12mm buzzer, you can find a 3pin connector and a tiny push button.
The button allows only to arm/disarm the buzzer. Unfortunately, you can't adjust sound level or sound pattern. You can deactivate the VIFLY Drone Buzzer by either power-cycling your drone (3-6 seconds) or holding down the button (1-5 seconds). Shutting-down is confirmed by short double beep.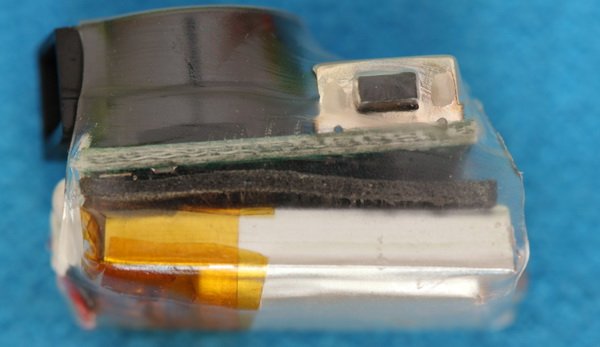 VIFLY Finder Drone Buzzer pin-out (color coding)
Black – GND;
Red – 5V DC;
Yellow – Buzzer signal.
As you can see in the connection diagram bellow, you have two types of wiring with the flight controller (1: GND > Black, Buz+ > Red, Buz- > Yellow or 2: 1: GND > Black, 5V+ > Red, Buz- > Yellow).
VIFLY Drone Buzzer review: First usage
Wiring the buzzer with the flight controller is very simple, but you will need some tools like a basic soldering iron & cutting pliers. I suggest you to attach the buzzer to the drone in an easily accessible place. If you want to use the same buzzer on multiple drones (of course not in the same time), using a Velcro tape is more convenient compared to the included zip-tie.
Powering ON the drone, the buzzer will enter automatically into "active" state. In this state the Vifly Finder will work like a standard beeper.
Disconnecting the main battery (powering OFF the drone), the buzzer will enter in to "pre-alarm" state. You have a time frame of 30 seconds in order to replace the battery or disarm the VIFLY Drone Finder Buzzer. In this time period the buzzer will emit at low power. After the grace time (if main battery is not connected back) the buzzer will work at loudest volume. On "alarm" state the buzzer was noticeably louder than my stock buzzer.
Editor's ratings
Price/performance ratio

Design and build quality

Sound level

Battery life
Summary
Let's be fair, the VIFLY Finder Drone Buzzer is not an innovative product. Doesn't bring any new features compared to other similar drone gears. It is not even the lightest or cheapest. But taking all aspects into consideration (size, weight, sound level, working time, price) is a good choice as primary buzzer for your FPV racing drone.
The VIFLY Finder Drone Buzzer can be found here for 14.99 US dollars (including free shipping). If you need more, you can also opt for a pack of 3 – $39.
Pros
easy to use;
self-powered;
compact;
super load.
Cons
it can be powered only from 5v;
only one cable included;
lack of multiple beeping patterns.