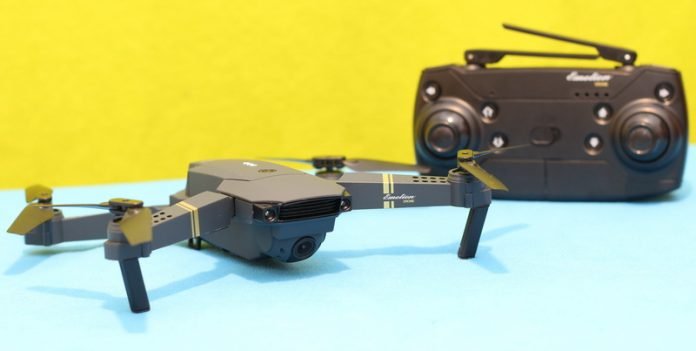 Surely, the E58 is the most popular toy drone from Eachine. I loved it from the first flight. It has pretty cool Mavic alike design and excellent flight performance. Unfortunately, after few crashes the fun has gone. A broken arm, blocked motor or missing propeller can make you throw it into the trash can. Luckily, Eachine offers good aftermarket support, a wide range of genuine spare parts for their drones being available for order.
While most of the crashes with my Eachine E58 produced visible damage, like the above mentioned ones, there are other bad thinks that could happen too. For example, if one motor is forcefully stopped for longer time it can burn it out, or the corresponding MOSFET on the flight controller can be damaged, or even both. In order to solve this kind of issues you will need to identify the exact failed component and find the proper spare part.
If you read our Eachine E58 review, you probably found out that it is available with two types of camera. A basic 0.3MP and a better 2MP one. If you had the "luck" to receive the earliest version with 0.3MP, you can still swap it to 2MP. This camera mod can be done easily in just few minutes.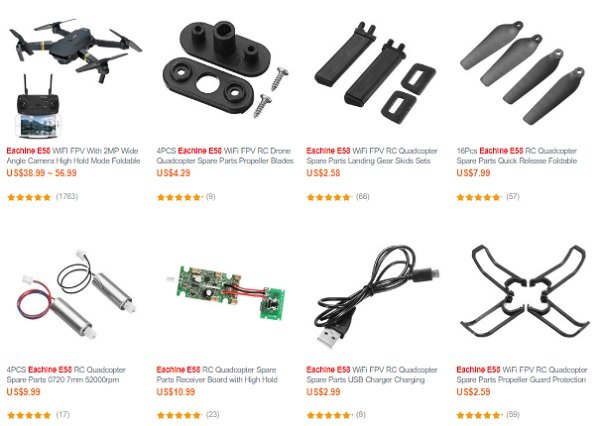 Where to find Eachine E58 replacement parts?
Whether you want to fix your Eachine E58 or upgrade it, here are the most common replacement parts and where to find them:
Complete Eachine E58 arm (arm, motor, main gear, and propeller) – $3.99 –

check stock

Spare propellers – $2.89 –

check stock

Replacement motors (1CW + 1CCW)
E58 2MP 720P 120° Wide-angle HD Camera with DVR – $21.99 –

check stock

3 pieces of spare batteries with charger – $23.99 –

check stock

Pack of Eachine E58 screws – $3.59 –

check stock
If you lost your Eachine E58's remote controller, no problem, you can find a spare one here.
Note: We are not selling anything! We are only suggesting where you can find the spare parts you need.