Based on my personal experience, learning to fly a drone begins with learning how not to crash or bump it into something. After reviewing dozens of drones, I find the Eachine E58 one of the best starter drone under $50. In addition to the cool Mavic design, it comes with many beginner oriented features.
I got a lot of comments here at FirstQuadcopter.com from people who are looking for their first drone. Many want to buy a high-end, fully-featured and, of course, expensive DJI drone. It is pretty hard to explain them why a cheap as $50 drone is more appropriate for them.
In a nutshell, whether it's a 20$ or 1000$ quadcopter, all have similar main parts: four rotors, flight controller, camera and remote controller. Therefore, their control mode is very similar.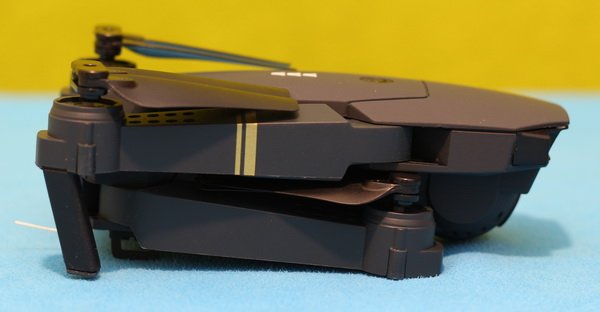 Which feature makes the Eachine E58 best starter drone?
Cool DJI Mavic alike design;
Compact size with foldable arms;
Dual control mode (RC and APP);
Super stable altitude hold (auto hover);
Headless mode (Intelligent orientation);
Multiple flight speed rates;
Dedicated button for Take-off and Landing;
HD camera with angle adjustment;
WiFi real-time image transmission;
Easy to replace motors.
IMHO "Headless mode" and "Altitude hold" are must have features of an excellent starter drone. While Headless mode eliminates the need to keep track of the orientation of the aircraft, altitude hold automatically maintains the flight height at the desired level.
As crashes are inevitable, spare parts availability and easy maintenance are also very important factors when you are taking into consideration to buy your first drone.
Let's find out why Eachine E58 is the best starter drone of 2017
Yesterday, I got a notice that I need to pick-up a parcel from the postal office. Frankly, I completely forgot that last month I was contacted by Eachine to review their E58 Emotion drone, so, like Christmas, it was a big surprise what's hiding into the package.
Inside the box I found besides the aircraft with loaded battery and its transmitter one pair of spare propellers, 1 set of blade protectors, USB charging cable, screwdriver and user manual (English, French, German, Spanish, Italian and Chinese).
Till I opened the box, I believed that the VISUO XS809HW is the best Mavic Pro Clone. Honestly, I like more this Eachine E58. It is more compact and apparently has better build quality too. Arms, as well as propellers, are foldable. It has even golden strips on front arms. I had the filling that I hold in my hand a Mini Mavic.
Folded, the drone is very compact (12.5 x 7.5 x 5 cm) and super easy to transport.
The 500 mAh LiPo is loaded from the back of the quadcopter. According to the manufacturer's specs, with a fully charged battery you can have up to 9 minutes of play time. The battery has micro USB port and can be conveniently charged with almost any phone charger.
During night flights you will be guided by 3 LED lights. Two white LEDs in front and one red on back.
Motors are equipped with connectors, which allows easy soldering free replacement. You can find a complete spare arm (with motor, main gear and propeller) for less than 4 bucks.
The included blade protectors can be easily attached to the aircraft and they are highly recommended to be used by beginner pilots. Can protect the propellers if they accidental bump into something.
Transmitter and APP control
Like the aircraft, the remote controller also follows DJI's design. The included RC comes with similar dual-antenna system (fake ones) and retractable phone holder. Note: transmitter requires 3 pieces of AA batteries.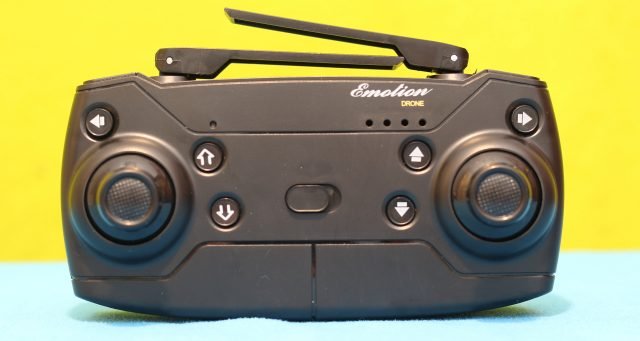 On front panel, besides the usual control sticks, there are 6 buttons. Take-off and Landing buttons are found on the right side of the throttle stick.
There are two shoulder buttons on each side. While on left side are found the Photo/Video and Headless/RTH, on right side are the 360° Flips/Emergency stop and Speed switch buttons.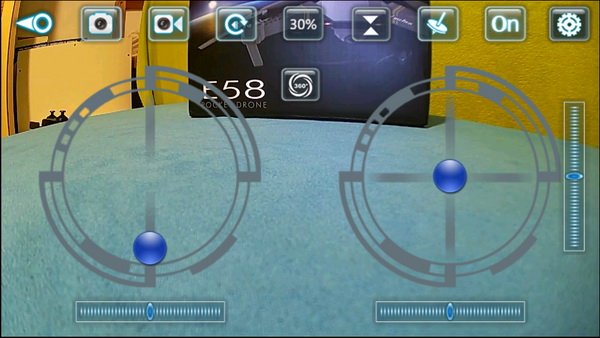 Eachine E58 also supports APP control. You can control the drone with your smartphone through virtual sticks or through gyro-sensor (by tilting the phone). Anyway, for beginners is more easier to learn to fly using the physical remote control.
Best starter drone with Camera and WiFi FPV
Although an on-board camera is not a must have feature for a good starter drone, it is nice that you can record the journey of your first flights.
Eachine offers the E58 with two type of cameras, 0.3MP or 2MP. Angle of the camera can be adjusted from shooting straight ahead to straight down (0 – 90 degrees).
After I carefully searched on the bottom of the drone, I found a micro SD slot. Pleasant surprise, because theoretically "On-board" recording has better image quality than capturing from the live-video feed. BTW, I read in an another Eachine E58 review, that the files are stored only on micro SD card – mine also recorded on the smartphone's memory too.
Five minutes of recorded video (1280×720@20fps) occupies about 50MB on the camera's micro SD card. Image quality is better than offered by other toy drones, but still not remarkable.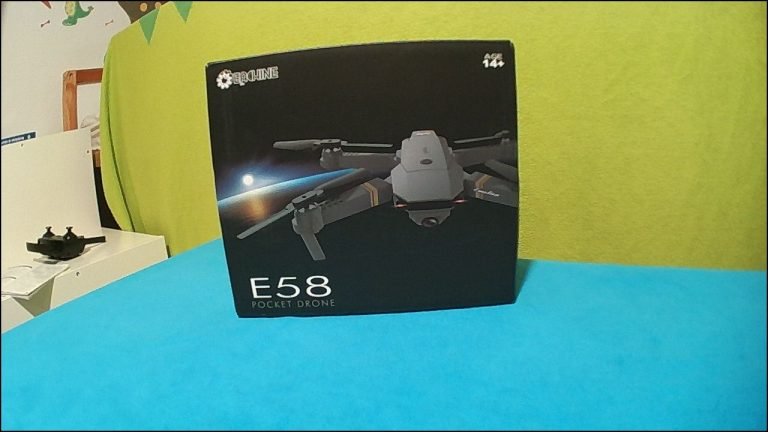 Through the JY UFO APP you can display the camera's WiFi real-time image feed on your smartphone's screen.
Flight performance
Firstly, I test it indoor. Due to the altitude-hold feature, it is extremely stable. Starting your flight has never been easier, you just need to press the "Take-off" button and the drone will rise about 1 meter above the ground.
Frontal LED lights are very bright, which is very helpful because allows beginners to identify easier the orientation of the aircraft.
While 30% speed rate is just perfectly tuned for first-time pilots and indoor flights, at 100% it becomes speedy and more powerful.
The real-world flight time is less than advertised one. My first flight ended after about 6 minutes. When the battery is near empty the drone will autonomously land.
Editor's ratting
Price/performance ratio

Design and build quality

Transmitter

Camera / WiFi FPV
Conclusions
Eachine E58 is a fantastic choice for a beginner drone that won't break the bank. Of the many drones I reviewed in 2017, due to its cool design and wide array of newbie orientated features, it deserves the title of Best Starter Drone.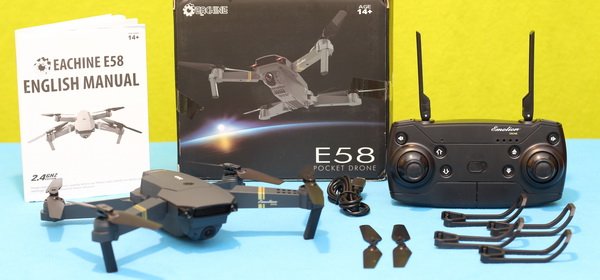 If you'd like to purchase this excellent learn-to-fly drone or find out more information, go to: https://goo.gl/WEPCnK. Need extra fun time? No problem! You can find combo pack of 3 LiPo batteries with dedicated charger for only $22.
Pros
Easy to fly;
Cool design;
Very stable altitude hold;
HD camera with WiFi FPV;
Easy maintenance (motors with connectors);
Strong head lights;
Spare parts availability.
Cons
Proprietary battery;
Videos are recorded at only 20 fps.
Sponsored post by Eachine