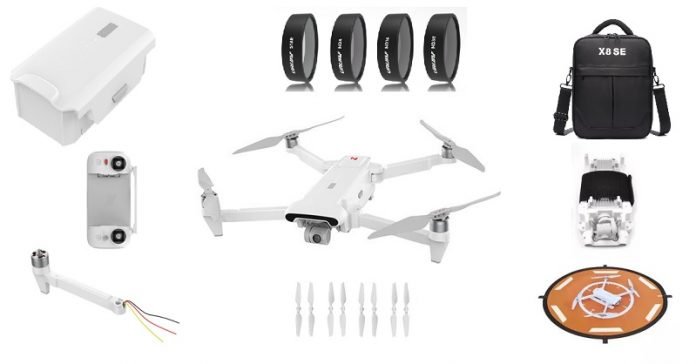 Like in the case of most hobbies, buying your desired gear will not give you full satisfaction. There is always an accessory that can make it even better or just more usable. In this article, I will show you all the best accessories I believe can really improve your FiMI X8 SE flying experience.
After a few flight sessions, you will realize that you need safe transportation for your precious drone. You have multiple options, from lightweight handbags to waterproof suitcases.
Resting after every flight while you recharge the battery pack can be very frustrating. The solution comes in a couple of spare batteries and a 3-way charger.
While, by default, the 4K camera provides excellent video quality, with some cheap ND filters you can achieve some spectacular cinematic footage.
Must have FiMI X8 SE accessories
For easy navigation, I divided the accessories into 4 major categories (transportation, landing, charging, and filters).
For transportation:
Landing accessories:
Charging solutions:
Lens filters:
FIMI X8SE spare parts:
If you lost or broke your transmitter, no problem, you can find a genuine spare one for $109.99. If you just want to enhance the actual RC's range, there are available three types of FIMI X8 antenna boosters. For sunny days it is also welcomed a sunshade. The STARTRC phone monitor hood can be found for US$8.69.
Finally, if you want get an extra individual look of your X8SE, you can try one of these Sunnylife Anti-scratch PVC stickers (6 color options are available).
Note: We are not selling anything! We are just helping you find the right accessories and spare parts for your quadcopter. Also, I'm not responsible for any crashes, mistakes or accidents that you can encounter using some of these accessories.