The new improved Osmo Pocket 2 was officially released today. Unfortunately, the great specs are paired with a spicy price tag too. In this article, we will try to discover if there are any good Osmo Pocket 2 alternatives for less money.
DJI is best known as the dominant market leader in drone technology, but it also has a wide range of handheld stabilizers for land-based photography with smartphones and cameras of all sizes. Back in December 2018, the original Osmo Pocket was the first palm-sized gimbal that has a built-in 4K camera and it was shortly followed by Xiaomi's FIMI Palm gimbal.
What's new on the Osmo Pocket 2?
The Osmo Pocket 2 combines a three-axis mechanical gimbal, with a 64MP camera built around a 1/1.7-inch sensor and a small live-view touchscreen. In contrast, the Feiyu Pocket gimbal has only an 8.5MP sensor, and the FIMI Palm only a 12MP one.


The second-generation DJI OP measures 124.7×38.1×30 mm and weighs 117 grams. It fits comfortably in the palm of your hand and is perfect for slipping into your pocket. By comparison, the Feiyu Pocket has a size of 124.5 x 40.5 x 30 and a weight of 115 grams.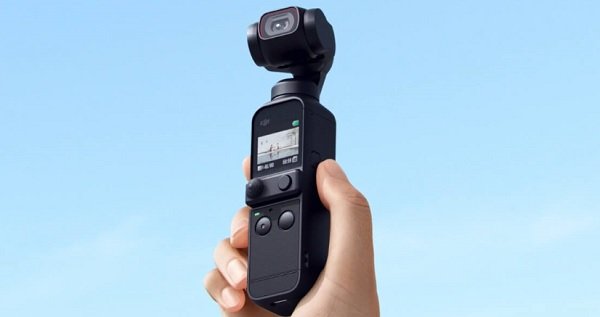 The OP2 camera has a focal length equivalent to 20mm, a field of view of 93 degrees, and an f/1.8 aperture. It can shoot 4K Ultra HD (3,840 x 2,160) footage with up to 60fps and 100Mbps. 1080p Full HD footage can be recorded at up to 2400p for 8x slow-motion playback. The new Osmo Pocket 2 features 8X digital zoom, which is 2 times more compared to its contenders.
Battery life comparison
While the Osmo Pocket 2 is powered by a built-in 875mAh battery, its two biggest rivals by an 875mAh respectively a 1000mAh. In terms of working time, the Feiyu Pocket gimbal with more than 3 hours of battery life promises the most. Unfortunately, all 3 pocket gimbals have an integrated battery that can't be replaced by the owner.
Top 8 Best Osmo Pocket 2 alternatives
The original (first generation) Osmo Pocket;
Feiyu Pocket;
Snoppa Vmate 4K;
Xiaomi FIMI Palm;
KEELEAD P6A;
MORANGE M1 Pro;
FiMI Palm2;
MOZA MOIN.
Osmo Pocket 2 vs Feiyu Pocket vs FiMI Palm: In-Depth Comparison Guide
In the table below I will try to compare the most important specs of each pocket gimbal. I highlighted with red where the new DJI Osmo Pocket 2 excels, with green where the Feiyu Pocket shines, and with blue the FiMI Palm's absolute pros.
Osmo Pocket 2
Feiyu Pocket
Fimi Palm
Dimensions
124.7×38.1×30 mm
124.5×40.5×30 mm
127x31x23 mm
Weight
117g / 4.12 oz

115g / 4.06oz

120 g / 4.23 oz
Stabilization
3-axis mechanical
3-axis mechanical
3-axis mechanical
Gimbal range
Pan: -250°-+90°
Tilt: -180°-+70°
Roll: ±90°
Pan: -254°–+60°
Tilt: -140°–+140°
Roll: -90°–+90°
Pan: -245° – +65°
Tilt: -105° – +105°
Roll: -90° – +90°
Gimbal modes
Follow, Tilt Locked and FPV
360° POV all-follow mode
Two basic follow modes
Follow, Pitch Lock, FPV and All Locked
Controls

Mode & Shutter buttons + Optional 5-way joystick

Mode + Shutter buttons
5-way joystick + Shutter button
Display
1.3″ Touchscreen
1.3″ Touchscreen
1.22″ Touchscreen
Sensor size

1/1.7″ CMOS

1/2.5″ CMOS
1/2.3″ CMOS
Resolution

64MP

8.5MP
12MP
LENS FOV
93°
120°

128°

Max video resolution
4K@60fps
4K@60fps
4K@30fps
Max bit-rate
100 Mbps

120 Mbps

100 Mbps
Digital Zoom

8x

–
4 X
Built-in mic
Yes,
DJI Matrix

Stereo

Yes
Yes
Wireless connectivity
No
Yes
Yes
USB port
Type-C
Type-C
Type-C
Tripod mount
Yes, adapter
Yes
Yes
Battery
875 mAh
875 mAh
1000 mAh
Run time
140 minutes

270 minutes

240 minutes
Price
$349
$225

$159
Bottom line
I hope I managed to give you a bit of an overview on what's similar and what's different between these 3 pocket gimbals. With a 64MP sensor, the Osmo Pocket 2 seems to be the most versatile stabilizer right now. On the other hand, advertised for only $159, the FIMI Palm is the most affordable 4K gimbal that you can buy at the moment.
Last update: April 19, 2021