International Women's Day is celebrated as a national holiday by countries across the globe. To mark this day, ZHIYUN world's leading brand for camera stabilization announces their new gimbal, the CRANE-M2S. Being small and super-light is perfect for female content creators. This second-generation Crane M2 is strong enough to hold various cameras, including smartphones, action cams, and mirrorless cameras.
At just 549g, the CRANE M2S gimbal is highly portable, just like a phone stabilizer, but with the capacity to hold cameras up to the Sony A7SIII with small prime lenses. The super-lightweight construction is combined with powerful motors and extended axes compared to its predecessor, making it a must-have for high velocity, run-and-gun filmmakers.
ZHIYUN CRANE M2S key features
Compact structure for mounting with multiple devices;
Wide range of camera compatibility;
Classic design from beloved Crane M2;
Integrated 0.66″ display screen;
Built-in dual color temperature fill light;
Upgraded quick release system 4.0;
About 10h battery life (up to PD 12W fast charging).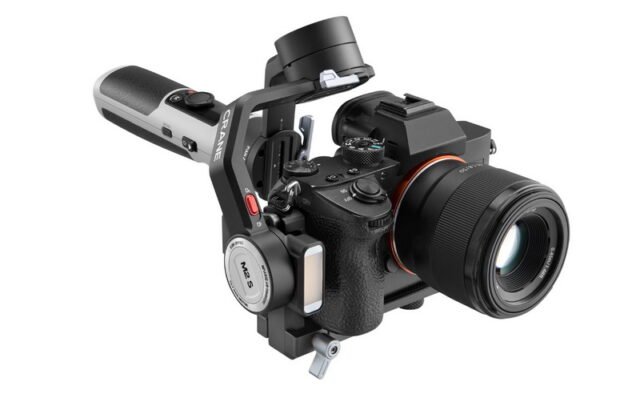 Designed to feel completely natural in the hand during use, the CRANE-M2S features a built-in 0.66-inch display that offers real-time status and operating parameters of the camera and gimbal, giving users a convenient at-a-glance view while they shoot. Various operating modes are available in the CRANE-M2S, including Pan Follow, Follow, Lock, POV, Vortex, Go, and more.
Just like the more expensive Crane M3, the budget-friendly M2S also comes with an ultra-bright light is built. Using Lumen Amplifier technology it can produce over 1000 lumens brightness within 2.8 cubic meters, ideal for capturing subjects directly in shot. With five levels of adjustability and four color filters, it gives users more creative potential and control.
Featuring ZHIYUN's latest quick release technology previously only used in its flagship gimbals, the V-shape design provides better working efficiency, while dual safety locks ensure the equipment always remains attached when you need it to. The Crane M2S can accommodate a wide range of cameras including smartphones (phone clamp is available only in combo pack).
The ZHIYUN CRANE M2S gimbal is advertised with about 10 hours of working time. Supporting USB PD fast-charging up to 12W via its USB-C connector, a full charge time can be achieved in just 100 minutes.