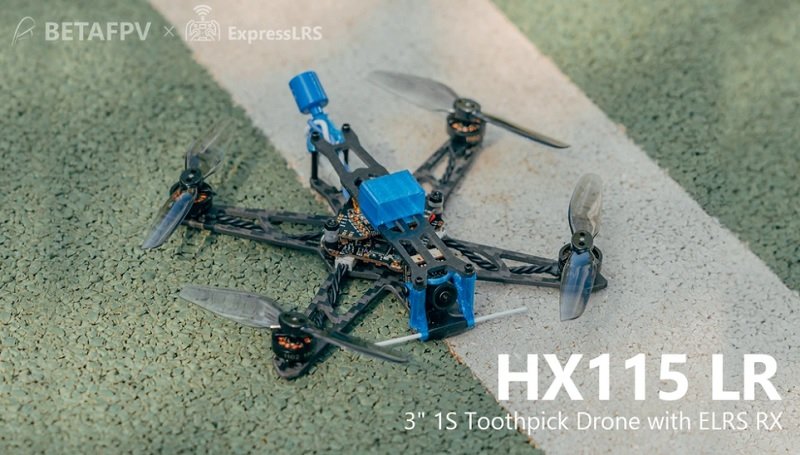 BetaFPV's new long-range FPV drone comes equipped with its latest ELRS Series radio system. The HX115 LR is an ultra-light toothpick style 3″ quadcopter built on a 126mm size frame. It adopts a single board AIO solution with an integrated F4 flight controller, 12 ESC and ExpressLRS 2.4G receiver. By default, it comes with a 1S LIPO bay (450mAh), but if you need a longer flight time, you can upgrade it with a 18650 battery holder. According to BetaFPV, with a Sony VCT6 3000mAh battery, you can obtain up to 15 min flight time.
The BetaFPV HX115 LR drone is equipped with 1102-18000KV motors and HQ 3020 propellers. The angle of the Caddx Ant camera can be adjusted within 0-60°. The M02's broadcast power can be toggled between 25, 100, 200 and 300mW.
BetaFPV HX115 LR highlights
Ultra-light toothpick style 3″ frame;
Designed for long-range first-person view flights;
AIO flight controller with built-in 12A ESC and ELRS 2.4G radio receiver;
High-efficiency propulsion system (1102-18000KV + 3″ 2-leaf propellers);
High power (up to 350mW) FPV transmitter and Caddx ANT camera;
1S LIPO or 2S Li-ION power options (different battery bay required);
More than 15min flight time with Sony VCT6 3000mAh battery.
Specifications
| | |
| --- | --- |
| Wheelbase | 126mm |
| Frame design | Toothpick |
| Flight controller | F4 1S 12A AIO FC with ELRS 2.4G Receiver |
| Motors | 1102-18000KV |
| Propellers | HQ 3020 2-Blade Propellers (1.5mm Shaft) |
| FPV transmitter (VTX) | M02 25-350mW 5.8Ghz |
| FPV camera | Caddx ANT |
| Camera tilt angle | 0-60° |
| Battery | 1S BT2.0 connector or 2S 18650 bay |
| Weight | 44 grams (without battery) |