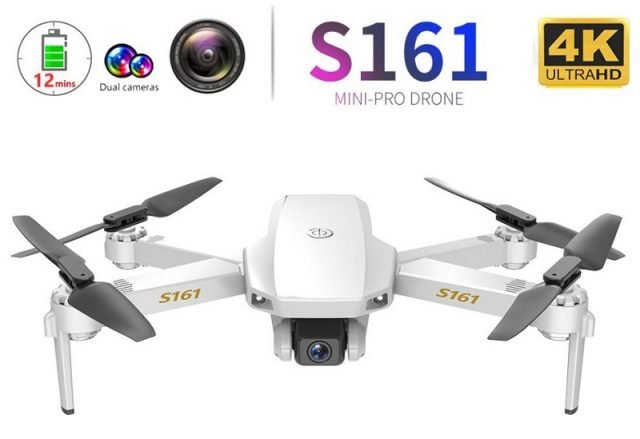 To clarify things from the beginning, the CSJ S161 Mini Pro is only a design clone, not a real Mavic Air 2 alternative. Even its camera which promises 4K resolution it's not capable to capture truly cinematic UHD videos. Also, being equipped with brushed motors, instead of more reliable brushed ones, it can be considered just a toy instead of a pro-grade drone, like one of the DJI products.
According to the advertised specs, the 1600 mAh battery allows up to 12 minutes of flight time. By comparison, the DJI Mavic Air 2 has almost 3 times better battery life.
The CSJ S161's camera features remote angle adjustment and WiFi real-time image transmission. Its second 720P camera on the belly of the aircraft serves as optical flow positioning.
CSJ S161 Mini Pro drone features and specs
Super compact size with foldable arms;
Optical Flow Positioning;
On-board 4K camera (4096*3072 Photo and 3840*2160 Video Resolution);
Remote camera angle adjustment;
WiFi real-time video transmission;
Gesture Photo/Video control;
About 150 meters control;
Up to 12 minutes of flight time.