MJX drones are becoming very popular due to their great flight capabilities and friendly price tag. Currently, the MJX Bugs family has 4 series. Bugs 2 (B2W & B2C), Bugs 3 (B3, B3H, B3Mini & B3Pro), Bugs 5W, Bugs 8 (B8 & B8Pro) and the latest member of the family is the series 10 with the Bugs 10H which seems to be a reinvented Bugs 3.
While most of the MJX drones are capable to carry a GoPro or alike action camera, MJX R/C is manufacturing their own compatible cameras. They have three different camera options (C4000, C5000 or C6000) for the new Bugs quadcopters. In the image bellow you can find the main specs for each of them.
MJX Bugs 3H drone flash-sale
Type: Cruising | Skills: Beginner | Camera: 720P | FPV: 5G WiFi | Flight time: 17 minutes | Features: Altitude hold & H/L speed rates | Max flying speed: Up to 36Km/h | Package: RTF
With 31cm wheelbase, the Bugs 3H is MJX's one of the largest and most powerful drone. Each arm is equipped with a strong MT1806 1800KV brush-less motor paired with 8A ESC.
Like usual for toy drones, the "H" letter in the name of this MJX drone means barometric air-pressure sensor. Thanks to this feature, the drone is capable to maintain autonomously its flight altitude at the desired level.
By default, the MJX B3H comes with the C5000 camera which allows to record aerial videos with 1080 x 720 pixels. If you need better video quality, you can replace the stock camera with a better action camera (Xiaomi, GoPro or SJcam).
At the time we announced the MJX Bugs 3H it was advertised for about $200, now, during TomTop's flash sale, can be ordered for only $135.99 (including free shipping).
Discount coupon for MJX Bugs 5W GPS quadcopter
Type: GPS cruising | Skills: Beginner | Camera: 1080P | FPV: 5G WiFi | Flight time: 15 minutes | Features: GPS positioning system, Circle hovering, Follow me, Altitude hold & Headless mode | Max flying speed: Up to 60Km/h | Package: RTF
Compared to the B3H, the MJX Bugs 5W is slightly smaller, having only 25cm wheelbase. It comes with its own dedicated 1080P camera. In order to capture the best field of view, the angle of the camera can be remotely adjusted.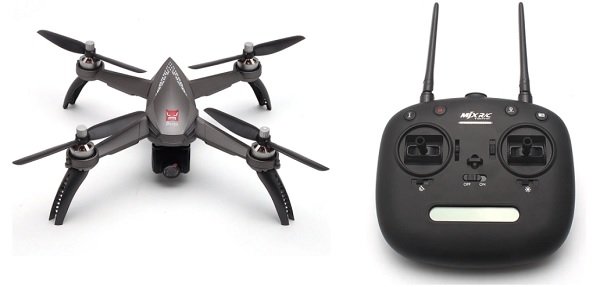 According to the manufacture's specs, the 2s 1800mAh battery allows up to 15 minutes flight autonomy. The powerful 1500KV brushless motors allow to achieve flight speeds of up to 60 Km/h.
While the B5W's control range is up to 500 meters, the 5G FPV range is only about 200~300 meters. IMHO FPV range can be probably extended using a 5G WiFi repeater.
If you're eyeing a MJX R/C quadcopter as your first drone, the Bugs 5W is an excellent option. Now, using this "HY55RCMX" coupon code, can be ordered from here for $144 – this price includes duty free shipping to EU countries.
Bottom line
While the MJX Bugs 3H is a larger entry level drone which is able to carry action cameras, the MJX Bugs 5W is a much compact, but also a more versatile GPS enabled quadcopter. BTW, if you like it fast, the B5W is almost twice faster than the B3H. Both, MJX drones come with similar remote controller with dual-antenna system.
If you are asking me which is better, I would vote for the B5W. It is more easy to control, and the GPS system offers fail-safe return to home (on low battery & RC signal loss).
Sponsored post by TomTop