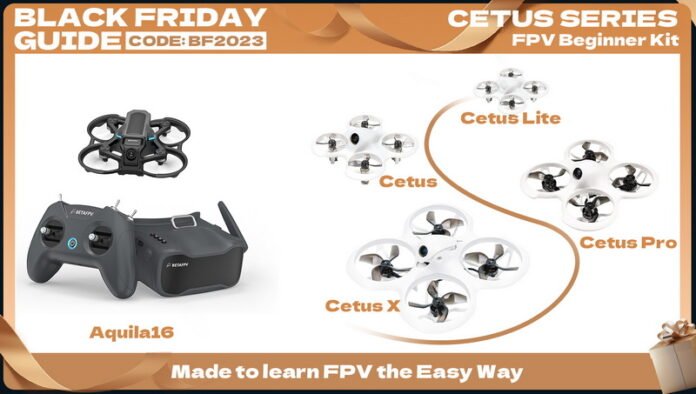 Black Friday is probably the best time of the year to buy your first FPV drone with a massive price drop. BetaFPV has some fantastic kit options available for newcomers. In addition to the discount, you can win extra coupon codes for your next order by playing Wheel of Fortune on their website.
First-person view  (FPV) drones differ from camera drones because instead of flying LoS (line of sight) or using a mobile phone, you wear FPV goggles that show you what the drone sees. Ready-to-fly FPV kits include the drone, transmitter, FPV goggles, battery, and charger. Besides the newest Aquila16 FPV combo, BetaFPV has three Cetus kits intended for beginners.
The BetaFPV Cetus family offers something for everyone. The "Lite" with brushed motors is an excellent choice for children due to its incredible ease of use and low price. On the opposite side is the Cetus X, which fits the needs of both intermediate and more advanced pilots. Thanks to the 360-degree propeller guard, the Cetus series is perfect for practicing indoors during the winter.
BetaFPV also has the PAVO series for experienced pilots who like to build and customize their FPVs. Weighing less than 100 grams, the Pavo Pico is one of the lightest CineWhoop with onboard HD digital FPV.
Using the "BF2023" site-wide discount code, you can get 15% off on most products at the official BetaFPV store. For the Pavo Pico and Pavo20, the coupon gives you 20% off. The BF promotion code is valid from 24th Nov-28th Nov UTC+1.
BETAFPV is giving out $10000 "Thank You" Cards to Pilots!
Orders over 300$ will be rewarded with 50$ Giftcard (Only *20pcs)
Orders over 400$ will be rewarded with 100$ Giftcard (Only *40pcs)
Orders over 500$ will be rewarded with 150$ Giftcard (Only *50pcs)