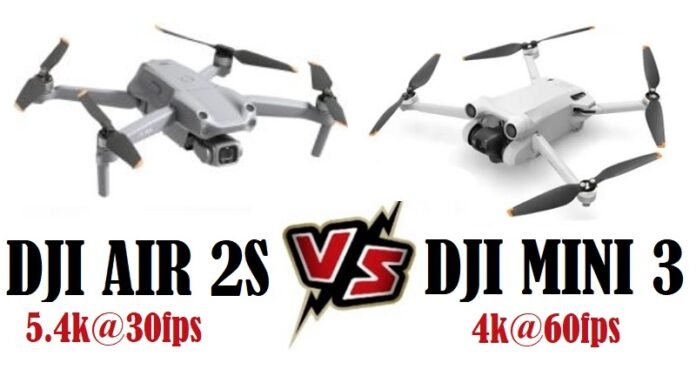 Today 10 May, DJI officially revealed their most versatile drone under 250grams. In this article, we will compare the MINI 3 against the older and bigger Air 2S. While these two drones are from different weight classes, they share somehow similar capabilities.
Every model in the Mavic series is similarly designed adopting foldable arms that allow you to fold the drone down to a compact and portable size when not in use. The MINI 3 weighs just 249 grams and does not require special registration in most countries including the US. By comparison, its bigger brother, the Air 2S weighing 595 grams is more than two times heavier.
DJI Mini 3 versus DJI Air 2S (Complete comparison)
In the table below I will try to compare the most important specs of these two consumer DJI drones. I highlighted with red where the newly released MINI 3 excels and blue where the bigger Air 2S is better.
MINI 3
Air 2S
Size
Folded: 145×90×62 mm
Unfolded: 171×245×62 mm
Folded: 180x97x77mm
Unfolded: 183x253x77mm
Weight

249 grams

595 grams
Camera
4K@60fps

5.4K@30fps

Sensor
1/1.3″ –

48MP

1" – 20MP
Max bit rate
150Mbps
150Mbps
Photo mode
RAW + JPG
RAW + JPG
Gimbal
3-axis
3-axis
Digital Zoom
Yes
Yes
FPV
1080P
1080P
Communication
OcuSync 3.0
OcuSync 3.0
Range
12KM for FCC
12KM for FCC
Wind resistance
Level 5
Level 5
Intelligent flight modes
QuikShots (Circle, Dronie, Helix, and Rocket)
Dronie, Rocket, Circle, Helix, Boomerang, and Asteroid
Active tracking
Yes
Yes
Obstacle avoidance
Yes, 3D
Yes,

4D

Optical flow sensor
Yes
Yes
Geofence
Yes
Yes
Remote controller
RC-N1 and RC Pro
RC-N1
Battery
2s/2453mAh
3s/3500 mAh
Flight time

34/47 minutes

31 minutes
FAA registration
No
Yes
Release date
May 2022
Apri 2021
Price at DJI

$759 order from DJI

$999 order from DJI
Camera
While the DJI Mini 3 Pro comes with a 4K@60fps camera, the Mavic Air 2S with a 5.4K@30fps camera. In terms of image sensor size, there is also a big difference. The MINI 3 has a 1/3″ 48MP sensor and the Air 2S a 1″ 20MP sensor. Usually, a larger sensor can take in much more light, which is great for low-light videos and photos and a considerable improvement in noise at dusk, or even night shots.
The MINI 3's innovative 3-axis gimbal is optimized for vertical shooting, which is great for TikTokers.


Battery life
Thanks to the 3s/3500 battery, the Air 2s has 31 minutes of flight time. By comparison, the MINI 3 Pro with a 2453mAh pack promise 34 minutes of battery life. Furthermore, with the high-capacity 'Pro' battery, it has an outstanding 47minutes of flight time.
Range
Both Mini 3 and Air 2S feature third-generation OcuSync transmission that provides a range of up to 12KM in optimal conditions. Also, both provide 1080@30fps real-time image transmission for the best user experience.
Obstacle avoidance sensor
While the little MINI 3 has sensors only in three directions, the Air 2 S has four-direction obstacle sensing for better protection. The extra pair of sensors on top will prevent collisions when you take off under a tree, for example.
Both drones feature Advanced Pilot Assistance Program (APAS) which allows autonomously avoiding obstacles while continuing flying to record smooth footage the entire time.
Price
Both drones are available in a standard package with the Air 2S retailing for $999 and the Mavic 3 for USD $759 or in a 'Fly more Combo' kit costing $1,299 and $948 respectively, this gives you a couple of extra batteries, more spare propellers, and accessories to help you get more air time and better results. Additionally, the MINI 3 Pro is available in a combo pack with the new RC Pro remote controller for $909 (+ $249 for Fly More Kit Plus).
Conclusions
Because the MINI 3 weighs less than 250 grams, it falls underneath the weight limit set by most drone regulations in most countries. This means that you can pilot the Mini 3 without a license or registration. If you are a beginner pilot looking for something simple to get started with, probably the Mini 3 fits more for you.
On the other hand, if you're in need of something with a more advanced camera to shoot professional-looking videos, then the Air 2S may be more up your alley. It has just a slightly higher price, but the bigger 1″ CMOS sensor can make a huge difference in image quality and low-light performance.