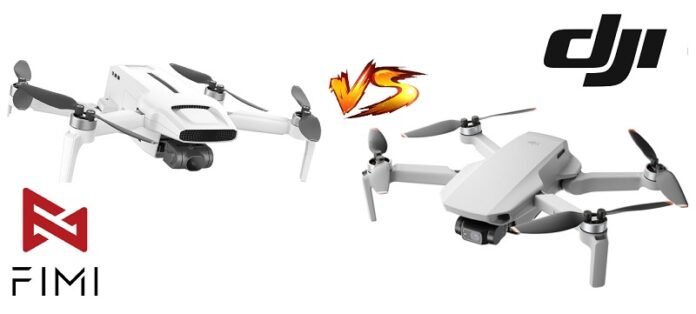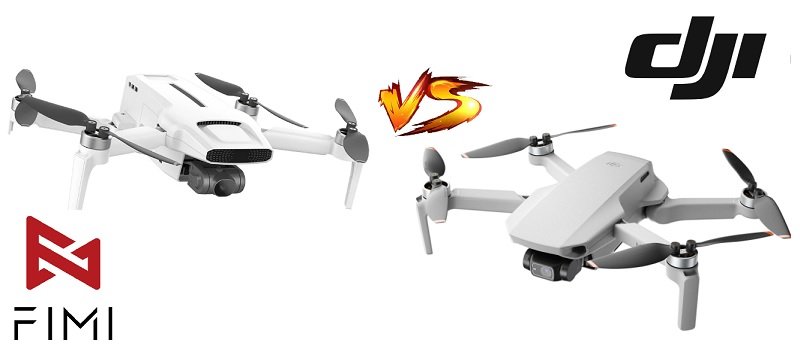 If you are looking for the best drone under 250 grams, you should definitively read our in-depth comparison of the FIMI MINI versus DJI MINI 2. Both of these drones feature a similar folding design, GPS positioning, ultra-long flight range and stabilized UHD camera, but which one is the best for your money? Let's find out!
The second generation of Mavic MINI was announced in November 2020. At that time, it was not just the first but also the only true 4K drone which weighed less than 250g (.55 lbs).
I think that we can admit that DJI is a market leader in drone technology and their products are reliable and safe to use. FIMI was founded in 2014 and is a member of the Xiaomi ecosystem. Maybe FIMI's product range is far behind DJI's product diversity but they continuously try to surprise the RC community with new exciting gears.
FIMI X8 MINI vs DJI MINI 2: Comparison table
In the table below I compared the most important specs of both 250g class drones. I highlighted with blue where the new FIMI MINI excels and with red where the DJI MINI 2 shines.
DJI MINI 2
FIMI X8 MINI
Size
Folded: 138×81×58 mm
Unfolded: 159×203×56 mm
Folded: 145x85x56 mm
Unfolded: 200x145x56 mm
Weight

249 grams

258 grams (Standard)


245 grams (Pro)

Gimbal
3-axis
3-axis
Image sensor

1/2.3″

1/2.6″
Megapixel
12MP
12MP
Max Video resolution
4K@30fps
4K@30fps
Max bit rate
100Mbps
100Mbps
Photo mode
RAW + JPG
RAW + JPG
HDR
NO
Yes
Digital Zoom
2-

4x

3x
FPV
720P
NA
Communication
OcuSync 2.0
TDMA
Range

10KM

for FCC and 6K for CE
8KM
Wind resistance
Level 5
Level 5
Smart flight modes
Circle, Dronie, Helix, Rocket, and Boomerang
Smart tracking, One-tap Shots, and RTH
Obstacle avoidance
No
No
Internal Memory
No
No
Battery
2s/2250 mAh
2s/2250mAh
Flight time

31 minutes

31 minutes (Pro)
30 minutes (Standard)
FAA registration
No
No for Pro, Yes for Standard
Release date
November 4, 2020
March 25, 2021
Regular price (Standard/Combo)
$449 (

Order from DJI

)
$449 (

Order from Banggood

)
Battery life
The FIMI X8 MINI comes with two battery options. The 'Standard' 2S LIPO pack has 7.2V 2400 mah and provides up to 30 minutes of flight time, the 'Pro' 2s LiHV pack has 7.7V 2250 mah and allows 31 minutes of airborne time. High Voltage LiPo batteries can store more energy than normal LIPOs per weight, so theoretically you get a longer playtime. Its DJI rival is powered by a 2S/2250 mAh battery which in optimal conditions provides 31 minutes of flight time.
Camera and Range
Both our contenders come equipped with a UHD camera that is capable to record 4K@30fps videos with a max bit rate of 100Mbps. In order to achieve butter-smooth footage, they adopt 3-axis mechanical stabilization. The week point of flying cameras is the gimbal unit and can be permanently damaged even on small crashes. Unfortunately, none of the manufacturers thought of offering an easy solution, and especially a cheap one for replacement.
While the DJI MINI 2 adopts OcuSync 2.0 communication system, the FIMI MINI uses upgraded TDMA transmission. The quality and range of video transmission depend on environmental factors such as radio interference, obstacles between the drone and the controller, local RF regulations, and even wind speed. The max flight range of the MINI2 in the US (FCC) is 10 KM. By comparison, its FIMI opponent has up to 8Km.
Bottom line
Both drones come with an impressive set of features. The flight time and control range of these two drones are almost identical. Both come equipped with a similar 4K camera with 3-axis mechanical image stabilization.
To be honest is pretty hard to make a final verdict. Personally, if the price remains $449, for both drones, I will vote for the DJI drone. Their customer support is probably the best in the drone industry. They continuously offer software and firmware upgrades that not just eliminate bugs and issues, but also is adding new functionalities.
Remember that only the 'Pro' version of FIMI MINI is under 250 grams and does not require FAA registration.