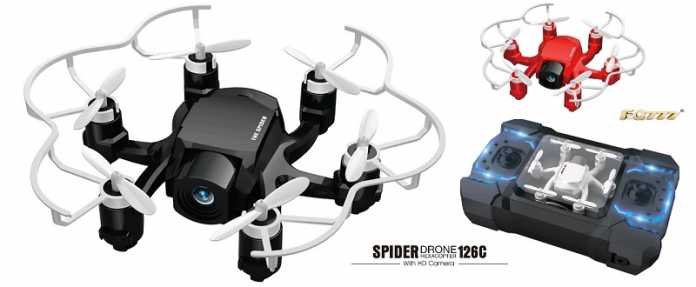 I own a couple of pocket multi-rotors like this FQ777 126C Spider and frankly, I love them all. I find it very practical that you can store and carry the aircraft inside the remote controller. The transmitter is small enough to fit inside of a larger pocket so you can take with you everywhere and anytime your favorite RC toy.
The FQ777-126C's remote controller has two compartments with transparent doors, the one in the front is dedicated to storing the mini hexacopter and the other one for the accessories (propeller guards and spare props).
Compared to its predecessor (the FQ777-124 quad), this newer 126C Spider has 6 motors and a frontal HD camera. In order to obtain the best field of view, the lens angle can be adjusted.
The aircraft is powered with a 220mAh Li-Po battery that allows approximately 6 minutes of playtime. The battery can be recharged through the included USB cable or directly from the transmitter.
Incredibly, but this small hexacopter has all the latest features of the bigger ones, like heedless mode and RTH. Of course, without a GPS positioning system, you can't expect too much accuracy when you push the return to a home button but, with 40-50 meters of flight range, you probably don't need it anyway.
In my opinion, this micro pocket Hexa-drone looks like the perfect gift for beginners as well as for yourself. It will help you have some relaxing time even in your office or while waiting for the delayed wife… For those who became interested and want to try it, the FQ777 126C can be ordered for $38.99 from HobbyWOW. You can opt between 3 colors: black, red and white. I forgot to mention that, unfortunately, the package doesn't include a micro SD card which is required to capture aerial videos/photos.
FQ777 126C features and specs
Ultra-compact design;
6 motor design;
Headless flight mode;
Replaceable battery;
Flight battery charging through a remote controller;
2MP HD camera;
Adjustable lens angle;
About 5-7 minutes of flight autonomy;
Up to 50 meters control range.
Included with the FQ777 126C Hexa
Remote controller;
3.7V 220 mAh Li-Po battery;
USB battery charger;
1 set of spare propellers (3 CW and 3 CCW);
1 set of blade protectors;
FQ777 126C user manual.