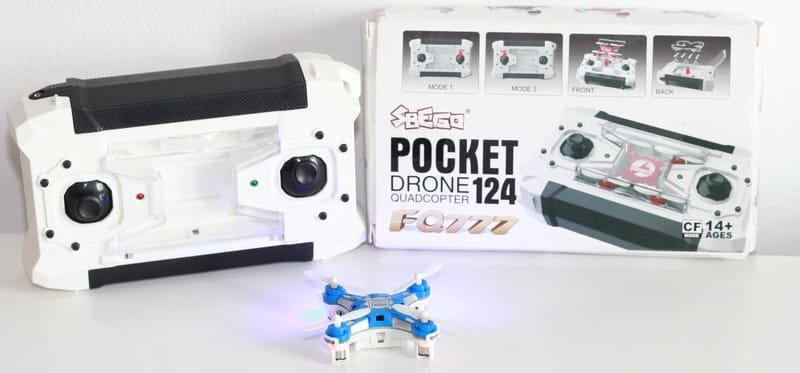 FQ777-124 the ultimate micro quadcopter
Micro quadcopters like this FQ777-124 are appreciated because they are affordable and very portable. For newbies I always recommend to buy something not expensive and easy to fly. Crashes always happen and it's not a good idea to hit the ground with a $999 DJI Phantom 3.
There are many small quadcopters on the market that are sold very well because they are accesible to every one, they don't cost more then $20 including shipping. This tiny FQ777-124 quad has the most creative design of them and I think that will be a best seller this summer.
As lately I received many new quadcopters for review, my wife is freaking out because I skip over my kitchen duties and, frankly, this fact does not bother me at all :). Anyway, this time I will try to keep it short.
FQ777-124 micro quad features and specs:
Ultra portable micro quadcopter
Innovative 2.4Ghz dual mode remote controller with;
Headless flight mode;
One key return to home;
Dual flight speed (Low and High);
6-axis gyroscope;
Suitable for indoor and outdoor flights;
LED lights for night flights;
Removable protection frame and landing skids;
The quadcopter's battery can be charged by the remote controller;
3.7v 100mAh Li-Po battery;
Play time: around 5 minutes;
Quadcopter size with protection frame: 7 x 7 x 2.7cm;
Available colors: blue, red, black and white.
FQ777-124 pocket quadcopter review
I'm always open for honest quadcopter review collaborations and I was glad when Jacky from Banggood contacted me to test the FQ777-124 pocket quad and write an article about it. This tiny multi-rotor model is available in four colors (black, white, blue and red) and I chose a blue one.
After 10 days I had it in my hand, another 30 minutes after in my pocket. I had to hide it because my son liked it very much and he claimed it immediately.
The smartest thing on FQ777-124 is the remote controller which is not just a transmitter. It can be used to store and carry the quadcopter and all its accessories (protection frame, spare propellers and landing skids). The transmitter has two compartments with transparent doors, the one in the front is dedicated to store the FQ777-124 micro quad and the other one for the accessories. The transmitter also can be used to charge the quadcopter's battery. This feature is very useful when you are out in the nature without any power socket. The package also includes a hand strap that can be attached to the transmitter, if you don't want to carry it in your pocket.
Besides the quad and its remote controller, the package includes two sets of spare propellers, 2+1 landing gears and a protection frame.
The quadcopter is powered with a small capacity 100mAh Li-Po battery that allows approximately 5 minutes of play time. According to the pilot's skills, the flight speed can be set between two values Low and High.
Regarding the size of the quad, I can say that, compared to my Syma X12, this FQ777-124 is even smaller. I had to use my macro lens to take the photos with it:)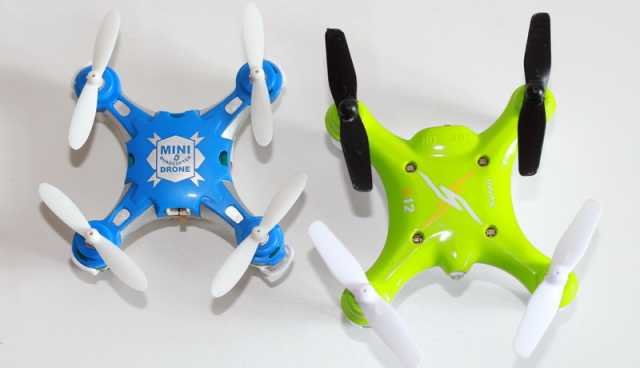 Incredible, but this small quad has all the latest features of the bigger ones, like heedless mode one key return to home. Of course you can't expect too much accuracy when you push the return to home button but, with 20-40 meters of flight range, you probably don't need it anyway.
Yesterday I had the chance to fly it, one Li-Po indoor and Li-Po outdoor. It is very fast and stable, also easy to control it. For outdoor flights I recommend only days with gentle wind and be carefull where you land because it was very hard to find the quad in 10cm high grass.
In conclusion, this micro pocket quadcopter looks like the perfect gift for newbies as well for yourself. It will help you have some relaxing moments even in your office. For those who became curious and want to try it, the FQ777-124 can be ordered for $15.99 from Banggood.
Updates 22.05.2016
The newer FQ777-124C with 2MP camera was just announced. This new model with HD camera is available for $29.99.
FQ777-124 package contains:
Micro quadcopter with built in-battery
2.4Ghz remote controller;
2 sets of spare propellers;
3pcs of landing skids;
Protection frame;
Hand strap;
FQ777-124 user manual (English and Chinese).
Summer is here, so go out and fly your dreams!