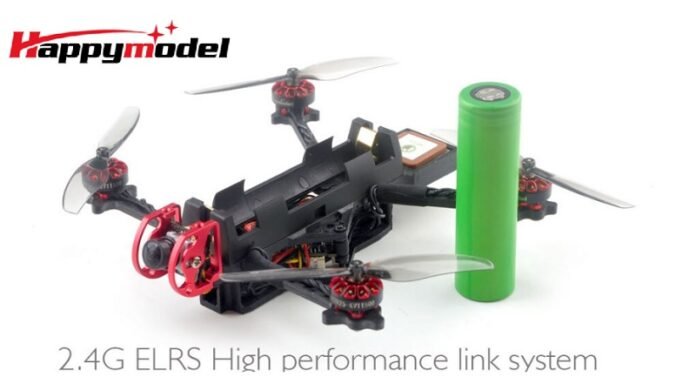 Like the BetaFPV HX115 LR, the Happymodel Crux3NLR also comes equipped with a built-in SPI ExpressLRS 2.4GHz receiver. This new radio communication has become extremely popular due to its excellent stability and low latency.
On top of the 115mm, carbon fiber frame has a 18650 battery bay. According to Happymodel, you can have up to 17 minutes of crossing time with a single Sony 18650 VTC6 battery.
The F4 2G4 AIO 5in1 flight controller features integrated 5A ESC, 200mW VTX, and SPI ExpressLRS 2.4GHz radio receiver. The EX1202.5 KV11500 motors are matched with 76mm 2-leaf propellers.
When it comes to long-range FPV flights, an onboard GPS positioning system is a must-have. The Happymodel Mini M8N GPS mode has a 2 meters accuracy and can work with multiple satellites provides.
Happymodel Crux3NLR highlights
Ultralight Nano Long-Range drone with GPS;
115mm size carbon fiber frame (weighs only 68g without battery);
Happymodel ELRS F4 2G4 AIO 5in1 Flight controller (FC, ESC, RX, VTX, and PDU);
EX1202.5 KV11500 brushless motors + Gemfan 75mm propellers;
Caddx ANT 1200tvl camera;
Mini M8N GPS (Optional);
Powered by a single 18650 battery (about 17min crossing time).
Technical specifications
Flight controller
MCU:STM32F411CEU6 (100MHZ, 512K FLASH)
Sensor: MPU-6000(SPI connection)
Original whoop size compatible
Power supply: 1S battery input (DC 2.9V-4.35V)
Built-in 5A(each) Blheli_S 4in1 ESC Dshot600 ready
Built-in Betaflight OSD(SPI Control)
Built-in 5.8G VTX
Built-in SPI ExpressLRS 2.4GHz receiver
Built-in 5V 1A BECFlight controller
Firmware target: CRAZYBEEF4SX1280
Onboard 4in1 5A ESC
MCU upgraded to EFM8BB21
Power supply: 1S LiPo/LiPo HV
Current: 5A continuous peak 6A (3 seconds)
Support BLHeliSuite programmable
Factory firmware: O_H_5_REV16_8.HEX
Default protocol: DSHOT300
Onboard SPI ExpressLRS 2.4GHz Receiver
Packet Rate option:25Hz/50Hz/150Hz/250Hz/500Hz
RF Frequency:2.4GHz
Antenna: SMD antenna
Telemetry output Power: <12dBm
Receiver protocol to flight controller: CRSF
Can bind with Happymodel ES24TX, ES24TX Lite, ES24TX Slim, and DIY 2.4GHz ELRS TX modules
Onboard 5.8g VTX
Output power: 25mw~200mw switchable
Frequency: 40CH
Input voltage: 3.3V 5.5V
Current consumption: 300mA(type)
Frequency: 5.8GHz 5bands 40 channels
With Race band
Smart Audio ready
Caddx ANT 1200tvl camera
Image Sensor: 1/3″ CMOS Sensor
Horizontal Resolution: 1200 TVL
TV System: NTSC or PAL
IMAGE: 16:9 or 4:3
Synchronization: Internal
Electronic Shutter: PAL: 1/50~100,000; NTSC: 1/60~100,000
S/N Ratio : >52dB (AGC OFF)
Video Output: CVBS
Lens: 1.8mm
Min. Illumination: 0.001Lux@F1.2
Auto Gain Control: YES
BLC: YES
WDR: Global WDR and DNR: 3D DNR
Happymodel Mini M8N GPS (Optional)
Chip Model: Mini M8N GPS
GPS+SBAS or GPS+GLONASS+SBAS
Position Accuracy: 2.0 m CEP
Sensitivity2 Tracking & Nav: –167 dBm
Cold starts: –148 dBm
Hot starts: –156 dBm
Update rate: 5HZ Default, up to 10HZ
Baudrate: 57600
Cold start waiting time: 3~5minutes
Warm start waiting time: 0.5~1.5minutes
Demo flight with the new Crux3NLR drone