iFlight just announced a new micro CineWhoop series. While the Protek25 comes with 2.5″ propellers and can be equipped with an Insta360 GO camera or naked GoPro, the larger Protek35 with 3.5″ blades and can carry a full-size GoPro camera. Both versions can be pre-ordered from Banggood.
The smaller Flight Protek25 comes in 5.8G analog and HD digital versions. Both variants feature the same SucceX-D Whoop V3.0 flight controller with integrated 2A ESC and XING 1404 5500KV motors. Analog version comes installed with Caddx.us Turbo EOS V2 camera and SucceX Micro Force 5.8GHz 300mW VTX. The iFlight Protek25 digital has an onboard DJI FPV camera and Caddx Vista HD transmitter.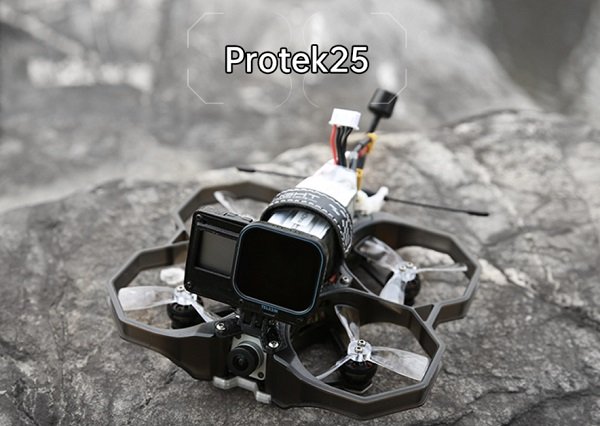 The more powerful iFlight Protek 35 comes with two power options. While 4S edition has XING 2203.5 3600KV motors, the 6S XING 2203.5 2700KV ones. Both are built around the top-notch iFlight Beast F7 flight controller and DJI FPV Air Unit. Both 4s (1550mAh) and 6s (1300mAh) versions can achieve about 9-10 minutes of flight time and 6-7 minutes with a GoPro on top.
iFlight Protek25 Analog vs Protek25 HD digital vs Protek35 HD 4s vs Protek35 HD 6s
| | | | | |
| --- | --- | --- | --- | --- |
| | iFlight Protek25 Analog | iFlight Protek25 Digital | iFlight Protek35 HD 4s | iFlight Protek35 HD 6s |
| Wheelbase | 114mm | 114mm | 151mm | 151mm |
| Flight controller | SucceX-D Whoop V3.0 | SucceX-D Whoop V3.0 | iFlight Beast F7 | iFlight Beast F7 |
| ESC | 20A | 20A | 45A | 45A |
| Motors | XING 1404 5500KV | XING 1404 5500KV | XING 2203.5 3600KV | XING 2203.5 2700KV |
| Propellers | 2.5″ Nazgul Protek 2525 | 2.5″ Nazgul Protek 2525 | 3.5″ Nazgul 3535 Propeller | 3.5″ Nazgul 3535 Propeller |
| Camera | Caddx.us Turbo EOS V2 | DJI FPV camera | DJI FPV camera | DJI FPV camera |
| VTX | SucceX Micro Force 5.8GHz 300mW | Caddx Vista HD Digital | DJI FPV Air Unit | DJI FPV Air Unit |
| Battery | 4S 850mAh 90C | 4S 850mAh 90C | 4S 1550mAh | 6S 1300mAh |
| Weight | 174g ±10g | 194g±10g | 348g±10g | 348g±10g |
| Price | $159.99 | $279.99 | $399.99 | $399.99 |