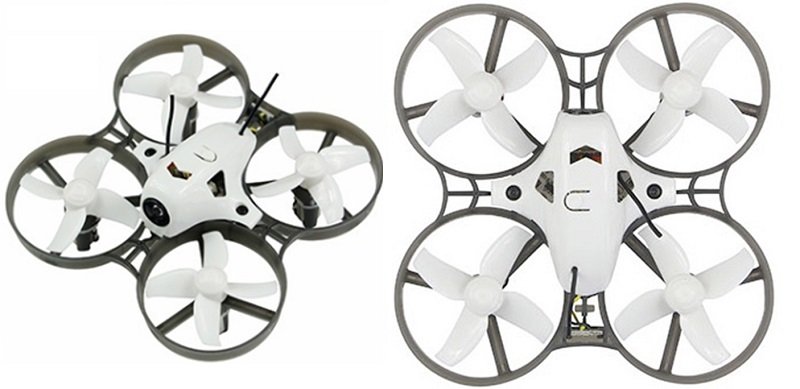 LDARC, ex KingKong), just announced a new micro FPV racing quad called Tiny R7. Like its predecessor, the Tiny7, it is also equipped with brushed motors. The LDARC TINY R7 is available with 3 different type of radio receivers. According to your existing transmitter, you can opt between DSM2, FrSky or FlySky radio versions.
Thanks to its TinyWhoop ducted propeller design, the TINY R7 seems to be an excellent indoor FPV trainer. All electronic parts (flight controller, VTX and camera) are well protected by a plastic canopy. The SPRACINGF3 flight controller comes by default with BetaFlight firmware. In order to allow easy maintenance, the 820 motors are equipped with connectors.
The real-time image transmission (FPV) is achieved by using a 800TVL camera and a 25mW 16channel 5.8G VTX. According to the specs, the camera has 150° field of view (FPV), which is just perfect for FPV flights.
KingKong/LDARC TINY R7 features and specs
75mm sized air-frame with ducted propeller protectors;
Versatile SPRACINGF3 flight controller with BetaFlight firmware;
Multiple flight modes (including Turtle);
Ultra fast 820 Brushed motors (16000KV);
Powerful DRV8850 brushed motor drivers (5A continuous and 8A peak current);
800TVL camera with 150 degree field of view (199C model);
5.8G video transmitter with 25mW broadcast power (16CH);
Multiple radio options (DSM2, FlySky and FrSky);
Rear LED light.
Tiny R7 vs Tiny 7x vs Tiny7 (side by side comparison)
It seems that lately Anti-turtle mode became a regular feature. Just like the Eachine M80S, this LDARC TINY R7 also has this awesome feature. If the drone crashes up-side-down, you can remotely flip it into take-off position by pressing a single button.
In addition to the Basic Combo and Advanced combo packages (BNF), the LDARC TINY R7 drone is also available in bundle with a nice remote controller (RTF package).
LDARC TINY R7 advanced combo package content
Plastic carry case;
5 pieces of flight batteries (3.8V 450mAh 50C);
TINY Meter 1S (6 Way battery parallel charger);
3 pieces of spare protective canopies (Yellow, Red and Pink);
6 pairs of spare propellers;
Blade removing tool;
2 pieces of PH2.0 cables;
User manual.