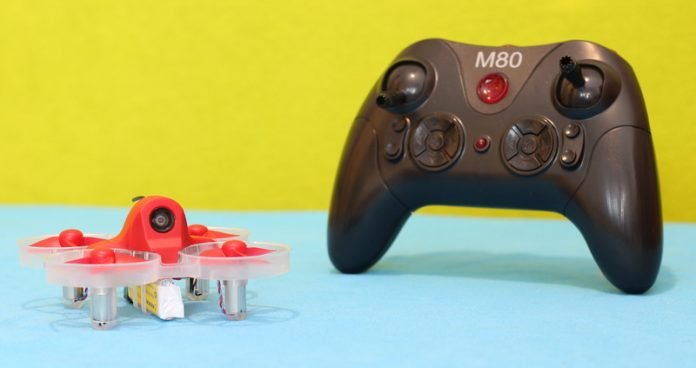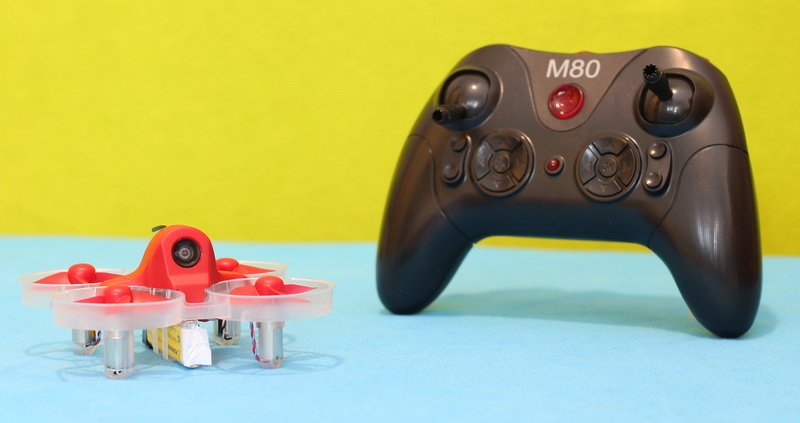 The Eachine M80S is an excellent micro RTF FPV drone that's easily capable of both indoor and outdoor flights. Thanks to the altitude hold feature it is suitable for first-time pilots, but enabling Acro flight mode will bring fun for advanced pilots as well. Although it's on the market for couple of months I hope my Eachine M80S review will reveal you new interesting things about it.
Eachine released this very capable miniature FPV racer quadcopter in two variants. While the M80S RTF comes with a nice game-pad style remote controller, the M80 BNF allows the freedom to use your own transmitter. You can opt for DSM2/DSMX, FlySky or FrSky radio receiver.
Like in any other industry, drone manufacturers make sometimes spectacular products, but also "shitty" ones unfortunately. Few months ago I reviewed another Eachine Whoop called "QX70", which was quite disappointing in many terms. Instead, even after my brief time with the Eachine M80, I can tell it's going to be one of the best mini RTF FPV drone of 2018.
Eachine M80S review with pros and cons
Disclosure: I received this RTF FPV quadcopter as part of a drone review collaboration with Banggood. Product specs and quality may vary according to the manufacturer's reliability, so I cannot guarantee that you will get a drone that performs exactly the same as shown in my review.
In addition to the aircraft and its transmitter I found inside the box the following: 25C/3.8V/500mAh flight battery, USB charger and user manual. No spare propellers or other spare parts included :(
Eachine M80S RTF FPV drone: At a glance
It was obvious from the beginning that Eachine's engineers were deeply inspired by the popular Tiny Whoop. The M80S follows perfectly its epic ducted propeller design. Measuring just 100 x 100 x 50 mm, it easily fits into my palm. It's an incredibly small RTF FPV drone compared to the heavy 250mm sized racing quads. While the uni-body frame is completely white, the protective canopy is red as the 4-leaf propellers.
Eachine decided to equip the M80 series with 8520 motors (8.5mm diameter). In order to allow easy and soldering free replacement, all the motors are provided with connectors.
The 600mAh battery is mounted vertically instead of horizontally. Battery bay is quite large and only the power cable keeps inside the LIPO. Note: Although the charger has common charging port, it is suitable only for LiHV batteries.
Instead of a status LED bar, the Eachine M80S comes with a single RGB tail light. According to the battery voltage, it has 3 different colors (green – fully charged, yellow – partially charged, red – discharged/LVC). The LED is also helpful to establish the orientation of the aircraft during LoS night flights.
Behind the protective canopy there is a single electronic board. The flight controller integrates the PDB and radio receiver. No USB port, which makes it harder to do any PID tuning or firmware update.
Eachine M80S review: Features and technical specs
TinyWhoop alike design with protective canopy;
Triple flight modes (Altitude-hold, Angle and Acro\Agility);
Anti-Turtle Mode;
Powerful 8.5 mm brushed motors;
600 TVL camera;
5.8G video transmitter (32CH and 25mW);
Tail LED light;
High voltage, 3.8V Li-Po battery;
About 6 minutes flight time;
76 mm wheelbase.
How usable is the transmitter of this RTF FPV drone?
As I previously mentioned, the "S" version comes in bundle with an entry-level remote controller. Contrary to my expectation from an altitude-hold drone, the throttle stick of the RC isn't self-centering, which makes harder getting used to flying it in altitude mode.
On front panel, besides the usual control sticks and power switch, there are 8 trimming buttons and the Alt-hold button (check the photo bellow).
While the left shoulder button allows to toggle between Angle and Acro flight modes, the right one enables Turtle (recovery) mode.
According to the specs, the remote controller has about 100 meters range, of course only in optimal conditions. Anyway, it is just perfect for indoor and proximity park flying.
How good is the M80S' FPV camera?
While the cheaper and older Eachine E013 drone is equipped with a 1000TVL camera, the M80S comes with "only" 600TVL camera. Anyway, when it comes to FPV cameras, resolution is not everything, more important is the latency, light sensitivity and response time on light level changes.
Contrary to my expectations, the 5.8G video transmitter isn't integrated into the camera, it is a separate module. The VTX features a total of 32 channels (4 bands of 8 channels). Toggling between transmission channels can be done using the buttons on the canopy.
Unfortunately the angle of the camera cannot be adjusted, but at least it has optimal field of view (~140° FOV) for FPV flights around the house.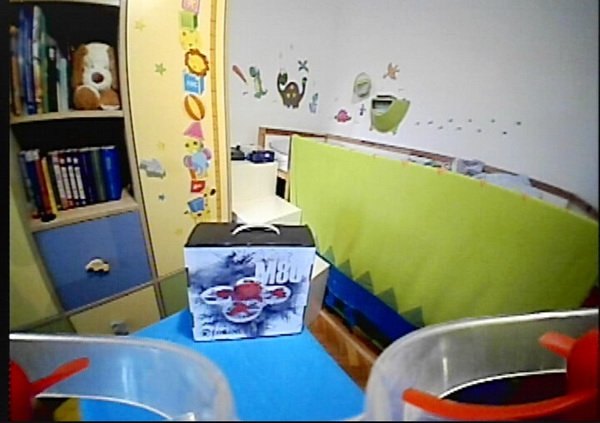 FPV Range of the Eachine M80 quadcopter is quite good, but seems to be shorter than the actual control range.
Field test
Yesterday I had time to have couple of test flights with this little bird. I got an average of 5 minutes of fun time. One of the best among all similar brushed FPV racers that I have.
When the battery is connected, the tail LED starts to fade in different colors. After binding with the transmitter, the led turns solid green (if the battery is fully charged). An additional LED on the flight controller shows the actual flight mode.
Firstly I test it using my Redpawz EV800 Pro FPV goggles. The image quality isn't superb, but it is good enough for practicing FPV flights. I would recommend for newbie pilots to have someone around that follows the aircraft and guides them in case they become disoriented. Flying through FPV goggles is much different compared to LoS.
While in altitude hold mode I found it too slow to be named as racing drone, switching to "Agility" mode it become more responsive and much faster.
When the Eachine E80S is in the air, the right shoulder button (One key invert) acts like the "Flip&Roll" button in case of toy drones, allowing to do automated flips.
Does it worth it? Let's see the ratings
Price/performance ratio

Build quality

Camera & FPV

Remote controller

Flight performance

Flight time
Verdict
Surely, for almost 100 bucks the Eachine M80S is not the cheapest RTF FPV trainer, but in terms of features it is somehow unique. It offers the same time altitude-hold and Angle modes for newbies and also Acro mode for skilled pilots.
It takes crashes very well. Spare parts (frame, motors and RC) are widely available.
The "Anti-Turtle" feature is very handy in case you land/crash upside-down, the drone will flip into the take-off position simply by pushing one key.
Where to buy this RTF FPV drone?
You can find it here for $96.99 in bundle with 1 flight battery and remote controller. There is also option to choose 2 or 3 batteries. Eachine M80 spare parts are also available. One pair of spare motors are sold for $12. You can also order the M80, which doesn't come with a transmitter but rather a DSMX, FlySky or FrSky radio receiver so you can fly it with your existing remote.
Pros
Pretty cool design with protective canopy;
Suitable for all range of pilots;
Anti-Turtle and altitude-hold mode.
Powerful motors (8520 type);
Easy maintenance (motors with connectors);
Spare parts availability.
Cons
Quite expensive;
Lack of USB firmware/configuration port;
NO OSD / Telemetry.
Related terms:
FPV = First Person View;
RTF = Ready to Fly (check

here

the difference between RTF, PNP and BNF drones);
LiHV = High voltage LiPo battery (3.8v);
VTX = Video transmitter;
FOV = Field of View;
LoS = Line of Sight;
PDB = Power distribution board;
LVC = Low Voltage Cutoff.