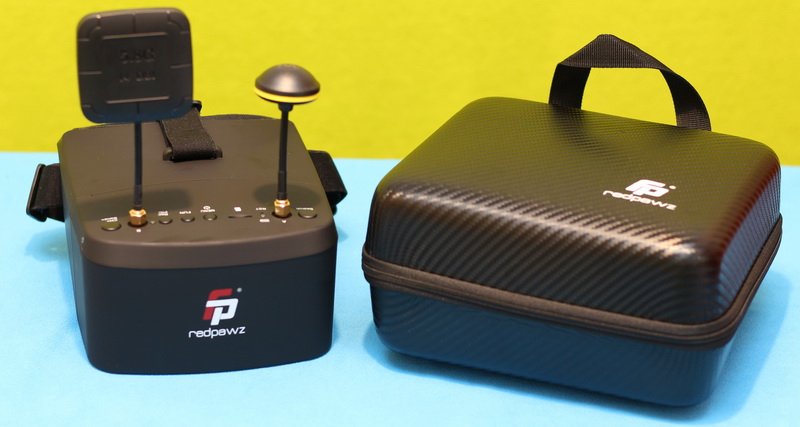 Maybe it is not the best, but for only $76, the Redpawz EV800 Pro is probably the only drone goggles which comes with integrated DVR and dual-antenna system. In addition, it is convertible, you can use it as FPV googles as well as FPV monitor. The front part of the Redpawz EV800 Pro is conveniently detachable.
When it comes to micro FPV drones, the only way to capture the journey of your first person view flights is to record the 5.8G live-video feed with a DVR. Till now, for this purpose I used the standalone DVR. It worked well, but it needs some wiring to make everything work together.
In order to ensure stable reception, the Redpawz EV800 Pro comes with two type of antennas (Linear and Omni).
Main features of the Redpawz EV800 Pro FPV goggles
All-in-one design (FPV goggles/FPV monitor);
Three-ways adjustable "T" type headband;
Large, 5″ LCD with resolution of 854*480 pixels;
Integrated DVR (video recorder);
5.8G 40CH Diversity receiver with Auto searching feature;

After last comment, Diversity feature become uncertain!

Dual channel (Live view / Record separation). No delay nor frame drop during recording;
2in1 Audio out and Video In connector;
Built-in 2000 mAh Li-Po battery which allows up to 2 hours working time.
Tripod screw mount.
Redpawz EV800 Pro FPV googles review
Before I get into details I should thank Alice from Geekbuying for offering me this drone goggles. I need to underline that product specs and quality may vary according to the manufacturer's reliability, so I cannot guarantee that you will get a product that performs exactly the same as shown in my review.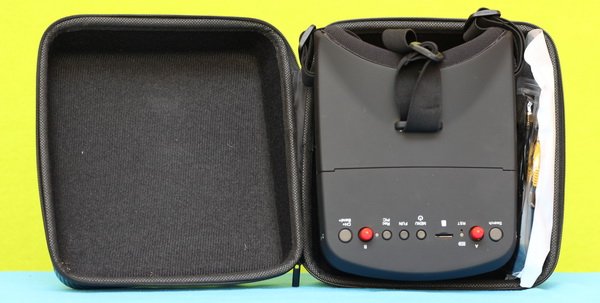 The Redpawz EV800 Pro comes in a deluxe carry case which induces the feeling that we are dealing with a premium class product. In addition to the FPV glasses I found the following accessories: AC/DC USB charger, micro USB cable, two 5.8G antennas and 3.5 mm to RCA cable.
Weighting about only 415 grams (including antennas), it is one of the most light on its market segment.
At a glance
As I previously mentioned, the goggles is build around a single 5″ LCD with resolution of 800×480 pixels (not a perfect match with PAL 756×578).
According to the manufacturer's specs, the built-in 2000 mAh battery allows about 2 hours of continuous working time. Unlike the Eachine EV800D, which has a DC jack plug, the Redpawz EV800 Pro features an universal micro USB charging port. This approach is very handy because the USB port also allows to conveniently transfer the captured footage to your computer.
On the front-top part are located the two RP-SMA antenna connectors, hidden reset button, micro SD slot, 5 control buttons and status LEDs. From right to left you have the following buttons:
Ch+/Band+: allows to toggle between 8 CH, respectively 5 bands (A,B,E,F and R);
Rec/Pic: Short press to start recording. Long press to stop recording. Pictures can be taken only while recording;
Fun: Allows to switch between inputs (RF and AV in);
Menu/Power: Long press (about 3 seconds) to power On/Off the goggles. Short press to access the configuration menu;
Search/Vol: Short press to auto signal search. Long press to change volume level.
How easy is to convert it from FPV goggles into FPV monitor and vice-versa?
Most of all, I was curious to test how easily I can transform it from goggles into monitor. Thanks to ingenious sliding mechanism, in just 5 seconds the EV800 Pro can be splitted in two parts: LCD screen + electronics and face-mask with Fresnel lens. Unfortunately, there is no possibility to adjust the lens distance.
The front side contains all the needed electronics for working as a standalone FPV monitor. In addition, it has a mount hole that allows to be used on a M6 tripods. Yes, you got two FPV gears for the same price :)
Is it comfortable?
Featuring three-ways adjustable, "T" type headband, the EV800 Pro goggles can be adapted for almost any head sizes.
At first look, the facial sponge seems to be very comfortable, but during hot summer days it will probably make you sweat a lot.
Unfortunately, since the general opening of the goggles is not too large, it is very difficult to be used with eyeglasses.
Reception performance
As I previously mentioned, the Redpawz EV800 Pro has the perfect recipe for a good reception (RX sensitivity). RX5808 receiver and two types of antennas: omni-directional clover antenna and linear 14 DBi panel antenna.
Last week I test it with two different FPV drones, a smaller one with 25 mW VTX and a larger one with 100 mW VTX. In both cases, reception was stable without freezes or blue screens.
Recording quality
In order to test the recording quality of the EV800Pro's DVR I used my brand new Kopis 1 FPV quadcopter. Equipped with RunCam Swift camera and Holybro Atlatl HV 5.8G wireless video transmitter was just perfect for this purpose.
DVR detects automatically the video standard (PAL or NTSC) of the recording source. When recording is started you will be noticed by a red bullet on top-right corner. BTW, you can take still photos only during recording.
As you can see on the sample video bellow, there are no OSD information chopped. Everything is on its place, just like in the live-video.
Good news! I didn't notice any frame drop or extra delay during recording.
Three minutes of 720×758 @ 30 fps video with 16 bit mono audio occupies about 130 MB on the micro SD memory card. For best results, class 10 cards are recommended by the manufacturer.
In addition, thanks to the playback feature you can review the recorded videos right on the flight field without downloading them.
Editor's rating
Price/performance ratio

Design and build quality

Features
Conclusions
Surely, the most noteworthy feature of the Redpawz EV800 Pro is that you can use it as FPV goggles as well as FPV monitor. Thanks to the dual antenna system, I didn't have any complain regarding RX sensitivity.
Due to its narrow opening, FPV pilots with correction glasses will have some difficulties using this drone goggles, especially that it doesn't allow to adjust the Fresnel lens distance.
Currently this drone goggles is on sale and can be ordered with free shipping for only $75.99 from here, about $15 less than its direct competitor – EV800D.
Good stuff
Modular design. It can be used as FPV goggles as well as FPV monitor;
Integrated DVR (video recorder);
Diversity 5.8G receiver; 

this feature is uncertain!!!!

Dual antenna (Linear and Omni);
Recording OSD information;
No additional frame rate drop when recording;
Micro USB charging port;
Included carry case.
Bad stuff
No possibility to adjust the distance of the lens;
Can't take pictures without recording;
No input selection between Diversity, Ant A and Ant B.
last update 12/03/2017